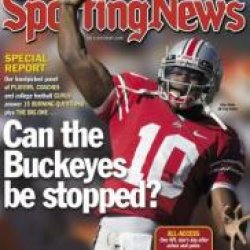 mchaytou21
---
Member since 07 October 2013 | Blog
Helmet Stickers: 13 | Leaderboard
Favorites
SPORTS MOMENT: Ohio State over Miami for the Nat'l Championship
COLLEGE FOOTBALL PLAYER: Troy Smith
NFL TEAM: Denver Broncos
NBA TEAM: New York Knicks
MLB TEAM: Detroit Tigers
Recent Activity
What are your opinions on the current state of the B1G?
If the D-line is as good as we are all expecting it to be, the defensive backfield will be able to get away with some mistakes early in the season, and hopefully clean up its play by conference play. I like the sound of a more aggressive and systematically sound scheme for the secondary, and I hope that means we will see less and less of those god awful 8-10 yard cushions we were all so accustomed to seeing. A more aggressive secondary and a relentless d-line should also help to mask, at least for a short while, the inexperience of the linebackers. With all that said, here is to hoping I can be more comfortable this year,than I was last year, when watching the defense on third down situations.
This was just the good news I needed to hear, it has been a rough two weeks!
With that said, he looks like a solid player to build a defense around, I am excited to see him in a Buckeye uniform.
24 straight wins and going undefeated in conference play up to this point is not a hollow accomplishment. It is hard to go undefeated once in a season, let alone twice. They were on the brink of accomplishing that, but unfortunately stumbled against a darn good MSU team. My bias will creep in here, but I really don't think MSU is the better team, but they certainly were tonight (with the benefit of some costly penalties and defensive miscues on the part of the Bucks).
Plus, they are going to a BSC bowl game, that is an accomplishment as well. Winning 24 out of 25, and getting a birth in a BCS bowl game is certainly not a "hollow" accomplishment
I think Clemson will light up our secondary...I would rather play Alabama. But it will be a tough match up either way.
So long as the defense can force some short MSU offensive possessions, I think Ohio State will wear down the MSU defense. Time of possession will be key in this game, and because MSU does not sustain drives very well, I think Ohio State's offense will be able to take advantage of a tired MSU defense late in the game. BUT, this is all contingent on Ohio State's Dr. Jekyll / Mr. Hyde defense....so we shall see what happens.
All in all, I predict a 14 point victory for the bucks. Heres to hoping that my prediction, or any prediction that has the Buckeyes winning this Saturday, is the right one!
Auburn still has to win its conference championship game, not an easy task. The polls are far from being decided...crazier things have happened, so tOSU should just do what it has done for the past 24 games, which is take care of the opponent in front of them and not be concerned with anything else. Its been said all year and it will hold true, just win and you're in.