McBane
---
Member since 22 August 2014 | Blog
Helmet Stickers: 347 | Leaderboard
Voting Record: 71 / 36
Recent Activity
AW, COM'ON MAAAAAN!!!!
WE'VE WON THE FIRST GOLDEN VAGINA!
LeBron James, but substitue Cleveland with Ohio.
Alabama success starts with recruiting (and SEC Bagmen)
I didn't see Red Lightning's name on the list...how much are they paying this guy?
It was a good thing they weren't called to Cardale's! They would've arrested him on weapons charges with the cannon hanging from his rotator cuff!
I'm waiting for Mindy Drayer's sketch
212.333333333333333333333333333333333333333333333333333333333333333333333333333333333333333333333333333333333
If I had a pair of those, I'd be like Sneakers O'Toole
My father-in-law played for the great Woody Hayes in 1961. He wore number 16 and as it turns out, we were unofficially awarded the national championship.
Found this in one of the links about Zander Diamont...this might be one of the funniest gifs I've ever laid eyes on
OK, is it wrong that the first thing that came to my mind is "Jameis Winston"?
Scouting Minnesota
"Call your local cable provider to make sure you have SEC Network!" In some shape or form we already do (ESPN, ESPN2, ESPNU, ESPNews, CBS, ABC, etc.).
Substitute Hackenburg for Kiel, and I'll bet we see a lot of this tomorrow night. 52-7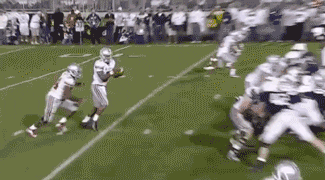 I didn't catch the call in show, but I listened a little to Bishop & Rothman doing their recap. They mentioned Urban commenting on the "Top Secret" black alternates. They quoted Urban saying "not yet, but probably down the road", and "it's up to my boss." Can anyone provide any more detail than what I heard?
Right you are...'twas silly of me to think the rest of the B1G gave a damn about crootin!