MAVBuck
---
Toledo (via Hicksville)
Member since 17 May 2012 | Blog
Helmet Stickers: 2,197 | Leaderboard
Voting Record: 2772 / 96
Favorites
COLLEGE FOOTBALL PLAYER: current- Adolphus Washington, all time-Mike Vrabel
NFL TEAM: Packers
NBA TEAM: Pacers
MLB TEAM: Reds
Recent Activity
Guess well get a look at just how good the youth of this team is.
Heeeeeeeeeeeeeeeeeeeeeeeeeeeeeeeeeeeeeeeeeeelllllllll yeah!
Meech is quickly becoming one of my favorite players!
Assuming he already ate the rest of the pig...
How good of an event is this for a fan to go to?
were the coaches blown away by anyone unexpected?
greatest thing ever. Making my own out right now
Couldnt agree more. If you're looking for the best all around guy to build a program around its JT all day long.
I think all signs point in the direction of King Dolodale. Of all 3 of the QBs JT is probably the one who's most willing to wait for his time to shine.
Agreed. I think there's a good chance that Urban still thinks Braxton is the best bet at QB. No matter what/where the case is though this is a guy that has to be on the field when healthy.
It looks like someone shit razor blades and put it on a cotton/poly blend!
If anyone would know it's Thamel. As much as I love Braxton at QB this is probably the right move. He come in at the red zone and play QB and still get touches and be electrifying when he does. Completely explains Marshall moving to the outside. Looking forward to this offense more and more.
Boom!!!!! This may become the greatest D-line group in the history of college football!
What about the likes of Kyree Campbell. I see he's OSU crystal balled. Are we still interested at all?
"I'm coming home"? He's from _ichigan. WTF?!?
Can you blame them? I mean....its bama...
I think we all knew it from the get go!
Never a doubt. Buckeye for life
Word on the street is they're also looking for a national championship.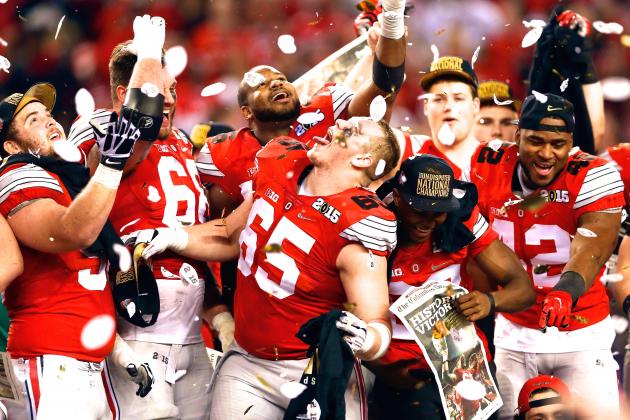 I hear ya. I came from a small town and wanted to go somewhere bigger. I remind myself that once a month when I pay my student loan...
Bada bing, bada...........
Passing up on small school college football and getting a free education. Planned on going to OSU. Somehow ended up at Toledo. With that being said I wouldnt trade the things I have in my life because of those choices. The experiences just would've been great.
Special teams, offense, defense, the kid will probably play them all at some point and excel in every spot. Cant wait to see him on the field.