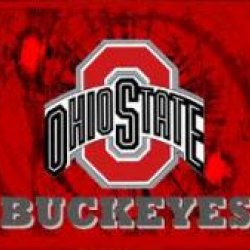 mattanderson1985
---
La Crosse, WI (via Ashtabula, OH)
Member since 08 November 2012 | Blog
Favorites
SPORTS MOMENT: Running the field after OSU/TTUN game in 2006.
COLLEGE FOOTBALL PLAYER: Beanie Wells
COLLEGE BASKETBALL PLAYER: Jim Jackson
NFL TEAM: Cleveland Browns
NHL TEAM: CBJ
NBA TEAM: Cleveland Cavs
MLB TEAM: Cleveland Indians
SOCCER TEAM: Columbus Crew
Recent Activity
I will be going to the BGSU game.
When we lived in that area I went to the Ohio State game in Camp Randall. We sat in Section X and it wasn't bad. We were in like Row 4 or 5. There was a ton of Ohio State fans by us. We were with our daughter who was 2 at the time and nothing was thrown at us. There was a lot of the normal yelling and all that stuff but nothing physical at all.
I just moved to Kansas City 2 months ago I will have to go for the Royals.
Maybe I drank one to many beers tonight but do you think maybe Mark Dantonio will go down to South Carolina. Even though he's a doing a great job at Michigan State he did play ball down in South Carolina and look at Nick Saban he left Michigan State for LSU
I had no clue. I was going back to visit Ashtabula from Minnesota and I was cheap and I went off of I-90 since you got to pay and my GPS went crazy and it was taking me everywhere but east.
Wasn't Jamel Turner someone who we had out of Youngstown and something happened where he was injured and he went off the map. What ever happened to him?
When I was going to school with our student tickets I would just give my parents my Student ID to use to get into the game the people at the gate don't care whose student ID it is. Granted that was 10 years ago.
I can see Cincy and maybe UNLV or New Mexico.
Okay thanks for the help. I will check that place out for the game.
I think he works for fox sports and fox and Big ten Network are partners.
Im in bed I am only 2 1/2 hours to Minneapolis so we are driving up the day of the game haha
Im not in an allotment either I am at section 103
We are driving up to Minneapolis on Saturday morning since it is only a 2 1/2 drive up from our house. Does anyone on here know where I should try to park? I heard around the stadium the parking garage is for the season ticket holders and whatever is left over goes to first come first serve. I wasn't sure if anyone knows where the best place to park at by the stadium.
I will be going to the game too. Even if the game is going to be at (2:30 Central time) it will be dark by the time Halftime hit. I looked 2 weeks ago it was supposed to be 40 and sunny now it is going to Snow. This is going to a cold one.
Nice After I get the Wife and Kids to bed tonight time to watch some Football. Also I am glad that Ohio State is on at night this week so the wife doesn't yell at me for staying in and watching football by the time the game is on the Kids will be getting ready for bed.
I take it this New York Times article needs to be redone.
http://www.nytimes.com/2014/10/03/sports/ncaafootball/as-big-ten-declines-homegrown-talent-fades-and-flees.html?_r=1
I am looking for a ps3 league too
He was suspended for Week 3 or Week 4 of the Preseason does that count as well or does it start from Week 1 of regular season?
That is Wisconsin in general. Moved to this area a few years back. Went to a High School football game I was excited to see some Friday Night Football. Growing up in Ohio it was pretty much the things to do on Friday is go watch High School Football. Went to Week 1 opener and it was empty and their Band wasn't even playing either.
So it last upwards to 10 years with the argument every year? I been dealing with this for 5 years now and thought it would end soon. Every year around this time we have the same issue with me trying to watch football on Saturday and her wanting to go out and do something. Heck I even volunteer to keep the kids home with me (granted during the game i would be watching the game mostly) and she can go out by herself to go shopping and she still wants to do something with the family.
I agree with you. Before I got married I would spend all day watching football. Now I can barely watch the Ohio State game on. I guess that is what I get for marrying a lady who isn't from Ohio and doesn't know about growing up watching football on Saturday and Sunday.