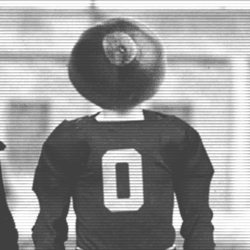 Matt F
---
Member since 07 December 2011 | Blog
Helmet Stickers: 184 | Leaderboard
Favorites
SPORTS MOMENT: Freshman year 2002 win over TSUN, and viewing of campus riots.
COLLEGE FOOTBALL PLAYER: Beanie Wells
COLLEGE BASKETBALL PLAYER: Evan Turner
NFL TEAM: Washington Redskins
NHL TEAM: Wut?
NBA TEAM: Ex-Washington Bullets fan
MLB TEAM: Baltimore Orioles
SOCCER TEAM: Can we only list real sports?
Recent Activity
I'd rather lose in the FIRST round of the NCAA tourney than win the NIT once.
A week of DJ Skull Sessions? I know what I'm doing every morning at work between 8:00-8:15 (the same thing I do every week, but I'll be slightly more excited).
I'm all for guys overcoming college rivalries at the next level - I even applaud it. But Lewan just seems like a bad person, period. It would serve Mewhort well to not get too close to characters like him if he desires success at the next level.
I was the best player in my little league when I was 12. Gonna go ahead and claim the 1996 AL MVP. Think we had a deep playoff run - I'll take the World Series MVP while we're at it.
It's cold out there - GOPHER it!
But, ESPN is known for their in depth analysis.
Funny how quickly these writers forget/change their perception of a team. Not only was this team loaded, but if we played currently and in the SEC (see Tigers, Auburn) and won the National Championship - we'd be a Team of Destiny!
Agreed, but I like tugging so much harder in the anti-SEC group. It feels less dirty.
As if I wasn't jacked enough (and incredibly unable to focus on work) at this point already.
You also have to look at the reason WHY Hyde was suspended. Even though he was eventually exonerated, Heisman voters won't want someone who was suspended for a bar altercation with a female on the table. Although they did vote Manziel last year, so what do I know?
Also, I think any chance for a Miller or Hyde Heisman is sunk in the national media bias debate. Probably one reason you don't see either of them on the Heisman slate very often (in addition to other circumstances).
I feel so much dumber having read through this thread. We haven't lost in two years and our team is stocked with talented athletes with a ton of heart.
No excuses? How about no more undue criticism.
But College Station is so much more cultured than SoCal or Austin.
I think you meant highly analytical.
The most painful part of the whole process is starting as a clear #2, taking care of business, and dropping two spots. When's the last time that happened, if ever?
That's funny, I haven't seen them block anything all year.
You've got some dirt on your chest.
At Miami, that's not even considered a party.
This isn't where I parked my car.
I can see the roadblocks to undefeated seasons for Alabama and Oregon based on their schedule, but I have a tough time seeing FSU having as good of a chance as going undefeated as we do. Let's not forget that, no matter what ESPN tries to tell us, the ACC is as much of a garbage conference as ever. If you're telling me that an overrated Miami or Florida team is going to beat an FSU team that is clearly the cream of the crop in that conference, well, I'm going to have to disagree with you.
In related news, I really hope you're right and I'm wrong.
It's just money, coke and hookers. I mean come on, guys.