MaliBuckeye
Seattle, WA (via Urbana, Ohio)
Member since 30 August 2010 | Blog
From the Midwest to the Northwest, from SoCal to Seattle... life is always an adventure.
If I'm not watching the Buckeyes, I'd rather be on the trail
Favorites
SPORTS MOMENT: First game as a defensive lineman at a D3 school: 3 sacks and 15 tackles.
It only went downhill from there.
Recent Activity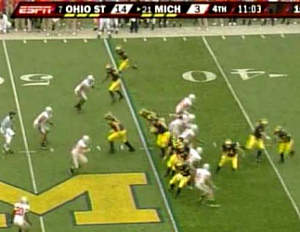 I hate the Olympics. Most of the events aren't sports; those that are already have their world championships. Corruption has always been a part of the Games; LA in '84 added a whole new level of corporate shilling and exploitation TV coverage is the worst- adding commentary after the events, showing the events out of order, forcing "interest stories" down our airwaves instead of just showing us the games... Add to that the extra awesome sh*t show that is this year's events- Corruption beyond compare, terrible conditions for the workers and for the facilities (aquatics, Village, etc.), and the poor of Rio pushed further to the margins so that the grand exploitation of the "global games of unity" could happen in their area. Its on in my house because my wife watches it... on the small TV not in the family room... and I can't avoid commentary about it on twitter. Other than that, I won't give it two thoughts past this post.
Right our of High School, in the summer before college: Assistant Dogcatcher in Champaign County... right after the County changed requirements for licensing animals (particularly for farm dogs), changed the process (in person, not by mail, and this was before Al Gore invented the Internet), and doubled the fine.
Sounds like the best "clean profanity" exclamation phrase ever...
"Jerry Lucas on a TREADMILL!!"
Great follow up... http://theconcourse.deadspin.com/30-years-later-the-accidental-geniuses-of-heavy-metal-1779451482
Yuuuuup... Same thing as the X2 that I posted earlier at Magic Mountain in California.... Absolutely unbelievable.
I agree that MForce is #1, but 1A has got to be the X2 at Magic Mountain out in Los Angeles... when the Buckeyes go to the Rose Bowl, skip the crowds (and cost) of Disney Land and head to MM... the only park in America that comes close to Cedar Point and Kings Island:
Looks like $849 in my "cart", but I'll try again.
We've all been sold a lie:
Wake up, sheeple!!!
Well, technically the Elliotts are from Alton Illinois (across the river, northeast of StL, represent!), but his high school (Blue Bombers... with yellow and not "m*ize") is a St. Louis powerhouse.
Great list, all... Let me go in a bit of a different direction with Ohio's own (well, Cincinnati) Bootsy Collins. Foundational funk-master from James Brown to Parliament Funkadelic...
Wait... Isn't there a kid that's been verballed to Ohio State for a few years that we can stop calling on the phone to make room for Bruce? /Harbaugh voice
"he will now wait a bit longer..." ?
Scottish heritage... so... yeah.
It's either that or haggis, which tastes as terrible as you'd think, no matter what Robert Burns says. It's the one dish that not even sriracha can rescue.
My favorite part of the Rudy Fap-Fest is the way it conveniently skips over his service in the Navy after high school.
I guess that portraying him as an out of shape loser rather than a former serviceman helps their narrative... and proves that this movie hates 'Merica.
Congrats, Grant... I'm so glad you've found a "home" for your amazing work!
Couldn't have joined a better bunch of guys, too...
I'm in... hoping my brother can pull some sideline passes as well.
Nice work, Kyle- enjoy the insight.
Didn't OSU try this against Michigan State as well? I seem to remember (in the haze of anger that still lurks with memories of that game) a pitch to Vannett that got crushed pretty easily...
Brother from another mother! Livin the life in Seattle... and you?
It's interesting to see how so many of these gigs are just re-shuffles.
And, how there seem to be very few African American candidates considered for these positions (or rumored to be interviewed), in spite of the fact that there are quite a few African American assistant coaches across the country.
Without getting into the politics/affirmative action discussion- does the NCAA need a "Rooney Rule"? Would it matter?
I think the Rutgers pick is a good one, but it might also be worth pointing to the Illinois game...
I can see the Buckeyes struggling after what's (hopefully) a big post-bye win at home against Minnesota, and then looking past illinois to MSU and UM, while playing in Champaign (where they've often struggled). That, and the Illini have found a little chippyness under their new coach.
Kid named Carman? From Ohio?
I'm in.
Not necessarily... Violations of Title IX (sexual stuff falls under this category) can be investigated and dealt with at the University level without also involving law enforcement. It depends on the wishes of the complainant and the circumstances of the situation. If that is indeed what the issue is.
And there are mixed reviews about this effect (which also includes alumni giving in some discussions of it).
It doesn't really help major programs (like Ohio State), it only tends to assist recruitment/branding for a limited time, there are very particular demographics who are most easily influenced in this way (some not ideal college candidates), and can be counterbalanced by negative publicity (NCAA infractions, academic scandals, significant on-field losses, etc.)
It's all a matter of priorities and choices... and, given that for most people "sports" is the word that automatically follows "college" in their minds, it's an easier way of publicity than increased academic prowess.
Or, as The Bear used to say- "It's kind of hard to rally around a math class."