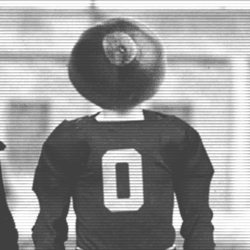 lunker76
---
midland michigan (via chillicothe ohio)
Member since 08 December 2011 | Blog
Helmet Stickers: 44 | Leaderboard
2 x grad from OSU, older than most, have had season tickets since 1988
my freshman roomate was a grad coach that pulled Woody off charlie baugh in the gator bowl knew Coach Hayes on a first name basis met coach Tressel when I delivered one of his kids at st anns when he was an assit coach with coach Bruce
t
Favorites
SPORTS MOMENT: have had some many great moments in the shoe, best would be in 2006 with my oldest daughter when troy and the boys kicked michigan ass, where i live now, that was sweet
COLLEGE FOOTBALL PLAYER: keith byars
COLLEGE BASKETBALL PLAYER: mark bayless , figure that one
NFL TEAM: green bay packer
MLB TEAM: reds
Recent Activity
offering an eighth grader, sad
Not in the same sentence as Troy Smith. Lucky to be a seventh rounder. Would love to be wrong.
Of course O line makes it possible for Hyde to do what he does, but the other guys are dependent on Miller, and recently he hasn't been getting them the ball. But again hope I am wrong. Of course if Gardner played our defense weekly he would have gotten invited to New York.
Hope you are right, but the last 2 games offer little to look forward too. Clemson has a much better offense than either the Um or MSU, and a quarterback who can actually hit his targets. We don't. Hyde is the only bright spot. Like I said, though, hope I am wrong, and you aren't.
45 years of watching the Bucks, have seen some amazing things, nothing like this.
Hyde needs more carries, and the defense looked so much better. Another great day to be a BUCKEYE. Of course they all are.
would be thrilled for that next year, who is talking about next year, thought this was about this year
Hope they turn it around before Saturday. But if they do they have keep it well hidden. I live about 90 minutes from E Lansing, am already hearing all about it.
Didn'r say Miller wouldn't become a better passer. Troy had better receivers, and he hit them.
Miller is at most an average passer with a great set of wheels. Too bad his targets can't, with one exception, help him much. Hard to impressed with Meyer and his staff. Would expect to see some progress week to week, simply haven't. Hope this has all been a smoke screen, but think sparty will give the bucks a real spanking. Hope I am wrong.
I got to know coach Hayes during my time at OSU. He was no longer the coaching on the field. He had no reason to know me , but during a chance meeting in the library he started a conversation, and remembered the details through the remainder of my undergrad and post grad time there. Perhaps your experience was different, but I do not find your description of him to be accurate, and find your attempt at humor pathetic.