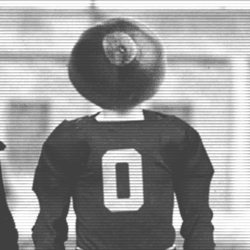 Ludwig Yards
---
Central Ohio
Member since 18 October 2012 | Blog
Helmet Stickers: 529 | Leaderboard
Favorites
COLLEGE FOOTBALL PLAYER: Chic Harley
NFL TEAM: Jets and Titans
NHL TEAM: Blue Jackets
NBA TEAM: Blah.
MLB TEAM: Reds and Yankees
SOCCER TEAM: Columbus Crew
Recent Activity
Looks to me that he is ticketed for the SEC. But if he visits, I guess ya never know.
Another vote for Erick Smith.
My recollection regarding Dowdy and OSU was that OSU wanted him to come to a camp here but Dowdy didn't want to camp. (like Conrad and Stump)
I like your list, but my guess is that at least half those guys do not end up in this class, and there will be at least a couple guys who nobody is really thinking about right now, who will. This has just been such a crazy recruiting cycle.
True, and kinda funny. Fans are a very reactionary lot. It is what it is.
He just committed to MSU.
I'd say yes either way - good for us or bad.
Not sure why, but this made me laugh. :)
All bourbons are whiskey but not all whiskeys are bourbon. Testing my memory, but to be bourbon it has to be aged in a special kind of barrel, and maybe made with a certain % of corn. I've had too much bourbon since I last took the Bourbon Trail to recall for sure.
We need more threads of this.
Giggity.
The class size is at 16 today, so if there is no attrition whatsoever then that is close to being true. Seems unlikely that nobody will leave the program in the next 7 months though.
Ummm....what was I going to say?
Just curious, but is this kid related to Vic Dorris, an OSU fullback from 1935-37. Vic was from Bellaire I believe, which isn't far from Shadyside.
IMO, here is no way A&M wouldn't accept a commitment from Kirk.
And no offer for CJ Conrad, just stupid......<wink wink>
Cool, sounds good. Thanks.
Is this just a case of due diligence or is the family not sold on OSU? I think I may have read something hinting at the latter a while back but I don't recall for sure.
So, maybe OSU does just take Burrow in this cycle and then goes after 2 in next year's class..........?
Yeah, hopefully the article is overselling the Alabama angle. Have to think he has a deeper relationship with OSU at this point too.
I was holding out hope for it being Larry Scott, but nothing wrong with getting the 2016 train rollin'.