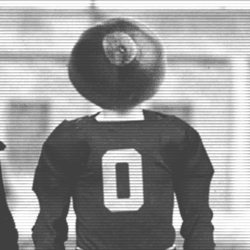 Ludwig Yards
---
Central Ohio
Member since 18 October 2012 | Blog
Helmet Stickers: 400 | Leaderboard
Favorites
COLLEGE FOOTBALL PLAYER: Chic Harley
NFL TEAM: Jets and Titans
NHL TEAM: I want it to be the hometown Blue Jackets, but the
NBA TEAM: Blah.
MLB TEAM: Reds and Yankees
SOCCER TEAM: Columbus Crew
Recent Activity
OK, I will.
They are the dirtiest program in America.
I highly doubt it since he will likely be a head coach again in 2015. He's just good friends with Meyer (according to Urban).
Good stuff. Harley is and will always be my favorite Buckeye player because of his importance to what OSU football is today. Would it still have grown to become what it is today without Chic? Perhaps. But if Ohio Stadium is the "House that Harley Built" seems there should be something present to indicate that.
I'll throw my hat in the ring and say D. Jones and Van Jefferson.
I buried that game a while ago. Nice of them to foot the bill for the headstone.
Glad to see this feature return, thank ya. :)
He's listed at 6-5, 165, FWIW.
Sorry, Birm scooped me by 27 seconds ;)
Correct. It makes no sense to offer someone just because they are from Ohio. You offer the best players, period.
The word "project" seems to carry kind of a negative connotation, whether its true in this case or not. Like most HS QBs he likely has a long way to go to get to an even near-finished product but I imagine his ceiling is so high (like Braxton) that he is worth the investment.
Yeah, these are "wishlists" as much as anything. A lot of the kids being talked about now probably won't be in this class and new names will continue to pop up along the way. But it's kinda fun to look at the predictions. ;)
Under, but not by much. I think about 8.
Maybe it's because he's still so young but none of the "big boys" have offered this kid yet, other than Arizona. Ohio State is listed as an interest though. One to keep an eye on for sure.
I thought they handled themselves quite well for it being their first major interview at OSU.
That's a legit list, hard to argue. I thought we'd offered Froholdt but I could be mistaken. Not sure what his attraction to Arky was, or how much he really considered OSU. Seeing as how he isn't from Ohio he may just not have a big interest in OSU. I'm sure the staff wants Scott but all the "buzz" is that he has some work in the classroom to take care of. Great talent though, yeah.
Cornell is bit of a longhot from what I understand, I think ND may be the team to beat with him. But He may not have been around Larry Johnson yet either. ;)
Hmm. I tried the 2013 Badgers vs the 2013 Buckeyes, in Columbus. 10 times. UW won 7.
I believe Lamp Apparel is a Brandon Fuss-Cheatham venture, FWIW.
Good stuff. We really are pretty damn fortunate to have Thad as our coach.
Because other than Braxton Miller, Carlos Hyde and Urban Meyer they don't know anything about this team, and in most cases don't care to know anything.
Or maybe the fact that we are only playing 4 true WRs, and two of them are seniors. Couple that with the fact that C. Smith, Thomas and Marshall are not playing, and Epitropoulos has only played in one game. Just reading the tea leaves, but perhaps there is some displeasure regarding some of those guys who aren't playing. Or maybe they just really want to add a lot more depth. We'll find out eventually.