LoufromOSU
New Middletown, OH (via Youngstown)
Member since 18 September 2012 | Blog
Favorites
SPORTS MOMENT: Being at the 96th Rose Bowl game.
COLLEGE FOOTBALL PLAYER: Orlando Pace
COLLEGE BASKETBALL PLAYER: Michael Redd
NFL TEAM: Pittsburgh Steelers
NHL TEAM: Pittsburgh Penguins
MLB TEAM: Pittsburgh Pirates
Recent Activity
the content is fabulous, i just don't like how it's a bit misleading. I'll blame Jeter.
My only issue with it is that the majority are written by ghost writers who are employees of the website without proper accredation. There was a great one allegedly written by Matt Cullen, who laughed and said he talked to the writer for a half hour and that was his involvement.
Jason White begs to differ.
The local team's secondary literally has three future first-round picks. I assume that'd be a historic mark for Ohio State.
In the same draft, yes, I believe it would be. I think the 1996 team actually had 3 first round CBs on the roster - Springs (97), Winfield (99) and Plummer (00). Although only 1 of them was playing at that level during the 1996 season. Rob Kelly and Ty Howard were also both drafted in the 1997 draft, following Springs. Damon Moore was a pup on that team as well. That time period was ridiculous in the buckeye secondary.
Exactly. He was needed on both sides back then. Today, Hooker is an irreplaceable player on defense, so why put him in harm's way when you have guys like McCall, Hill, Mack, and Victor, all dynamic in their own rights, sitting on the pine for the most part?
This also gives them more rest (will be at home by nightfall) as opposed to playing in a primetime night game the week before the GAME. More time to recover and prepare, The noon kickoff with sparty is definitely in the Buckeyes' favor.
I think they hype was too thick for Dontre and that Jalin Marshall is what we thought Dontre would be. He was never going to be a guy who can take carries up the middle, which is something Curtis can do. CS is just a different animal. Need to keep on feeing him to win out.
Personally I don't want Hooker or Samuel, our two best players on their respective sides of the ball, touching it on punt returns. I get the idea to watch Malik with the ball, but that is better served on offense.
A lot of Michigan fans would disagree with that statement as well, being that he is a beloved Detroit Lion.
He's a great analyst.
Class acts being displayed all night by the home team.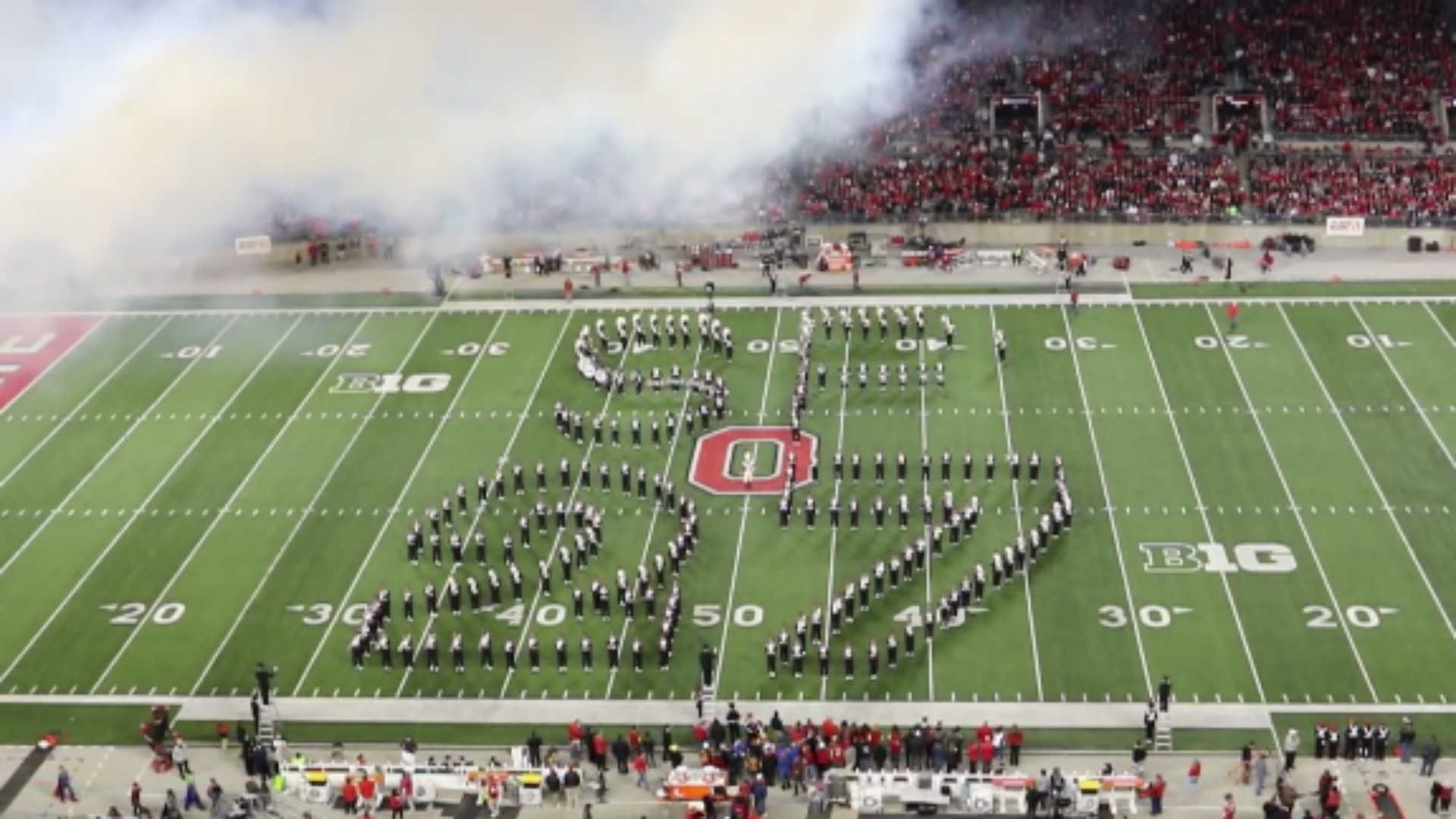 I see his ceiling as an NFL backup. He doesn't have an NFL arm at all and takes way too long in his progressions for the next level.
Yep. Solid decision. He's an asset returning punts.
Actually, go here and you can see a distinct difference in the $150 and $80 one.
http://store.nike.com/us/en_us/pw/ohio-state-buckeyes/80oZbh3?cp=usns_twit_110116_nike_football_ohiostate&linkId=30574182&ipp=120
The $80 one definitely looks like a T-shirt, much like the black jersey replica that I still regret ordering.
These are good images, but it still doesn't look like embroidered numbers, just embroidered block O.
http://www.dickssportinggoods.com/product/index.jsp?productId=110531986&ab=Banner_NCAA_OSUThrowbackGear
I heard they help with vertical routes. Let's hope.
Or Lebron James! Seriously, the ones on DHGate do not look very good, and I have used sites like that before.
Of course, if you want 'cheap', go to DHGate or AliExpress....however those are not officially licensed gear, but rather replicas made overseas. I would be careful with your credit card too...some purchase pre-paid cards to use for transactions with those sites.
I have the same jersey, sans autographs.
The Nike gear is pretty much set as far as prices go. Fanatics and Buckeye Corner (the official store) are not the cheapest but have good shipping and have quality. Everything Buckeyes in Niles, Ohio has a lot of gear with good prices as well. Shipping is not expensive at any of those sites. Sign up for the email list at BC to get sale information. There are also Conrad's and College Traditions on Lane Ave are also reputable sites/stores. There are many out there, just use the google machine.
Jalin Marshall throwbacks? Haha.
Macke777 - Did that post make you hit a wall? :)
Good response and I agree. +1 and a good day to you sir.
They tried to stay true to the originals from Harley's career. I don't have a problem with authenticity once in a while. They probably won't wear them more than once or twice, unlike the chrome or 'cocaine' whites. Mr. Lind will be on top of it for sure.