LouBuck35
Louisville, KY (via Centerville, OH)
Member since 03 October 2011 | Blog
Favorites
SPORTS MOMENT: Being in Ohio Stadium for: Chris Gamble's pick 6 of Zach Mills and Will Allen's game clincher against M*ch*g*n in 2002.

Rushing the field after The Game of the Century in 2006.


COLLEGE FOOTBALL PLAYER: Zeke, Teddy Ginn, Troy, Terry Glenn, Eddie
NFL TEAM: Cincinnati Bengals
MLB TEAM: Cincinnati Reds
Recent Activity
Yeeeaaaaaaaaaaaaaaaaaaaaaah
#respecttocoachcoombsthebestandprobablytheonlyassistantcoordinatortothedefenseinthecountry
"Yes, hello Mr. Goodell? Noted internet commenter here. I'd like to get you to confirm that other internet commenter OldTownBuckNut speaks for all ALL sports fans and isn't assuming when he note tha- hello? Are you there?"
I don't legit LOL that often. But this one got me.

To unfollow someone on twitter and remove them from your following page, view the directions below:
Go to to www.twitter.com and sign in.
Click on "Following" on the right top.
Find the person you want to unfollow and left click on the little gear icon on the right side of their name.
I don't have to read between the lines to see the absurdity of assumptions you just threw around. Assuming all major programs will not secretely cool on him. Assuming Ohio State pulls his offer in months. Assuming Tyreke doesn't want to be part of a team. Assuming it is drawing negative attention to anything. Assuming it won't help drive discussion or help anyone in Cleveland or even better the PLANET. Beyond that, you only list your opinions (which you are 100% entitled to have and to share). I'm not going to debate your opinion, other than to say that I don't personally agree with it.
Facts are - Tyreke Smith has a scholarship offer from Urban Meyer and The Ohio State University and it's highly likely he'll be wearing the Scarlet and Gray next year. How you want to do deal with that in your own mind is your own business.
Feel free to rescind your payment to Eleven Warriors dot com.
I'd say that The Ohio State University has no problem with it, especially based on Urban's comments, so how do you square that with your argument?
Tyreke showed up at a 1 day camp that I'm sure he didn't have to. I think that indicates that he "wants to play". And based on your no one wants to deal with this BS comment...your bias is showing.
Sure. Coaches keep players on teams who are on video punching women in the face, but you 100% guarantee everyone will effectively cool on a guy because of a t shirt outlining an issue he deems important? Are we talking about college football coaches here?
It really does boggle my mind that people literally can't read a "controversial" article without injecting their political hot takes into the comments. Complaining about why I can't push my political agenda in comments is absurd. Doing so while pointing the finger at the site makes it even worse.
But all the #bold #hot #takes the other day would have led me to believe otherwise. Almost like internet commenters opinions mean jack shit. Weird.
Meh.
The entire sequence with Chuck slowing decending into madness while tearing apart his home was one of the more depressing sequences I've seen in a show. For all the bullshit Chuck has unleashed on the world, it wasn't how I wanted to see his arc completed.
Sneak peak at the next off-season training video?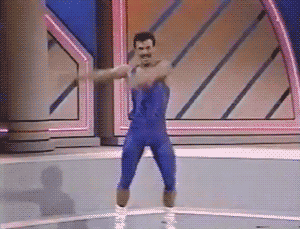 They need to can the S&C staff...like yesterday.
DOENS'T SEEM LIKE ANYONE ELSE ON THE TEAM LIKES LIFTING WEIGHTS EITHER AMIRITE???
The call in shows here in Louisville right now are RICH with content.
Irene getting zero applause at the bingo hall was particularly bad. Jimmy is about 95% Saul at this point. Desperate times call for desperate measures. And as Mike would tell you, there are no half measures.
Big fan of Trill and his #smockin #takes.
Ohio'sPraise would disagree.
Welcome Coach. Let's see what you're made of.
Skipped everyone's comments so I could say, WHAT IN THE EVER LIVING FUCK GENE?!?