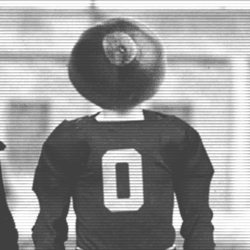 logamaniac
---
Member since 24 January 2013 | Blog
Helmet Stickers: 719 | Leaderboard
Favorites
NFL TEAM: Browns
MLB TEAM: Indians
Recent Activity
im not saying theres an easy fix or solution its one of the pitfalls of the one and done cycle. maybe if the NBA adopted a plan similar to the NFL 3 year from graduation policy?
his point was that those guys were all as dominant in the freshman seasons (sullinger) even when it was their only season (oden, conley).
he's saying matta hasn't developed talent beyond what he gets coming in. id say you could throw in dieb as an example of a slight development but the argument is that he could always shoot lights out.
if hyde would have been the #1 when tress was calling plays he probably would have had 3000 yards in 2013
as far as i know he exposed himself at a college bar while wasted underage. once. after that you didn't hear anything negative about him, so I'm willing to chalk that up to a kids mistake. maybe you shouldn't go throwing stones brah
id bump off either smith or hyde for cassady
wait... you're saying I shouldn't tweet at these guys?
Should we be looking at the Alabi commit as a acceptance we aren't getting Sweat? Is Alabi even set to play DE for the good guys or are they moving him inside? What is the status with any more of the offers in the secondary?
or maybe the administration was determined to do what they felt was right, absent of thought regarding PSU. Thats what I choose to believe.
Maybe I'm just tired but I can't help but think that you're mildly retarded.
Theres no top secret conspiracy to utilize title ix, this investigation was started due to a complaint made by one of the people involved. An investigation was composed and completed at which point it was determined that an administrator did not act in accordance with the expectations of his position. Seems pretty cut and dry i really think you're reading too much into it.
kiel's cannon arm won't be able to fire on target while he's running for his life
I'm down with the preferred walk-on role unless he comes to camp and shows he's willing to work and earn it. as unfair as it is sometimes you just give a legacy the benefit of the doubt (hello case mccoy), especially when its the progeny of a high profile guy like eddie.
because he took time to develop as the ball carrier we all remember. he had his problems on the field too before that lest you forget
he probably ran a 4.29 human timed with a stopwatch, which means probably closer to a 4.5 than 4.2
still pretty awesome and as far as talking about what happens to your body when you turn 40 this dude says "hey bub"
why not? muschamp is a great defensive coordinator. he hasn't shown he can be a head coach but that doesn't detract from his accolades as a DC
this was just drake making a statement about the findings and outcome from an investigation that both began and ended before he took office. he had nothing to do with this.
regardless if you feel the band members were over the line or just misunderstood the problem is that the administration cannot support that type of behavior let alone participate in it. He had a duty to be a responsible administrator and if the allegations are true (or true enough to result in his dismissal) then obviously he failed in that regard to live up to the responsibilities of his position.
he didn't accuse waters of sexually harassing anyone. if YOU were to reread the article you might see that waters was dismissed because of his lackadaisical approach to the allegations of sexual harassment among some other things. Regardless of how intense the harassment waters was aware it was going on and in the university's eyes didn't do what he should have done to stop or prevent it.
Weren't his tournament appearances at umass stricken? Maybe Memphis too after the whole rose fiasco
how can you hate on anyone that put on a clippers uniform? i still remember his cartoon face at the old clipper stadium
to be fair, when you include vegas odds etc its important to remember that they make odds to ENCOURAGE gambling not just solely on who they think its best.
lets not pretend that Bron isn't the best PF in the game just because he can play other roles.
also in Minn the offense runs through him, so of course he's going to get points. Love is really good - but id rather take what having wiggins develop within your own system could bring and thats championships, Love been to any playoff games yet?
for me they would still have to present a product worth watching. just because its football doesn't mean it will hold my attention if its played horribly.
not trying to get KG murdered by not having an OL in Pitt. Id rather him go somewhere he doesn't have to run for his life ALL the time