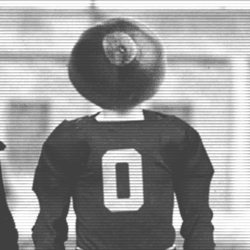 logamaniac
---
Member since 24 January 2013 | Blog
Helmet Stickers: 683 | Leaderboard
Favorites
NFL TEAM: Browns
MLB TEAM: Indians
Recent Activity
Weren't his tournament appearances at umass stricken? Maybe Memphis too after the whole rose fiasco
how can you hate on anyone that put on a clippers uniform? i still remember his cartoon face at the old clipper stadium
to be fair, when you include vegas odds etc its important to remember that they make odds to ENCOURAGE gambling not just solely on who they think its best.
lets not pretend that Bron isn't the best PF in the game just because he can play other roles.
also in Minn the offense runs through him, so of course he's going to get points. Love is really good - but id rather take what having wiggins develop within your own system could bring and thats championships, Love been to any playoff games yet?
for me they would still have to present a product worth watching. just because its football doesn't mean it will hold my attention if its played horribly.
not trying to get KG murdered by not having an OL in Pitt. Id rather him go somewhere he doesn't have to run for his life ALL the time
like Florida about 8 games into the season
If airplay is important to you then appletv offers that.
Roku offers plex, which is amazing.
and made in a lot of countries outside of russia as well, people forget its just the design thats russian
a lot of times they were used more as a 5-7 yard "fence" and when that happens you run the risk of them hopping the fence in addition to all the first downs you give up and drives you elongate
ha and i didnt mean to come across as brash as i seem to have either, sorry about that :(
im assuming you saw that DL under MV? what areas specifically do you see them improving on?
are you sure you arent confusing the "Rooney rule" from the NFL? that rule stipulates that in all coaching interviews you must interview at least one african-american candidate. I havent heard of any such thing in college and when i just tried to google it i came back with nothing either.
if the NFL doesn't acknowledge it then it doesn't exist..... until the trial results come back.
what if the refs take the win from you and gift it to an opponent, does that make you a less quality team?
eh insinuating the hiring of LJ was part of the overhaul is kind of BS. he was hired as a replacement to an exiting Vrabel, and had MV not accepted that job with the texans we wouldn't have taken on LJ. Not to mention the DL wasn't something that needed overhauling either regardless of the coach.
it should be worth noting that 16bit and dirty franks are NOT in the arena however.
its because he can't drive or shoot. his defense is amazing though.
i agree people don't account for the fact that the offense ran through him, and it won't in Cleveland. he may have a few big nights but theres no way on earth he's averaging those numbers here - which is fine as long as cleveland wins.
what exactly is the purpose of the drill sweat is running there? martez ivey is a 5 star OT wheres the hand and footwork from him? doesn't seem to be setting up to block or maybe its because he doesn't have a jersey to grab ahold of?
hes a 5 star athlete, not a 5 star QB. he has the intangibles to matriculate to multiple positions and he's an athletic freak, which in something like high school where you can get by on athleticism puts you out in front of the pack.
robert was pretty stern faced
did they have a staley impersonator?
new season of Prison-Break, reality TV edition?