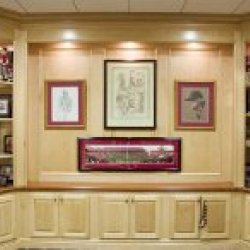 livinthedream
---
In front of my home computer in Western O H I O (via No, but it is where I currently live)
Member since 11 April 2014 | Blog
Helmet Stickers: 71 | Leaderboard
Favorites
SPORTS MOMENT: Wouldn't matter to Buckeye fans
COLLEGE FOOTBALL PLAYER: Archie, Orlando, Chris Speilman, Eddie George, and a thousand others
COLLEGE BASKETBALL PLAYER: Didn't play for OSU so doesn't matter here now does it?
NFL TEAM: K.C. Chiefs - nuff said
NHL TEAM: Bruins, Rangers
NBA TEAM: none
MLB TEAM: Reds of course, Red Sox in the AL
SOCCER TEAM: Whats that?
Recent Activity
Yes Andy. And I just gained a whole new respect for the black & gold.
Went there and got a screen that says "....we are NOT streaming ... at this time."
Would've posted a jpeg of it but I guess you can only post things that have a url. Anyway, the link isa below.
Dude that rocks! Thanks.
I'm thinking of a drinking game with my buds :~)
I wish we had choice. My friend has WOW - his dad TWC and both seem ok with their choices, but they live in S. Cbus. At least they have a choice. If I had known (or bothered to find out) I may not have bought this house. Surely the local POL's are getting kickbacks from TWC to keep us locked up.
YES it is. If I'm on the jury and the cop says he didn't then says it was in between the seat & back after he's been removed I want video proof they swept the car after the previous arrest.
Not saying it wasn't his, just that the law says (in criminal court) beyond a reasonable doubt. Looks like plenty of doubt to me. And sloppy police work.
BTW, FIFTY idiots figting and only two arrests? Hmmmmmm
I need to add that Trey Depriest is NOT from Cincinnati. He turned down Tress to go to 'bama. He is from Springfield which is closer to Cbus than Cincy. For evidence read: "Trey DePriest is an American football linebacker. He currently attends the University of Alabama in his junior year. A native of Springfield, Ohio, DePriest attended Springfield High School, where he were he played linebacker..." en.wikipedia.org/wiki/Trey_DePriest
"Lack of AAU membership is another nail in the coffin." ??? Then how is it that Nebraska, which also promised to work toward that goal, was allowed to join in the first place? Their name still is not on the list. Just curious - how long does this process take? I seem to remember it was a hot topic when PSU was admitted and WVU was supposedly under consideration. The stories went that WVU refused to join and as such were rejected by the other B10 schools, yours and mine included.
So, makes me wonder what schools (besides Loiusville) does tOSU have on its list of "Do not allow in the B1G"?
Edit: BTW - Nice piece of journalism Kyle.
Great article on a trend happening across all sports; professional, college, revenue generating or not. Sorry folks but I barely see anything in the story or posts that address the real issues. Gametime hit the nail best but still no discussion on the real reasons why. Basically it boils down to technology, costs and accessability.
Long & short - Why drive half way across state, hassle with traffic & parking, pay outrageous ticket and food prices when I can watch the game on my 56" flat screen HD tv with all the bratts, beer & nachos I want in the comfort of my lazyboy? But this problem exists in NFL, MLB, Nascar... not just CFB.
For the same reasons tOSU is afraid to play UD. For reference see last years NCAA game :)
Greatest QB in OSU history? While you didn't 'get under MY skin' I have to respectfully disagree. OK he may be the only OSU QB to win a Heisman but to put his whole career over the likes of Schlister, Germaine, Hoying, Greene, Tomczak even the oft hate Pryor is unfair to them. Now if you want to compare to Bauserman, Boekman and Herbstreit now that's a different subject.
Bleacher report has this interesting story: http://bleacherreport.com/articles/415748-top-ten-greatest-buckeye-quarterbacks
Point taken BadOwl, but when you write for a major media outlet (USA, FOX, ESPN etc.) you're expected to write factual, well researched and well reasoned articles. Problem is too many writers these days get to write opinion pieces as journalism when they're clearly not, and editors don't control the content.
This story is an interesting take on the laws of supply and demand as well as the balance between wants (quantity) and needs (quality).
AC will get a chance to go to the D-league and improve. In a year or two with some hard work, which we know he'll do, if his shooting improves he could find his way to a roster.
As for LQ maybe he can call up his former teammate and find a spot on an Italian squad cause he ain't got what it takes to be in the NBA. Like Thomas he needed to stay and listen to the scouts and work on his game.
What was the story about? I seem to be distracted.
You can put me down for number one, but if I have to have a Fubook account to get my vote to count then I guess I'm on the sidelines cause - IT AIN'T GONNA HAPPEN. So down vote me see if I scare.
Absolutely. I found that out recently when I made 'em feel uncomfortable about the NCAA and its role. So I'll lose a couple more now - oh well :~)
Great piece. You're opening sentence on T.P. is spot on. Sadly too many will judge him for his off field (minor) transgressions.
Watch his HUDL video. This kid is a beast. Can NOT let him get away!
Trevor Thompson (6-11), Anthony Lee (6-9), Keita Bates-Diop (6-7), D'Angelo Russell (6-5), Jae'Sean Tate (6-4), David Bell (6-9), that's six incoming, all with good size but two likely to redshirt. Leaves Williams, Slamin' Sammy, Scott & Loving as the core of a team that had trouble scoring. Seems like a big time scorer, someone who could draw attention to the perimeter and open the middle is just what Thad needs. To me it's a no brainer. Counting the current returners and the four not redshirting make twelve. I believe there's still room for another. Get him before Bill Self does.
JPFBUCK - I couln't agree more with this last comment. "Child exploitation" is a good way to phrase it.
Now for the part all of you and especially many on the 11W staff don't want to read.. If the NCAA wants to promote itself as truly being for the 'student atlete' then maybe, just maybe, they actually act like it. Try protecting ALL student athletes at all levels. Maybe they put in place some legislation that says a kid has to reach a certain point in their life before they can be recruited. Age of 16 or after the end of their sophmore season seems like a decent point. Plenty of time to pump up a kid. I know that means many of you think they would be doing more of that controlling thing you all hate, but isn't protecting the student athlete what their charter is supposed to be about?
OR is UFM's statement "we don't redshirt" a message to new recruits that may be looking at depth charts and thinking they might not see the field their first year? Here he's telling them you will (can) play from day one - with the right talent and hard work of course.