lippertini
---
Member since 12 November 2011 | Blog
Recent Activity
Large bodies do create larger gravitational pull. Human tractor beams.
I knew Ford played college football (the school shall remain nameless) and Bush Sr. played baseball, but I had no idea Johnson was such a burner in his day.
Sure, but could you form one with CPL players who went to schools with equal or lower NBA profile than Illinois has now? Will be very hard to convince a top-flight CPL prospect to choose Illinois over Kansas at the moment, for instance.

He looks like a very good coach, so I don't doubt he'll be successful regardless. Just wondering if you happen to know where those kids ended up going to college.
Many say the ACC was the best conference in CFB this year.
I agree, though I'd credit a different tall WR for setting the standard for me (6'3" and played at least a few inches taller thx to his ridiculous vert and the the best pair of hands of his era):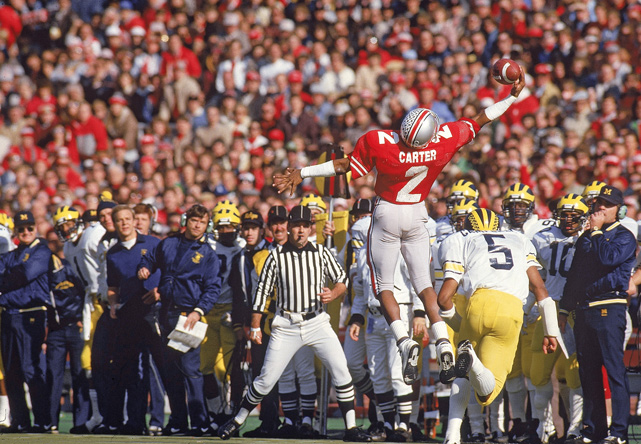 I'd suggest re-watching most of Dontre Wilson's carries. Super quick and fast, but went down immediately after first contact most of the time. A RB needs much more than speed.
Agree, he looks like a big-time prospect to me. Not just good hands, but good speed, body control, good blocking, and can track the deep ball well. Sign him up!
Love it! Sorry if you've answered this before elsewhere, Barf. What program(s) do you use for these? And may I ask what you do for a living (i.e. is it related to graphic/photo/video)?
I thought Harris looked just fine in his place, IMO wasn't the reason they lost.
I agree with you about Cardale's value. But I disagree that Barret is statistically OSU's best QB:

Troy Smith's last two seasons were much better statistically than Barrett's last two seasons throwing the ball, and Smith's career QB rating was also higher. All of Joe Germain's were better than Barrett's last two as well.

http://www.sports-reference.com/cfb/players/jt-barrett-1.html
http://www.sports-reference.com/cfb/players/troy-smith-1.html
http://www.sports-reference.com/cfb/players/joe-germaine-1.html
Ouch, MGoBlog will be an entertaining sheet show once again.
It also aint cheap, neither.
If he transferred, it wouldn't be to win a Natty, it would be to improve his chances of making a living in the NFL as a QB. So that means he would go somewhere where he could lead a successful pro-style or other pass-heavy offense.
Honest questions, don't shoot me:

A) How much smart money bets NFL vs CFB? Wouldn't more smart money counter a rabid fanbase?
B) How do you know the Cowboys fanbase doesn't move the lines in the first place?
NOT ONE single advanced stat? You should look a little harder, their passing game is clearly better than ours, and some rate their overall offense a tad higher as well. http://imgur.com/a/2OiDz
(from http://www.footballoutsiders.com/stats/ncaaoff)
I'm not saying Clemson's line is better than UM's, but using overall defensive stats can be misleading, as even Clemson fans will tell you their linebackers are a weakness, and you also have to account for different opponent quality as well.
So fun. Must be mentioned that Matusz got away with a serious hold and throw there, and big props to Wohlabaugh for slaying the Stamp dragon!
I think Blu's focusing less on recruiting rankings and more about how many turn into actual excellent football players on the field to try to help them win actual games, as he should. He's correct that they may narrow the gap some by taking a bunch more top-150 type players, and also correct that it matters how many of each of our recruits pan out.

That being said, I certainly wouldn't trade classes or coaches with them. :P
...or zero in Matt Cassel's case (stuck at USC behind Carson Palmer and Matt Leinart, so never started a single game at QB).
The real winner IMO was Tyquan Lewis for helping make the facilities guy feel better afterwards.
I hope he earns it by being better than all of our other very good options. If not, then I hope he sits.
Half-italics should be invented for precisely this purpose.
Or have a guy who never even started (at USC, Matt Cassel) get drafted and become a solid 12-year NFL backup who even had some very good days starting in place of an injured Tom Brady which earned him a $63 million dollar free agent contract.
This should help clear up your confusion: https://www.youtube.com/watch?v=gODZzSOelss