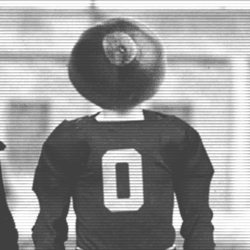 Lincoln
---
Member since 22 August 2011 | Blog
Helmet Stickers: 923 | Leaderboard
Favorites
SPORTS MOMENT: 95 World Series. Sandy Alomar walkoff double in extra innings. My old man cried his eyes out.
COLLEGE FOOTBALL PLAYER: Previous - Terry Glenn Current - RDS
COLLEGE BASKETBALL PLAYER: Previous - Jay Burson Current - Aaron Craft (duh)
NFL TEAM: Cleveland Browns
NHL TEAM: Blow Jackets
NBA TEAM: Cavs
MLB TEAM: Indians
SOCCER TEAM: My 5 year old daughters
Recent Activity
What's that I hear?
lots of people in Dayton running back to jump on THE ohio state bandwagon. They will be saying "we" again soon after Braxton runs in a 75 yarder, like none of this ever happened
Hurry someone give Amir Williams 5k in public.
JK Jk sorta
I'm rooting for a sinkhole
Aaron Freakin Craft man. I am going to miss him so much.
Those back to back to back defensive plays to end the game were a fitting end to his career at the Schott. Also that dive to secure the loose ball rebound and then NOT calling timeout because he knew we had the arrow. So much mancrush.
Really hope he can figure out some kind of shot and go on to have an Eric Snow like career in the NBA, I would kill to see him get a shot at guarding Chris Paul, Kyrie Irving, Darron Williams, John Wall, and all the other great PG's in the NBA.
Yes. Living down here, after they beat Purdue at home, all I heard was how bad the B1G was, and they would own this conference.
Well.. what happened next?
These refs are annoying as hell
Amir just standing there like always
slightly off topic, but I sat in the Iowa section for the OSU and Iowa game at the shoe this year. You would be amazed how many good caucus jokes you can come up with in 4 hours.
How do you not love this site? Wake up feeling great after a crazy bball game last night. Already 3 very good posts, 4 or 5 buckshots, and now a reason to hate an obscure program a little more.
Let me start:
How about you try actually playing in a BOWL game before you throw shade on our bowl games, you state university of crappy corn state. ALSO that was a charge last year you idiots, you know why? Aaron FREAKIN Craft, that is why! Suck it Cyclones, go back to preparing for you stupid caucus and leave the sports to Ohio State. (Except for that baskets win over MeatChicken, that was cool)
Man, it would suck to be in NYC after a win like that on your 21st bday.
This is unacceptable. Urban Meyer needs to suspend him for 15 games or he is going on a murder spree.
Better to hug it out than fight it out! Haha
I love you guys. Just felt like I should say that
I've done many things my parents think are embarrassing, but they always have your back. Guarantee you Marcus Halls parents were pissed at him, but 10 times more pissed at these idiot chuckleheads talking about their child on national tv like that.
The only way that would of been better is if they shot the canon thru a SEC banner.
What I lacked in real basketball play, I made up Nerf basketball. My kids have no idea how much practice I got in college when I make it rain on 'em.
I can't even read the whole thing, terrible. So many thoughts and prayers to that family and community
I watched that video followed by his first appearance on the news following losing his daughter. I felt some dust in my eyes in video 1 and during video 2 I got a crazy amount dust in my eyes and they watered a little (maybe a lot).
Is anyone at all shocked that Bo Pelini would have a f bomb laced rant against anyone or anything? I would be shocked if there was not a tape like this out there.
BUT I find this very dirty. He obviously should not have said these things about his own fan base, but this sounds like it was a private conversation. I know I have said many things over the years in a private setting that I would not say to openly. We all have, but we are not all public figures. I think at some point taping a private convo by a public figure should be just that .. private and should not be able something that can be consumed as media.
That being said, I waste a lot of my time on Dead Spin and probably will not stop, so I must not be that appalled.
Watch out.. that is some serious Earth Porn