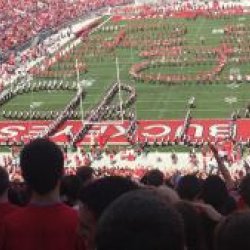 LILBUCKEYE
Member since 31 May 2013 | Blog
Helmet Stickers: 140 | Leaderboard
Favorites
NFL TEAM: New Orleans Saints
NHL TEAM: New York Rangers
NBA TEAM: Brooklyn Nets
MLB TEAM: New York Yankees
Recent Activity
The announcers think that is where he will end up...I hope they're right!
He confirmed on twitter that he will indeed be announcing today
This was so much fun last night...While it was pretty fun,I hope the tradition doesnt change and we do it only tuesday night every year
It's going to make it less safe though. Having 20000 people some of whom are drunk waiting in one line is not going to happen in an orderly manner people are going to stampede, cut the line and knock over fences. Also no one is going to want to wait on the line for long periods of time
What happens when 8000 students don't wanna wait in line and knock over the fences? Well at least they'll have wristbands...
But they're sponsored by adidas so they're irrelevant
You're right! As much as we want in the BCS title game, if Bama and FSu win out, I think we'd much rather play Oregon than have them in the title game and play Stanford in the rose bowl.
Playing Oregon just makes a better game and we will get a lot of respect if we win...well maybe
Any news on JuJu Smith on where he stands with us??
i'm a freshman at OSU and I'm from the east coast...One of the things that I've noticed is that most teenagers also dont think this is a very good school. Our freshman class' average ACT is a 28.5. The average ACT is around a 21. For a class of 7000 kids, having an avg ACT of a 28.5 is really good. It doesnt matter to me anymore if people think this school isnt good, I know that it is a very good school and that an engineering degrees from OSU is one of the best degrees a college grad can have.
The CBs need to stop playing soft coverage IMO
including roby, they were letting the cal WRs catch 5 yd passes because they were playing 10 yds deep.
was anyone else upset about this/ defensive play calling?
I am out of state..im gonna be a freshman this upcoming fall. I got a 32 on act and got $17,000 in scholarships. Then, I applied for the morril scholarship and received full out of state tuition which is around $25,000.
One thing i was disappointed with was on some plays Braxton couldnt outrun a TTUN lineman...That's not even close to be realistic
If we even get a glimpse of what they are capable of, it's going to be a great season!
I love it anytime there is a "Tom Crean cutting down the nets" Reference!!
the comments are honestly harmless, if a comedian wouldve said these things about the SEC, everyone would laugh..everyone is making too much of a deal out of this because Gee is tOSU president. These arent going to have profound effects in a year..