LealmanBuckeye
---
Member since 21 October 2011 | Blog
Helmet Stickers: 360 | Leaderboard
Recent Activity
Or the lower-tier B1G schools could do what it takes to improve, i.e., opening up the checkbooks and hiring better coaches, which begets better recruiting, which makes better teams, which brings in more revenue to retain those better coaches and to build newer facilities... just sayin.
Mike D'Andrea called. He wants a word with you about the true value of recruiting rankings.
The O-line is young and inexperienced. Bottom line. I hope they gell into a cohesive unit by the time November 8 rolls around, but it won't surprise me if they don't. The playcalling will reflect Meyer and Herman's confidence in the line. When a D breathes fire like Sparty's does, it's all about hot routes, screens and draws. Here's hoping Dave doesn't make an appearance.
Director of US Marketing and Outreach for ISIS?
Some people are never happy unless they're criticizing someone. JT overcame bad O-line play, the aforementioned Tressel-esque playcalling, and a sprained freaking MCL to win the damn game. His teammates are buying into him as a leader, and it's paid dividends. You're nitpicking and you know it.
Think we could sell tickets and just watch their world burn? I'll supply the popcorn.
Maybe as their D-coordinator. If they hire anyone less than Miles or one of the Harbaughs to the head job, there will be a full-scale mutiny from the fans and alumni.
Brandon must know where the proverbial (?) bodies are buried, because he and Hoke should have been out on their respective asses long before now.
The two are not mutually exclusive.
There's a "broad side of a barn" joke in here somewhere.
Wink wink, nudge nudge, say no more...
Put her in charge. It worked for Pepper Potts.
Why a tent stake? Was it as simple (and stupid) as a pun, i.e., "staking their claim"? Planting the flag, I get, even if it is still a punk move.
Next on the TTUN motivational tour, this guy:
I seem to remember Alonzo Spellman doing something similar with an Illinois O-lineman many years ago. Different circumstances, though. Joey was a beast, and that was a perfect ending to the game.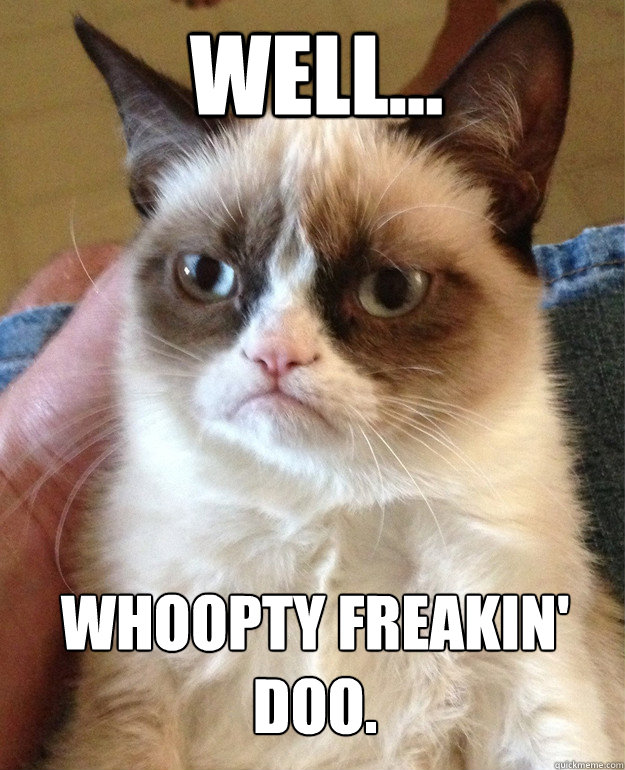 I'm actually glad the BTN commentators don't fawn over B1G teams like ESPN does the SEC. People would see right through it, and it would hurt the perception of the conference to the point of being more of a laughingstock than it already is perceived by the national media. Better to be realistic and push for the lower-tier teams to do what it takes to upgrade.
In reality it was the worst coaching and lack of execution I have ver seen from a Buckeye team.
The 1990 Liberty Bowl would like a word with you about that.
Depends on the circumstances. If we have to run a two-minute drill, then the defense is going to be playing prevent or some variation thereof to take away the deep ball, which means Barrett will just have to do what he's doing anyway with the intermediate passing game. But mid-4th quarter, if you want to take a shot downfield, then yes, arm strength becomes an issue.
While there's no helping it this year, how and to what extent can Marotti and the trainers help Barrett increase his arm strength? And if they can get a significant increase out of it, to what extent will he need to adjust his mechanics so that his efficiency is maintained?