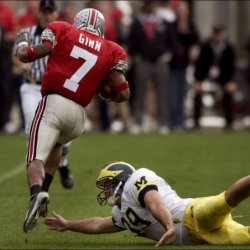 Lawver_5
Columbus
Member since 30 November 2012 | Blog
Helmet Stickers: 433 | Leaderboard
Favorites
SPORTS MOMENT: Watching Ohio State beat Wisconsin in 2011, 29-27
COLLEGE FOOTBALL PLAYER: Ted Ginn Jr.
COLLEGE BASKETBALL PLAYER: Sully
NFL TEAM: Cleveland Browns
NHL TEAM: Columbus Blue Jackets
NBA TEAM: Cleveland Cavaliers
MLB TEAM: Cleveland Indians
Recent Activity
I like your list, but Joyner was a safety for FSU not an offensive lineman
Wow, Mack is so quick off the ball, most of the time it seems like the offensive lineman are just trying to catch him. He's definitely a long shot but that would be an incredible pull for Larry Johnson and Co.
While I don't know if the Texans will take him at #1, I don't think it would be a bad choice. He would be working with JJ Watt and those two together would be a nightmare for offensive coordinators. I think he could use all of the negative things people are saying about him as motivation and live up to the hype honestly.
I found it interesting that Torrance Gibson said he has only spoken to Urban once. When are head coaches allowed to contact athletes?
To be fair, neither is percy harvin
It says he plays safety up above in the player profile
They also have Jeffery Holland who is an OLB and the #25 recruit in 247's composite. It won't mean we're going to end up with all of them, but you have to think it helps out our chances
Gotta love the attitude the lower ranked kids seem to have. We need players with a chip on their shoulder
These next couple years should be exciting for Buckeye Nation! I love what Urban is doing, now it just needs to keep translating into wins.
I went to high school with one of the girls in the video, they're getting a ton of attention for making this video, I'm impressed
I'm going to have to guess that Terry being from the area he's from, he doesn't get a lot of recruiting attention. Now with that, Speedy Noil looks like a legit talet and is probably ranked correctly. McLaurin is probably low for what he did this season, but honestly it doesn't matter how many stars you have when you step onto campus.
Tony romo has blown multiple games, thus his reputation
Personally I don't think these kids should be playing football on Christmas day, let them enjoy it without having to think about the game all day
Seems like a great kid with a good head on top of his shoulders. It will be exciting to see what he and the rest of Meyer's recruits can do the next couple years!
How did Shazier not win linebacker of the year?
After watching his highlights it was very obviously that this kid can fly. At the end he comes from like 20 yards behind to track a reciever from the opposite side down! I love seeing the speed we are bringing in every year now.
He got thrown out of The Game on his senior year after trying to defend a teammate who was completely surrounded by the other team, of course he is going to be upset. I don't think anyone is condoning his actions but it's not that hard to understand them. I can imagine he was full of emotion and those _ichigan fans were probably having at him. Personally I don't think anything happens to dontre, and I place some of the blame on the refs for the beginning of the brawl. He basically got jumped by the other team for goodness sake, I don't like that he threw punches but I've definitely seen much worse in past OSU-UM games. I think people forget about the David Boston-Charles Woodson because I don't think many people would say they should have been suspended for what they did.
Definitely a good read, I appreciate it staff and Ross. It seemed like the majority of the posters were grateful for his insight and surprisingly Ross seemed more optimistic for _ichigan than their fans. Here's to hoping Urban goes for 2 when we have the game in hand
There is a picture of them right when you get onto the main 11W page
Did anybody else see Lou Holtz defending us against Mark May? Me and my roommates couldn't help but cheer him on, at least someone gave us some credit!
This could get interesting..
*grabs popcorn*
I might argue and say Oden looks like the order brother in this. Maybe by like 10-15 years haha
But he is saying a HEALTHY Oden. I think most of us can agree when he was healthy he was pretty close to unstoppable on both ends of the court when he wanted to be. Obviously going his knees didn't help him out, but it's definitely saying something that he was drafted before Kevin Durant
Do you have a preference between any of the wr's mentioned?