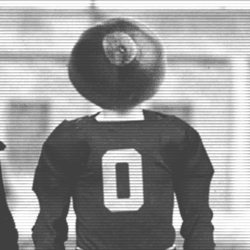 Larryp713
---
Olathe KS
Member since 28 July 2011 | Blog
Helmet Stickers: 692 | Leaderboard
Favorites
SPORTS MOMENT: 2002 Fiesta Bowl; 2006 Victory of TSUN; My blocked punt returned for a TD against Midview JV in 1987
COLLEGE FOOTBALL PLAYER: Troy Smith
NFL TEAM: Cleveland Browns
NHL TEAM: Columbus Blue Jackets
NBA TEAM: Cleveland Cavs
MLB TEAM: Cleveland Indians
Recent Activity
How I wish I was there...
I'll try, but frankly, with their Mom's math skills, they will probably not get it. Thanks for the suggestion, though!
My kids go to Olathe Northwest... how will I explain it to them that I am rooting for the Olathe North this year???
I live in Olathe and never heard anything about this!!! Olathe North is a powerhouse around these parts, and I am very excited to see a Kansas player selecting the scarlett and grey! Go Bucks!
Bosa and Bennett are so fun to watch. If Diesel Washington gets healthy, and Noah Spence comes back from suspension with a fire, which I expect, this will be a scary defensive line. Lot of good guys behind them as well. It is so sad that Marcus isn't around; he would have had some incredible opportunities with all the attention Bennett and Bosa are going to get.
There is a huge difference between the 43 year-old me and the 20 year-old me. The 20 year-old me put too much faith in experts who evaluate people, and never considered the pressure put on an 18 year-old athlete, who must also leave his friends and family and become a successful college student as well as raise his playing level 1000%.
The 43 year-old me understands all that much better. But the opposite of putting too much weight on recruiting stars is too not trust any of it. I am not a pessimist, so this is hard for me. I love reading the over-the-top recruiting expectations and imagining the next Ray Lewis (or Chris Spielman) is lining up 5 yards off the ball, eyes glaring at the poor joker about to take the snap. If I feel let down now, though, I usually blame coach Fickell and not the kid. I have matured so much!
I am excited to see what he can do. I think he put a lot of pressure on himself last year and probably pressed a little too much. He will be more relaxed this year.
I hope LeBron signs with Cleveland, but if he does return to Miami, I hope most of us can see the difference between 2014 and 2010. In 2010, he put out all kinds of signals that he was leaning Cleveland, and the team (big mistake) acted on that assumption. When he left, the Cavs were left holding bag of nothing.
This year, he has given no signals (other than the choice is between Cleveland and Miami and he wants a max contract). All the hype has been generated by fans and media. Either place he goes, I appreciate that he handled this professionally. Good luck to him.
It is a pretty hot picture. I won't let her baby sit my kids, but it is nice to look at.
It was found in the back of the cruiser, not on him. I think he will get that reduced or dropped in a plea deal. Any lawyer can create reasonable doubt on that, especially in Lorain (my home town).
He was probably pretty intoxicated. I read a report where he re-entered the scene after being pulled away by friends and was arguing with somebody else. Sounds a little similar to the Roby encounter, but add the coke found in the back of the cruiser.
BTW - I am pretty sure you can find drugs in the back of half of the LPD cruisers at any given time.
I am pretty sure the drug charges will get dropped or reduced. This is a slam dunk for any competent attorney. The brawl will also be plead down. I don't know if it will be enough to save his Buckeye football career, but I think he will be able to walk away from this mistake. Best wishes to Tracy.
I am not sure if this is in Lorain either, but I can picture such an establishment on 28th street. How can an aspiring young man say no to this classy establishment?
I am from Lorain and I would recommend anybody with ambitions for a better life to never enter a night club or lounge bar in that city. I have a lot of love for Tracy, being from nearby Elyria, and wish him the best. I hope he moves past whatever personal trials he is facing. It is a tough transition for young men and it is easy to take your eye off the ball.
I love Ryan. His talent and work ethic are amazing. I hate the Steelers, but am excited to see him blossom into a star. I just cannot say enough about how proud I am that he represents our beloved Buckeyes. Tear it up, Ryan!!!
I live 13 hours away from my ailing father, and even at 43 years old, it hurts. I have complete empathy for Mike and wish him and his family all the best. I am sad that we won't get to see him play for the Buckeyes; I thought he was going to be a good one. Best wishes Mitchell family.
I understand why Michael Sam's revealing he is gay is an important story, but I believe it is the hype more than bigotry that would cause a GM/team to hesitate selecting him in the draft. I doubt more than a handful of guys in the league are going to be threatened by sharing the locker room with a gay man, but it will be the constant media attention and frenzy that will probably cause most of any backlash he receives. I wish we could just congratulate him for the next couple of days, then focus on his talents on the football field. I don't see that happening. In fact, what I do see happening is that if he slips even one round past where Kiper says he should be picked, there will be a major discrimination lawsuit.
So many questions marks, but there is a lot of exciting possibilities. I can't wait for spring ball.
I think it comes down to scheme and the influx of spread offenses. It changes how the Buckeyes have used safeties. There is also the drop off of LB play that has force safeties to support more against the run. The safeties have become subtly more important in the last decade.
That guy recently attacked Roby for being injured for the Orange bowl and Philly Brown for a bad play after being one of the great leaders this last year. That guy needs to be called out and humiliated by every Buckeye fan that's on twitter. That horrifically stupid stuff is on par with all other forms of douchebaggery (racism/bigotry/etc...)
First I knew you were too good to be true, Ramzy. Socialist!!!
It is a compelling story though. The region in which Michigan is located seems hardly the place where an unabashed capitalist would hang his hat, and yet here is Brandon running Michigan football as a venture capitalist.
I am glad it is them, and not us. I feel better about rooting for the Buckeyes after reading Brandon's bio. But honestly, he is trying to get his program to the top in a way that makes sense to him. I hope he fails, and I find a lot more reasons to dislike him than his belief in running a results-oriented business.
Any good news for other B1G programs outside of Ann Arbor is good news for the Buckeyes. I personally want a battle tested and confident team the next time we are blessed to play in the National championship game, or the semifinals this year and beyond.
And not to nit-pick Kyle, but I personally cannot see how anybody who watched the Buckeye's last 3 wins thought there was a grand canyon between the Buckeyes and the rest of the B1G. I thought the Mich St. and Clemson games were pick 'ems going in, and I am not completely distraught by the losses. The Buckeyes just need to get better on defense, and I think we'll see that this year.
Glad he is back. I think if Braxton learns to throw receivers open (as Gruden and Spielman say, throw to a spot rather than to a person), he will be selected in the top 3 rounds next year's draft. In some ways, the new offensive line and receivers will push him to be quicker with his release and decision making and might prepare him better for the next level.
And if he doesn't make that leap early in the season, he will have a lot more to complain to the Chicago Tribune about. I think he knows this is the best personal decision for him, and he will avoid a Roby-esque period of second-guessing.
I truly dislike second-guessing by fans, but I don't think anybody would have faulted the play-calling if we ran right at their DE with Hyde and the Clemson D made the play. Braxton looked like Apollo Creed in the 15th round against Rocky in the 4th Quarter... Ride Hyde was the right call. Great analysis.
I was very proud of the way the Buckeyes compete. I think this is a great basketball team, and they can definitely be in the mix for the National title if they get hot toward the end of the year.