LABuckeye
---
Member since 17 September 2011 | Blog
Recent Activity
I asked my Magic 8 Ball, but it wasn't very helpful.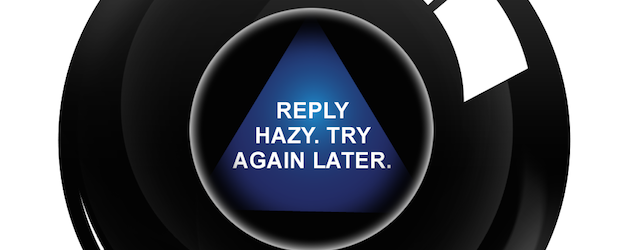 Except there were Gopher servers that pre-dated modern internet. That was how I researched everything when I was student. It was a marvel at the time.
I've honestly not understood the entitlement since I moved here. The USC campus is in a very shitty high crime area. I don't know what attracts people to go there.
Yep. People here don't go to USC games unless it's a cool thing to do. It's why their crowd (in my experience) sucks, and is full of homeboys that want to beat the shit out of you for rooting for another team. Anybody can walk up on game day at the Coliseum and buy a ticket.
If weather is an omen for weddings, I don't know what to think. My wife and I got legally married for tax reasons in our home in a situation that was just a formality. We had a rare (in Southern California) severe thunderstorm warning with crazy lightning, hail, etc. when it happened. Our real wedding was the following June on a yacht in Newport Bay. Weather was great. We're still married ten years later.
It's like it rained on my wedding day. Or something.
I only knew about it because my wife actually looks at those things. Ours came in the mail today and she says "Ohhh... TJs has Pumpkin Tortilla Chips."
"That sounds gross."
"I'm getting some."
Must be a chick thing.
I LOVE pumpkin pie. The fad of making pumpkin spice everything else is annoying. We just got our TJs Fearless Flyer today, and it even had pumpkin tortilla chips. That sounds disgusting and pointless.
Do I think they are paid correctly relative to their peers? Yes.
Do I think coaches are overpaid? Yes.
I first read the title as "Maryland to set fire to Edsall..." I need more coffee.
Rather convenient to leak right before playing us. I'm sure that wasn't strategic or anything...
I'll root for the Fighting Berts, because though I hate that douchebag, I get even greater joy out of seeing Alabama lose. That said, I expect this scene will be in the post-game press conference:
I can't wait for their new ads to bring visitors: "Fort Collins: Nippy in the Winter. Nipply in the Summer."
I wasn't aware of that. Thanks for passing that on.
We win. There is still a lot of complaining on here.
Source: The first five weeks of the season.
(I do expect a step forward on offense)
I use Yelp a lot. I do take it for what it is, and read reviews carefully, assuming a lot of the complaints are from assholes.
As far as Peeple is concerned, I'll sue them myself, even without a bad review.
I grew up in the Cooper years. They were traumatizing. That said, The Game is The Game because records don't matter. They have a legit chance to beat us and we have a legit chance to beat them every year. It doesn't matter what happened the rest of the season. Somehow, we were almost always on the short end of the stick with Cooper.
Obviously, I'd rather win them all, but any good Ohio State coach needs to win at least 50 percent of those games.
I saw Peeple on the news a few nights ago and initially freaked out. I then realized it can't possibly last long. It will get sued.
Yes. I've said that to many.
And you just added one...
It case it isn't clear, the 11W staff don't choose the ads. It's a service that will put out ads from their clients targeted based on the profile info they have on you. Not you, personally, really... But browsing history on your device and what's on the site you are on.
As a funny side note, Facebook does a similar thing. An ultrarunner friend of mine ran a race in a tight pair of underwear and posted pics on Facebook. I made a joke about it. Facebook served me underwear ads for months after that.
I've gotten the impression that it has to do with how much tracking data they have. I have my browser set to not track, and am usually in private mode. I think, in that case, the ad service chooses content based on what's in the site being visited.
I certainly never visit Michigan sites. I went to mgoblog once to see what they were saying, but that Geocities-esque disaster hurt my eyes and my brain.
I get those, too. I'd think a lot of us do. It would be because Michigan gets mentioned on here a lot. Probably too often.