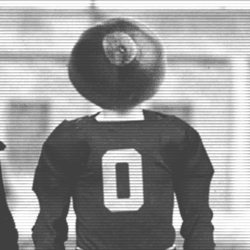 labuck
---
Member since 05 January 2011 | Blog
Helmet Stickers: 573 | Leaderboard
Favorites
COLLEGE FOOTBALL PLAYER: Eddie George
COLLEGE BASKETBALL PLAYER: Jimmy J
NFL TEAM: Lions
MLB TEAM: Cubs
SOCCER TEAM: Chelsea
Recent Activity
Do you think osu will take five o-lineman in this class to provide depth? Also Do Urban an Co. believe in taking only tackles and centers when looking at lineman? Lastly, what region of the country will the staff put most of their attention this year? Why?
No idea
Why not? The OL is weak after the starters and we really do not know what we have this year. You cannot bank on all five guys that just signed to come in and play at an elite level throughout their collegiate careers. We can certainly hope that happens but hardly does it ever work that way. I think signing another 5 this year will give the bucks some great depth and allow them to build the line the way they want for the future.
I hope he is fast so he can cover punts.
Love the new site. Congratulations guys!!
He will probably sign with Texas and follow Strong. Which by the way is where he committed first along with D. Knox.
What a glorious first half. Let's hope for more of the same in the second.
Looks like he said lattimore will still announce Saturday.
No redshirts will be burnt in the bowl game. Also, it wold be supremely d*ckish of Urban to bench any of his senior lineman to get those other guys playing time. It does no good for the team or for the future of Ohio State football.
Connor Cook wasnt the quarterback he is now. If I recall it was his first start.
This could be the worst cocktail party in Jacksonville in my recent memory. I cant remember a time when both of these teams were so irrelevant.
And by the way I feel like the SEC is truly overrated this season and this is probably first time I believe this to be true in the last 4 years. They have always had 4-6 good teams and this year they might have 2. If Georgia's backs could have stayed healthy this year they would have given the SEC three.
I think Alabama is clearly better than every team in the SEC and a lot of them no longer can play defense.
I agree. I think he is going for a redshirt unless there is an injury god forbid. He will not play unless it is absolutely necessary.
I don't think he would lose for a year. Its not like the cupboard is bare at Texas they just don't have the right coach(es) leading the program. They're stocked at plenty of positions. I think he would probably win 9 or 10 in year 1.
Probably immediately. Most teams do not stay longer than they have to. Once the game is over they head straight to the plane and its liftoff.
Nice write-up. Just an FYI Cincy is in the AEC which is a BCS conference.
Get a driver if you plan on doing tastings unless you have a planned DD. Limos are a pretty good option.
North Beach is pretty good for a pub crawl and good eats as well. This place has some great pizza. Dont wait in line to go inside the restaurant just order it from next door and eat outside. There is also a Rogue Brewery restaurant with all the Rogue beers. I would highly recommend it if you like Rogue. Also, this place has the best Cioppino I have ever had in my life and would highly recommend it to anyone in the north beach area. There are a couple of dive bars in the North Beach area as well. Lastly it is very close to fisherman's wharf/ghiradelli square so you can walk to all of these places. My girlfriend and I walked to all of these places as well as Lombard st. (same general vicinity) in an afternoon. Just be ready to walk up or down some hills. Buses and cabs are very convenient as well. We stayed in Nob Hill and just walked toward the water. Super easy walk (all downhill) through the edge of China Town and it took about 20 mins.
I thought he just meant synergy.
You forgot Michael Hill. That surprises me because I haven't heard boo about him all camp. With his injury last year, none of us really knew what to expect. Good for him! Continue to work hard young fella!