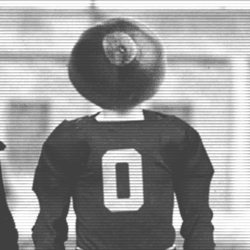 labuck
---
Member since 05 January 2011 | Blog
Helmet Stickers: 584 | Leaderboard
Favorites
COLLEGE FOOTBALL PLAYER: Eddie George
COLLEGE BASKETBALL PLAYER: Jimmy J
NFL TEAM: Lions
MLB TEAM: Cubs
SOCCER TEAM: Chelsea
Recent Activity
My only question is...how many more people can they take?
I'm not sure they're scary at all. What have any of those guys accomplished at OSU. Sure they have potential but that doesn't do you a whole lot of good if you can't produce when your name is called.
When money is on the line...absolutely
Bob and Paul...gotta love those Salad dressings...
I have been thinking all along that Zeke played last year to give him a taste of what it is like. They knew Rod Smith would be the guy this year and that Bri'onte would be right behind him as long as he developed and learned the offense. Rod was too much like Carlos last year which is why he didn't play as much. Bri'onte didn't have a place either so they red-shirted him. Now that Carlos is gone I believe it is Rod Smith's job to lose and Zeke, Bri'onte and Ball will get all of the left over carries.
I guess it depends on whether you mean in person or on tv but I will mix them here.
College World Series - Before the move to the new Rosenblatt
March Madness
Bowl Season
Do you think osu will take five o-lineman in this class to provide depth? Also Do Urban an Co. believe in taking only tackles and centers when looking at lineman? Lastly, what region of the country will the staff put most of their attention this year? Why?
No idea
Why not? The OL is weak after the starters and we really do not know what we have this year. You cannot bank on all five guys that just signed to come in and play at an elite level throughout their collegiate careers. We can certainly hope that happens but hardly does it ever work that way. I think signing another 5 this year will give the bucks some great depth and allow them to build the line the way they want for the future.
I hope he is fast so he can cover punts.
Love the new site. Congratulations guys!!
He will probably sign with Texas and follow Strong. Which by the way is where he committed first along with D. Knox.
What a glorious first half. Let's hope for more of the same in the second.
Looks like he said lattimore will still announce Saturday.
No redshirts will be burnt in the bowl game. Also, it wold be supremely d*ckish of Urban to bench any of his senior lineman to get those other guys playing time. It does no good for the team or for the future of Ohio State football.
Connor Cook wasnt the quarterback he is now. If I recall it was his first start.
This could be the worst cocktail party in Jacksonville in my recent memory. I cant remember a time when both of these teams were so irrelevant.
And by the way I feel like the SEC is truly overrated this season and this is probably first time I believe this to be true in the last 4 years. They have always had 4-6 good teams and this year they might have 2. If Georgia's backs could have stayed healthy this year they would have given the SEC three.
I think Alabama is clearly better than every team in the SEC and a lot of them no longer can play defense.
I agree. I think he is going for a redshirt unless there is an injury god forbid. He will not play unless it is absolutely necessary.
I don't think he would lose for a year. Its not like the cupboard is bare at Texas they just don't have the right coach(es) leading the program. They're stocked at plenty of positions. I think he would probably win 9 or 10 in year 1.
Probably immediately. Most teams do not stay longer than they have to. Once the game is over they head straight to the plane and its liftoff.