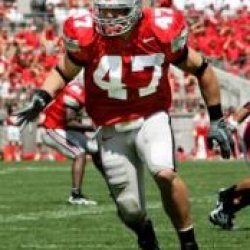 KLF Buckeye
---
Member since 24 November 2012 | Blog
Helmet Stickers: 812 | Leaderboard
Favorites
SPORTS MOMENT: Being in the stands for THE GAME: OSU vs ttun in 2006
COLLEGE FOOTBALL PLAYER: Braxton Miller
COLLEGE BASKETBALL PLAYER: Aaron Craft
NFL TEAM: Cleveland Browns
MLB TEAM: Cleveland Indians
Recent Activity
Interesting that this Twitter account is set on French. (See "follow" button and date).
Well, we know at least some of them know how to do what you are suggesting (https://bwi.rivals.com/showmsg.asp?fid=36&tid=172147821&mid=172147821&sid=890&style=2). This is Chrome Incognito on steroids.
Funny they should mention that.
Good question. Maybe having to wear it so long has motivated his new level of effort and output?
The tally on the vote page seems to have a bug in it. It actually went down a couple times after I voted. However, if you click on the "Discuss" link after voting you get the accurate tally. That tally went up as I voted and so did the percentage for Woody.
Yeah, that is interesting. If you take out international votes, Woody is the clear favorite by probably 1,000. I wonder what is up with that?
Penn State probably developed some kind of automatic ESPN voting center in the Cayman Islands. I bet that's what it is.
Yes, incognito definitely works. I just got Woody up to 49%, but alas I have other things to do today.
Currently down by about 300 votes. Definitely within reach.
Open Chrome incognito window
Load page
Vote Woody
Close window
Repeat
It takes a while for the vote count on ESPN to catch up, but the incognito voting is working.
I think we've moved the needle a bit, but still too close for comfort.
Cinderella's carriage turns into a pumpkin at midnight, every time.
Dude could learn a lesson in class from the 7 year old in the Syracuse hat behind him.
Maybe the Browns' strategy really should be to sign the best Ohio and former Buckeye talent they can. Nobody else seems to want to stay in Cleveland.
That was ugly and suspenseful, but if they do that like 9 more times this season it will be alright with me.
I hope we can keep Coach Warinner for as long as possible. That guy really impresses me and the things his players say about him speak volumes.
I agree, Patriot. With the current state of the B1G, post-season games are very important for our national reputation. I guess it's easy to say they are not important when you are just a fan with no skin in the contest.
I still contend that we did not lose. We merely ran out of time.
This from the school with a verb for failure named after it.
(v) Clemsoning: The act of delivering an inexplicably disappointing performance, usually within the context of a college football season.
source: urban dictionary
Now would be a great time to get some momentum going. Let's go Bucks!
I wouldn't mind seeing the Block O with the Buckeye leaf integrated into an accent at the bottom of the pant striping, or at the hip on alternate unis, but no way should black be used more than sparingly on an Ohio State uniform.
I've heard Mothman players do not do well under the lights.
I have yet to buy a Cleveland Browns jersey. However, if you slap a #34 and HYDE on the back of one...SOLD!
Joke's on them. That license is clearly a forgery.
I had a few moments of worry knowing Texas would be re-staffing, but now...
Depending on how quickly Dontre Wilson progresses, I think he will provide a lot of opportunities for Braxton to get the ball out very quickly and still get great yardage.