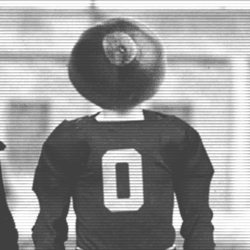 Kjetland
---
Member since 21 July 2013 | Blog
Helmet Stickers: 320 | Leaderboard
Recent Activity
Is it me or do the numbers look different?
Yes...late it the game.

It just seemed like at times the last 2 years safeties were confused, late and taking wrong angles constantly...
The safety play was just awful.
That 3rd and 21 is a microcosm of the last 2 seasons.
You do realize that before Manziel there was Tannehill at A&M. He went 8th overall to Miami and had a damn good year last year.
They were no slouch before Mazniel.
The end zone letter coloring has seemed off since they changed the field surface.
Hopefully they get in right.
I'm fine with OSU wearing alternates every now and again...but they should never wear them for Michigan...
OMG....I heard this same crap with O'Brien before him. O'Brien got recruits to pick PSU over OSU. Did it do them any good?
It's one thing to win out on a couple recruits...it's another to win on the field.
Gardner threw for 294 yards and 4 TD's vs. Notre Dame who had the 15th best passing defense.
I could list all the games and ranks of the defenses he played against...but he only had one bad game vs. Iowa....in which he still threw 2 TD's and no picks.
When did I say he should name a trophy after him?
Go back and look at his production. It was pretty solid. My point is.....Gardner is HARDLY hopeless.
That hopeless QB threw for 451 yards and 4 TD's vs OSU.
WE ARE.....
Mediocre at best. PSU's days of glory on the football field are long over. Serious question....when was the last time they had a good to great team?
You said you could produce a video of OSU fans attacking PSU fans in Ohio Stadium.
Please do so or GTFO.
The Wilson rumors are true...he will miss some time dealing with school issues. Not a huge deal.
He needs to concentrate on having another big spring game, followed by fading into obscurity.
The guy's offense hums and is built for the pass happy NFL. Last time this guy was in the league he broke records. He will be given the keys to the draft and the offense.
He would be foolish to thumb his nose at the NFL to stay with a program that has basically been ruinned.
I cannot wait till the BCS is finally dead and gone.