KingKosar
Member since 12 March 2013 | Blog
Helmet Stickers: 951 | Leaderboard
Voting Record: 3757 / 211
Favorites
COLLEGE FOOTBALL PLAYER: Eddie George
COLLEGE BASKETBALL PLAYER: Greg Oden
NFL TEAM: Cleveland Browns
NHL TEAM: Who Cares?
NBA TEAM: Cleveland Cavaliers
MLB TEAM: Cleveland Indians
SOCCER TEAM: Portland Timbers
Recent Activity
Agreed, Squirrel. I'm surprised we haven't heard much (or anything) about Jeff Green. With his size and speed, I was hoping to see him move up on the depth chart (even hypothetically)
The more you know.jpg
What would we do without Birm? I never want to find out...
Happy Birthday to TBDSITL! (The Best Damn Site in the Land)
Well that answers that...
If I remember correctly, Airbuckeye, he shot it down because it was flying around in *his* yard taking pictures, and not just flying around the neighbor's yard. I didn't realize it was a crowded area, though the article made it seem as though he took that into consideration by the fact that he was using a fine duck shot (still wasn't a good idea, though.)
I think you're right, Bukyze, this will bring up a much larger privacy issue, not to mention a safety issue. It's sure to be frightening when you don't know who is controlling the drone, or what the drone could be carrying,
Wow, I was pretty happy with how many helmet stickers I had until I saw that leaderboard. Wow...just...wow.
I would be honored to join such a prestigious club!
Since *everyone* loves how Seattle has the "12th Man", Eleven Warriors goes for a "12th Warrior" status for *only* the most awesome members?
For my money, I'd take Hot Head Burritos any day over Chipotle. But that's just my two cents.
No sarcasm font needed on that one, Fairfax.
Last time I went back to Portland, I made sure I brought a package of Peanut Butter Buckeyes from Schmidt's Fudge Haus. They are, by far, the best Buckeyes I've ever had.
As a Timbers fan, I love the fact that they got under Seattle's skin.
Am I the only one that read the title of the post and first thought of the Monty Python sketch?
Three things: First, the pumps are shaded by the canopy; second, at least the window is down so there is a nice breeze to keep cool; finally, it doesn't get that hot very often in Portland (you can count the # of days on one hand.). Even then, Portland doesn't have the humidity that Ohio has, so it doesn't feel nearly as bad.
Totally agree, YTown. Oregon is the only other state that prohibits you from pumping your own gas. When I moved back to Ohio (in Wintertime no less) I couldn't help but lament the fact that I had to get out of my car in the nasty a** weather to pump my own gas.
Then again, I also complained about having to wait for the slow-footed attendant to finally make his way to my car to either start pumping the gas or to hang up the pump when it was finished.
Nice Reading Rainbow reference, Wylde.
I'll Second, Third, Fourth 31st that motion?
Are you kiddin me, CowCat? For me, that was the best part of living on the west coast. Wake up and football is underway! It was especially nice for the primetime games (and MNF), since I could watch the entire game and still get to bed at a decent hour.
Now that I'm back in Ohio, it feels like I have to wait fooooorever for the games to start, especially on Sundays when football doesn't get underway until the afternoon. Ugh, indeed!
Carmel is a town in Indiana. Enough said.
Ha, you beat me to it, THE. I was just about to post:
"I'm sure we'll be seeing a lot of Al Borland pics, right Al?"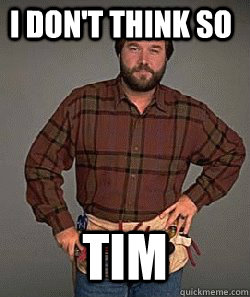 The Black Knight(s) ALWAYS triumph!
You guys just reminded me of another flavor of Dortitos that is freaking awesome (but almost impossible to find in this area.) Doritos Flamas. They are spicier than Tapatio flavored Doritos and have a hint of Lime.
If anyone has any knowledge of where they can find these bad boys, let me know!