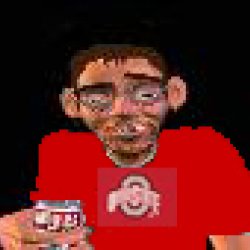 Kid Buckeye
---
Member since 22 June 2014 | Blog
Helmet Stickers: 627 | Leaderboard
Voting Record: 33 / 14
Recent Activity
HEY Urban
Hold the score down will ya!
He forget his meds?
total BS
Just create an idiot group and put them in that group, then just open that group up once a week just to check. That what I do and I do not have to read or look at idiot stuff.
He is a pain in the ass. Let him go.
no, this is more cardio than anything
Why am I getting the feeling of the U?
HHHMMMMMMMMMMMM
Now he is a member of Stud Linemen Of Buckeyes.
Miller would be the one with the chance but he will need to win a BIG award.
Looks like the better players under Urban will not be around for 4 years so getting into the circle maybe a thing of the past for awhile.
Heisman winner could be the only way in.
Agree meet and walk back to car together. Cell phones are your friends in these situations.
Damn that was just a bucket of blowbag.
What are you going to major in?
Did that have anything to do with you committing to the Buckeyes?
With Nascar's new playoff system they have even ruined fantasy Nascar for me.
I told my wife football season started Sept. 7th and she said that's funny that the same day shopping season starts.
Birm keep up the great job. You can post anything and anytime and I will still read it.
Thanks Teach. Things like this is the main reason I like 11W. The holier than you people. the smarter than you people. need I go on.
Where do you get your hair done?
Could get a deal right b4 the game if those prices hold.
Take him back??????? no way he is a Buckeye now. If the coaches saw his Bama gear you know the recruits and players saw the gear also and that lends to a pain in the ass player.
maybe FNL showed him what he would be up against and he didn't like it.
I could care less if he stays or leaves...he gots to know his limitations.
Download and install went without a problem. Trying to get into the Microsoft Solitaire collection has become a pain in my A...
Be part of the solution or hit the door. next man up.
What is pot without a party. More the merrier.
I think Miller will line up all over the field and even at QB for some plays,
I say sit the potheads for 3 games
I like rewarding seniors anyway possible as long as they have proven they are worthy of such rewards. Underclassmen will get their chance at rewards when they become seniors.