KevinJ
Member since 27 January 2013 | Blog
Helmet Stickers: 2,271 | Leaderboard
Recent Activity
Joey's a Baddass, nuff said.
I may be interested then, I've always wanted to own a bridge in Brooklyn.
Is it in Brooklyn by chance?
I can't get enough of Cradle Jones, I think he should play both ways he can QB and deliver the pain.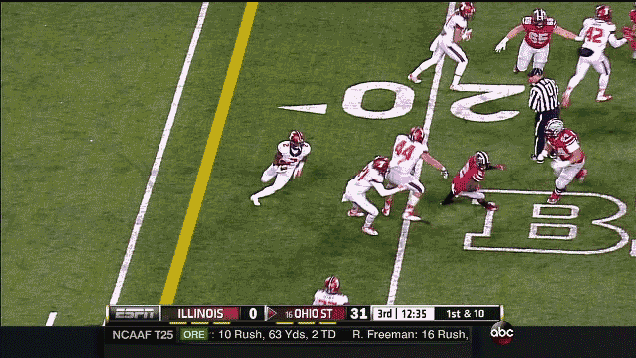 They are not as cheap as they used to be but they do have some good sales on booze from time to time, and yeah no tax.
I used to live in Sarasota and saw Brian Jonhson quite a bit, very down to earth dude.
That at one time was the rule but has since changed Boren was on Scholarship and Frazier walked on but is now on scholarship.
It's always fun to speculate but who was thinking Chris Ash before Urban hired him? It wouldn't surprise me if it was someone no one would think of other than Meyer of course.
You can transfer in conference you remember the name Justin Boren, Rashad Frazier is a transfer from Purdue. Ferns transferring to WVU will have no bearing on what school Brendan wants to attend. For the parents it will probably be easier on them knowing their sons aren't attending rival schools.
Bo Pelini was hired by Nebraska in Dec07 and coached as the Defensive Coordinator for LSU during the 2008 Sugar Bowl vs Ohio State which was the National Championship game, worked out pretty well for LSU.
I say congratulations to Coach Herman and I'm sure he'll do a kicks job in this years Sugar Bowl and hopefully the NCG as well, I'm glad he is sticking around until the season ends for Ohio State.
That's ok we have Alex Stump, I also wouldn't be surprised to see EGW or Ward in the receiving corps and even Gibson later on down the road.
To quote Urban Meyer from one of his call in shows (some one actually asked if Grant could line up at rush end) "Grant doesn't have the skill set to be a effective rush end". I would actually like to see Perry who is physically taller/longer line up at rush end but unfortunately we don't have anyone competent enough yet to replace him at LB.
Gahanna Lincoln's heat-seeking missile Jonathon Cooper is already in the mix for the Buckeyes. He committed to the Buckeyes in November.
I like heat seeking missiles, every time I hear/read that term I think of Ryan Shazier blowing people up.
Looks like Herman did get the job, as far as who will be the next coach hired, who knows did anyone speculate Ash would be hired? I'm confident whoever Urban decides on will get the job done.
Good luck to the QB Whisperer @CoachTomHerman at Houston. He did great things during his 3 seasons with the #Buckeyes.

— Dave Biddle (@davebiddle) December 15, 2014
Checkout the Hurry Up later this evening J. Birm is on top of things.
Hmm, not sure, maybe we should start a thread several threads here in 11W.
Fixed it for you
What about the Easter Bunny is he real to? Asking for a friend.
Greatest coach to ever coach at Ohio State so far is Woody Hayes, Five National Championships. I hope Urban can get to five, I do think we are lucky to have the coach we have right now, winningest percentage out of all active head coaches with more then 10 years experience.
Why should Barrett be suspended? I'm not going to pretend to know what happened but he called the police first asking to have the woman be removed from his house which if a argument is escalating into a possible physical altercation is the right thing todo. If he had attacked her like she claims I doubt he would have been the first one to have called the police. If he pushed her away to protect himself like he said then he did nothing wrong.
Retired Army, but I have a brother that is active Navy (Annapolis grad) so I always root for Navy except against TOSU and Army. GO ARMY!!!
Lies all lies everyone knows he is going to be a Duck/Longhorn/Gamecock/insert team of pref here.
If you know who your next coach is going to be you don't pay a firm big $$$ to help find you a new coach, and oh by the way this is the same firm that recommended Brady Hoke. I mean what could go wrong ¯\_(ツ)_/¯
Not saying Hubbard will or won't but look at Darron Lee no experience just great athletic ability, and instinct, Meyer calls Hubbard a freak.
Barrett made the 1st call, if he did something wrong I don't think he would have made the 1st call. I don't pretend to know what actually happened but if she attacked him and he was just defending himself why should he be punished? I'm am not saying thats what happened but if thats the case why should he be disciplined?
Kam Williams was unconscious, that pull up jumper NBA 3, WOW!