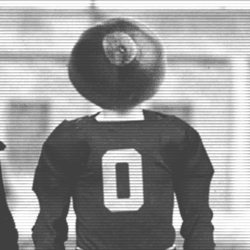 KeithMC33
---
Member since 07 August 2012 | Blog
Helmet Stickers: 566 | Leaderboard
Favorites
SPORTS MOMENT: Krenzel to Jenkins......Holy Buckeye!!
COLLEGE FOOTBALL PLAYER: Malcolm jenkins
NFL TEAM: Cleveland Browns
NHL TEAM: Columbus Bluejackets
NBA TEAM: Cleveland Cavs
MLB TEAM: Cleveland Indians
SOCCER TEAM: Columbus Crew/Arsenal
Recent Activity
Plus you would have to think that IF Conrad flips to us that helps even more with Harris. Him and Conrad, from what others have said at least, seem pretty tight so that could be good news for us!
I know this is probably wrong, but i CANNOT wait to see BBN in full meltdown mode if those 3 flip to other schools and they lose out on Harris!
I was fortunate to be dating a girl who was going to law school at Ohio State and we went in on student tickets for that season. Her friend HATED athletics, but was also a 3rd year law student so we used her ID to get that second ticket and they were pretty good seats!
That game against PSU had the 'shoe rocking that afternoon. When Gamble had that pick six, it was the loudest i have ever heard the shoe.....until Mich a couple weeks later. That whole season was amazing, and it's definitely something i will never, ever forget. BTN just had that OSU/Mich game on this past weekend, so it brought back some amazing memories!
I asked my dad if he would be interested, and while he is very much so, i will have to see how he is with Columbia cut jackets. His arms are usually too big for the type of cut Columbia has so that's always been an issue
Congrats on the weight loss!!
Wow that's awesome! Can you forward me the name of that app? Thanks!
I have a buddy who previously mentioned taking his son to this tourney, so i just shot him a quick text. One i hear back i will let you know!!
I received something in the mail from the Indiana Sports Co (or something like that) about signing up to have the seats i had last year on a permanent basis. There was a deadline of July 8th and i received the letter on July 6th, so i was a little skeptical. If i see anything for the passcode i will pass it along!
Personally i want to see Gene contact the AD's for Cincinnati,Kentucky and West Virginia, and let's get a home and home for both football and basketball. I know that football is a little more difficult with the shorter season, so we can rotate them all. Let's get a regional rivalry going!!
I purchased student tickets from a kid 2 years ago, and he let me use his ID for a $20 deposit. My buddy used his girlfriends ID, so it goes to show how much they really check these. If you go the upgrade route, i believe it goes off of the students seniority and if i recall they have to do the actual upgrade. Of course, that was 2 years ago and i'm sure it's changed a bit. I had a good time when i sat there, but it was for the Miami OH game which wasn't very intense. I have a buddy who did it for the Wisky game and he hated it. To each his own i guess?
Don't you all just wish we could get UK on the schedule and maybe rotate them with Cincinnati, West Virginia and Pitt to create a nice little regional rivalry? I think it would be great, plus it would be great to give UK a royal ass beating
I believe that Heat pick is a top 10 protected, so let's hope they fall in around 12 or 13. If we trade for Love and take back Kevin martin's (another Ohio guy) contract, we MIGHT be able to get away with Waiter, Bennett and 2 #1's for Love and Martin. I'm sure other teams will drive up the price for us, but we can all hope! Love has said he would sign an extension, so even though i would hate losing Wiggins, I would take a trophy over him, and i think we get one by adding Love.
Oh i completely forgot about Washington, so good call!!
I don't anticipate MSU having a bad season at all, so a flip may be tough for Scott but with Urban and this staff you can never rule out anyone. As you pointed out, that's a pretty extensive list of flips! I would imagine we are going to be talking about someone on NSD that nobody has really mentioned to this point. It always seems like there is a surprise recruit at the end of the class that nobody really talked about for the first 9 months of recruiting. We shall see!!
I try to find the positive in everything, which is a bit difficult at times, but hear me out on this one. Now that Scott is at MSU (and I wouldn' t rule out a flip on NSD), i think that will push both Weber and Harris to OSU, BUT i wouldn't be surprised to see Weber head to scUM or maybe even another school, which could boost our chances with Harris. Harris has said all along he would prefer to be the only back in the class, and we did pick up Hill for next season so maybe this opens the door for another DE/DT with all the big name guys who are liking OSU or possibly an additional OL?
Just my $.02 on the matter.
Wow this is an awesome list! Thank you all for the suggestions and advice, i threw you all an UV for your time. I really appreciate it!!!
man there are some great idea's here! Thank you all for the suggestions!!!
Man i am nervous as hell with this match! I hope the USA can put aside the first half jitters we seemed to have and start attacking that right side of the field. Hazard for Belgium has shown absolutely no interest in defending, so that is where we need to focus.
Also, that dude up front for Belgium is almost Teddy Ginn fast!
I have been a bit surprised by the moves today. I understand the Frattin trade as he was on a one-way contract and they weren't comfortable with that. Also, we have quite a bit of talent getting ready to come up to Cbus in the next year or so, so i can see why they traded him. I don't like losing MacKenzie at all. He may not have been the most skilled player on the ice, but he gave it his all every game.
It will be interesting to see what transpires with Johansen, i really hope they can lock him up for a few years!
What happened with that QB that de-committed from Notre Dumb a few weeks ago? Didn't he commit to Oregon? I remeber hearing that Waller was upset with Oregon because he was their 3rd choice, so i wonder where he will be going?
I think we can all agree that kickoff CANNOT get here fast enough. It's going to be a tough game, but i have confidence in the USA to pull this one out!! We just need Coach Coombs to speak to the boys!
I BELIEVE THAT WE WILL WIN!!!
M Man,
Question for you... Which of the 2 would you rather have starting for you guys this season? I only ask because the guy who sits 15 feet away from me is a huge UM fan and he just raves about Morris. I didn't see him play in the bowl game so I honestly couldn't tell a thing about him other than he's a lefty.
Well he should definitely be suspended for the rest of the Cup, but beyond that there is no point in suspending him for any National Team games. World Cup qualifying for 2018 doesn't start for a year and the Euro Cup (or whatever it's called now) doesn't start until 2015 or so, so you know Uruguay will have a few friendlies prior to qualifying so they would just put his name on the roster and have him "sit" those games out. It's like a starting pitcher being suspended 3-4 games in MLB, it's a total joke and they will still get their normal turn in the rotation.
I really hope the FA steps in and suspends him for at least part of the Premier League season. I don't know if there is precedent for that, but it would be a great move on their part. I'm sure they will contend that it's an unfair disadvantage to Liverpool, but something has to be done.
WOW........................................ what a crazy ending. Heartbreaking for sure for the Ivory Coast.
My buddy is a huge Liverpool fan and we have talked about this quite a few times. It's a shame, because the guy can single handedly decide a game, regardless of whether he is scoring or drawing 2 defenders which in turns opens up someone else. I actually lump Suarez and Balotelli in together because they seem to frustrate everyone. Balotelli has the size and speed to dominate, but inevitable he implodes and will disappear the second people get into his head. It's so sad because most of us would give anything to have that talent and they seem to just shrug it off and not give a damn. Oh well, i guess that is why i have always preferred college sports to the pros. Less ego and more heart!