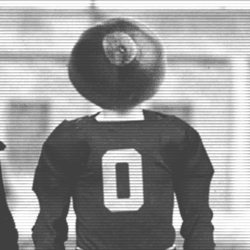 KE
---
Member since 17 September 2010 | Blog
Helmet Stickers: 167 | Leaderboard
Recent Activity
Another great year to be a Buckeye.
Whatever one thinks of the NCAA, their advertising tagline, "Just about all of them are going pro in something other than sports" is correct. Almost all of these athletes will not become professional athletes. But every college kid deserves their best shot to do and become what they want. Transfer prohibitions are crazy. Just as a high school kid should be able to go where he wants if it will help him get a better college offer, a college student should be able to go where he or she wants.
Jim - You have a good point and you don't deserve the down votes. By far the most troubling part of Tatgate was Coach Tressel's ham-fisted attempts to cover it up. The cover-up was way worse than the crime. But on balance I think Coach Tressel did fine work at OSU and he did a good job at Akron. His treatment of Maurice Clarett has been first class, to say the least. I studied carefully the claims about character issues at YSU, and I am not convinced. So while I understand your position, I think you're wrong.
I also remember watching those ping pong lotteries. I was too young to be drafted but was getting close, so my interest and attention kept going up. Later on, my college roommate got his tonsils and wisdom teeth removed right at the end of our senior year because he was going into the submarine service after graduation. Man, was he sick. Very glad mine were removed in 2d grade. I'm especially glad after reading this.
Any one know the likelihood of him being able to play next year? Why would he not have to sit out a year?
Thanks for a great season, Bucks. Less pressure in a bowl game. But hey, it's Christmas, the basketball Bucks are undefeated, and it's a great time to be a Buckeye. So all is good.
ADV is a great offensive player, but watch him closely while he's on defense. He is a liability on defense.
I agree - he really is a tremendous analyst.
Bobby Knight knows all there is to know about basketball. But he makes it sounds like you're listening to your grandfather.
Time for Carlos to go all biakabutuka on TTUN.
What network is showing the basketball game?
I think it's a good change, or it will be a good change once everyone gets used to it. Hand checking is terrible basketball. The change will place the emphasis on solid defensive fundamentals, which will make the game better. The next step should be to address the issue of turning over the ball while dribbling. Good ball handlers have to learn to control the ball without turning it over - I really don't even know what the standard is now that the refs use in calling a double dribble. Solid dribbling fundamentals are essential for young players.
Correct. Highest ranking ever for UCF has Orlando going nuts.
Neither Amir nor Trey are showing much today. Might be our Achilles heel later on.
Thanks for that, Fairground Stripper.
I was at OSU v. Miami at Miami in 2011. Two bad teams, but the crowd was way larger than it is for this game. It's got to be embarrassing to have such a crappy turnout.
Probably the most fascinating outcome would be undefeated OSU and Oregon, and a one-loss SEC champ. OSU would then have a 25-game winning streak. I don't know what the result would be, but whatever it is, it would be really interesting.
Correct. The Buckeyes do not control their own destiny, but I think we're great shape nonetheless. We are more likely to win out than FSU, and either Oregon or Alabama easily could slip. If we win out, none of the team behind us will overtake us, so I think OSU is in great shape for the NC game.
Check out UT v. Florida. It's one of the worst-played games ever.
The FAMU band is back this year after being suspended for two years. A couple of former band members are still pending trial on manslaughter charges following the beating / hazing death of a drum major. Hazing was deeply rooted in the FAMU band culture, and this crime might have resulted in ending it. Here is a link to the Orlando Sentinel's (the home of Mike Bianchi!) page collecting their reporting on the scandal. FAMU has taken a huge financial hit as a result of the band's suspension.
I remember when this game was scheduled several years ago. I remember thinking how great it would be to see the FAMU band the TBDBITL on the same field. FAMU's band was great, a whole different style that Ohio State's band. FAMU plays a big rivalry game every year in Orlando against Bethune Cookman, and the competition between the bands was ususlly a bigger deal than the competition between the football teams.
You reference a "hazing scandal" that has affected the band. It's a lot more than that. Two years ago at the Bethune Cookman game in Orlando, the band's hazing of a drum major resulted in the drum major's death. He was beaten to death. Several now-former band members are still pending trial on manslaughter charges.
The band was suspended, the band director and college president were fired, and FAMU has taken a big hit in prestige. With the band gone, attendance at football games has crashed. The band was a huge money-maker for the school, and it has been gone for two seasons. FAMU has had all sorts of money problems as a result. Hazing in the band and in other campus organizations was deeply rooted at FAMU, and they have worked hard to eliminate it.
The band was reinstated this year with all sorts of hazing safeguards. I knew there was no chance they would make it for the game, which is too bad.
Akron goes ahead of TTUN, and here's the best comment on MGoBlog: "I'm telling you...it's fucking Tressel. His curse will never stop haunting us."
Something that might darken the day before opening day: http://sports.yahoo.com/blogs/ncaaf-dr-saturday/rolling-stone-article-claims-urban-meyer-might-covered-042603810.html
Nebraska QB commit Zack Darlington suffered his second concussion in three months this weekend. He was airlifted to the hospital after getting knocked out be a legal hit on Friday. He's a big part of their class, and he's looking shaky at best.
http://www.orlandosentinel.com/sports/highschool/football/os-hs-injured-apopka-quarterback-zack-darlington-20130825,0,2887210.story
In other Florida-B1G news, here's Mike Bianchi's take on who would win a fight between Urban Meyer and Will Muschamp. Why this matters, I have no clue.
http://www.orlandosentinel.com/sports/blogs/open-mike/os-urban-meyer-gators-espn-fight-20130826,0,6699552.post
Of all the celebration gifs, this one is the best. But then I'm older than most of you.