kc_buck
---
Member since 30 August 2012 | Blog
Helmet Stickers: 111 | Leaderboard
Favorites
SPORTS MOMENT: "The Game" 2006.
COLLEGE FOOTBALL PLAYER: Braxton Miller
COLLEGE BASKETBALL PLAYER: Aaron Craft
NFL TEAM: Pittsburgh Steelers
NHL TEAM: none
NBA TEAM: none
MLB TEAM: Pittsburgh Pirates
SOCCER TEAM: Sporting Kansas City
Recent Activity
I also voted "Other" in favor of Curtis Grant.
Welcome. Care to take a stand on Waters and the band?

I remember seeing Frank on the field a lot more than that "1 reception" indicates.
From his player profile on ohiostatebuckeyes.com:
"... 28 plays from scrimmage against Florida A&M ... saw first Big Ten action with 15 plays on offense vs. Penn State and added 24 vs. Purdue ... had his first catch - for six yards - vs. Purdue ... Epitropooulos is a two-time OSU Scholar-Athlete majoring in biology."
"...is the son of John and Alice Epitropoulos, both of whom attended Ohio State ... John was a three-year Ohio State football letterman between 1978 and 1980, playing in 34 games for both coaches Woody Hayes and Earle Bruce ... an uncle, Ernie Epitropoulos, also played for the Buckeyes ... a sister, Christina, is in dental school at Ohio State."
Once a Buckeye always a Buckeye. Congratulations on your success to this point. Keep up the good work.
NBADraft.net currently has Amir Williams as the 44th pick in a 2015 mock-draft while Sam Thompson is 47th and Shannon Scott is 49th. Do any, or all, of these seem too high to you?
In my opinion, a National Championship depends on both Curtis Grant and Rod Smith making truly epic contributions... even if they are doing so as non-starters. Their leadership is key!
Just this past weekend I watched the Chick-fil-A Bowl on YouTube where Duke played Texas A&M. Jeremy Cash had an awesome game and I remember wishing he'd been on last year's Buckeye team.
It wasn't explicit in the write-up, but I also thought the article implied that Jameis Winston and Johnny Manziel played as true-freshman. Neither did; both were redshirted.
CincyOSU... I agree with you. Penn State football will be just fine (or better).
Great leaders have the courage to give second chances when warranted while poor leaders jump to judgement too easily and/or use their power in excess to show who's the boss. That may not be the case here, but it does make me worry for the future of Buckeye Nation.
I have always liked Steve Spurrier primarily because I'm old enough to remember him as a player. His football accomplishments, as a Heisman winner, 10 years playing in the NFL, and 35 years as a college/NFL coach demand a great deal of respect in my opinion... except when he bashes our team/conference.
Kyle, thanks for all you've done to support Buckeye Nation!
Congratulations Josh... from a fellow Kansas City Metro Buckeye.
I know that you're gonna have it your way or nothing at all
But I think you're moving too fast
E + R = O
The Event was avoidable. The Reaction was atrocious. The Outcome will not be good.
Leadership begins with yourself... and this was a complete failure.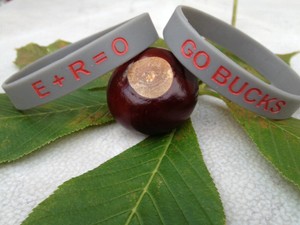 For reasons that go far beyond winning, if I had a time machine I would bring back Tyson Gentry.

NOTE: The Bill of Rights does not explicitly prohibit fans from tweeting recruits. Even so it is now unlawful per a recent ruling by the 11W Supreme Court (Fans v Skid21 et al., June 11, 2014).

Good luck Aaron and thanks for the memories.
I don't recall the title of the article, but just last week our 11W staff referred to the upcoming season as "next season". I'm so ready to call it "this season" damn it.
I am not overly concerned about a starter still being fresh in the 4th quarter of any one game, but very concerned about a starter still being fresh in the 4th quarter of games 12, 13, 14 and with any luck game 15. The wear and tear of a full season is brutal regardless of elite training. Any break the starters can get during the season builds depth and keeps players fresh throughout the WHOLE season.
I've seen no on-the-court evidence that our Basketball team ever used the old weight room.