KBonay
Moderator
Orange County, CA
Member since 12 December 2011 | Blog
Favorites
SPORTS MOMENT: 02 Title in AZ/ Rose Bowl vs ASU/ 2014 Undisputed in Texas
SOCCER TEAM: Really?
Recent Activity
You're welcome for not watching! What an amazing comeback. Ride that big Mo on Monday
I think the key is me NOT watching.
The Buckeyes already have commitments from Emory Jones and Brenton Cox, the state's fifth and sixth-ranked prospects
3 straight bad possessions. Need to close this down.
Can a brother win a face-off
Damn. Maybe I shouldn't have tuned in.
I found the long version. Maybe they have shorter, cut ones.
Those two pics of Correll looks worlds apart. Where they actually taken on the same day?
I've hear it called a lot of things before....
In related new, I really like the commercial where all the ex-champs are spelling out their names on the cup.
Trying to accommodate the band wagon fans...
I hear ya. But I think most Pens fans will point out there are pretty beat up too.
Just looking for a fun 7-game series.
I think you are taking this too personal. I really don't have a dog in this fight, I am just a fan of the game. I was just pointing out that since he took a dive, things were not going his way. Maybe it was Karma. Maybe not.
You'd think the Pens fans would be educated enough to know that there are cameras everywhere to catch all angles. And no one on the team or coaches were even arguing. It's not like they were going to pull a fast one on them.
It will be a yella kind a final.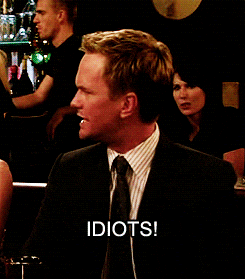 Kessel dives to get penalty.
Since then, gets hit in face with puck, misses a break away. And pops one over the net and across the crossbar.
#Karma
OooooooVeeeeeeeeerrrr TiiiiiiiiMeeeeeeee
X 2