KB3RG
Perrysburg, OH
Member since 25 January 2014 | Blog
Favorites
COLLEGE FOOTBALL PLAYER: Eddie George, Joey Bosa
NFL TEAM: Detroit Lions
MLB TEAM: Detroit Tigers
SOCCER TEAM: Liverpool and Columbus Crew
Recent Activity
Makes sense to me
Thank you! amazing find and thank you guys for getting me Urbans autograph!
Hill appears more set on playing defense in college. That being said, Hill if he went to OSU was going to be a slot and thats what OSU is recruiting Bruce as
from the website:
The 2015 Ohio State Four-Miler will begin at 10 a.m. Former Ohio State greats such as Scoonie Penn, Raymont Harris, Bobby Carpenter, Anthony Schlegel, Ryan Miller, William White, Justin Zwick, J.J. Sullinger and Dimitrious Stanley; Brutus Buckeye; Ohio State cheerleaders and others are expected to participate.
Do recruits get to borrow cold weather gear? If not thats a pretty big thing that all those kids werw pumping out money for the game to fit in
Too bad they can't come play right now...
not to mention that BG has a legit QB. I know the depth isn't the same but whenever a team has a talented QB theres a given chance for a team. Last time OSU played BG I was a student at BGSU wearing my OSU jersey in the student section. I was cheering for both teams as my friends were on the team and had to root for them or face them in the hallway at the dorm.
Welcome to the Perrysburg band wagon. The #2 team in the state for D2
April fools?
Sad news indeed
The only other show I dislike more than Dan LeBatard show is Gio and Jones on CBS sports radio.
They are similar shows as they go off on tangents about non sports related things. Being in the Toledo area thats what I get is CBS sports radio for my car ride in. Use to have ESPN until 106.5 switched over to CBS.
The practice field they kept showing looked amazing. The entire walk in and scene was beautiful. Wish I was there to see it all live.
I think it would have been closer with Brewer yes but ultimately OSU had too much depth. Would be very curious to hear how Burrell and Holmes thought the trip went
seems fair. The B1G should then take Duke, UNC and VA.
Anyone a fan of pumpkin ale? Which is a good one? Looking to get my wife a case as she is loves pumpkin and trying to get into beer
PPR is always great with great WR. hard to pass up the top (fantasy WR) in Brown. I am not a Steelers fan at all(Lions) but it seems a safe bet that their team is going to have 1 of the top offenses. I would wait for QB for a few more rounds. Especially with it an 8 team(is it 2QB starting?)
Give me Nugent
To me the biggest liability on the team is the kicker.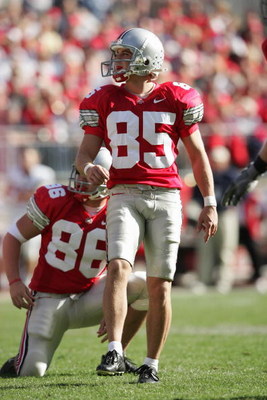 He can't type, he is too busy putting makeup on, can't see with sunglasses inside his moms basement and the gloves get in the way from typing on the keyboard
The first thing I think of when I hear this is all the random radio adds during March Madness. Better bet would be to do this during football bowl season though...just a thought
no more using Jack White. He is talented yes but for the love of God, stop using Michigan people for OSU. They need to stop using Seven Nation Army as well. I have stated this before and will say it again. Use something by Twenty One Pilots. Two member band from Columbus, OH who are becoming very popular. Give love to the guys from their own city instead.
Heavy Dirty Soul is being used in the new Madden game this year as well.
Love this place in Northwood, OH. They even have a grocery store of Thai good next door that you can buy stuff to actually make the dishes at home too.
The owner is a great guy. Met him at the gym I worked at and he actually gave me some lessons in Thai Boxing. He also runs a steakhouse in Toledo, OH.
Russell Wilson on a pass...
I would have to say you feed the ball to Zeke though
haha yeah.
I am rooting for Kyle Berger for great success.
User name is combination of my real name.
Picture is of me after a half marathon last year before the OSU/MSU game