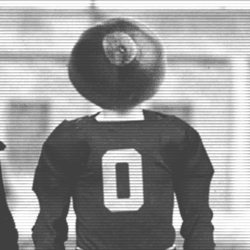 Kansas City Buckeye
---
Member since 02 October 2010 | Blog
Helmet Stickers: 66 | Leaderboard
Favorites
SPORTS MOMENT: When the Buckeyes beat Michigan in 2006.
COLLEGE FOOTBALL PLAYER: Eddie George
COLLEGE BASKETBALL PLAYER: Scoonie Penn
NFL TEAM: Pittsburgh Steelers
NHL TEAM: Pittsburgh Penguins
NBA TEAM: Oklahoma City Thunder
MLB TEAM: Pittsburgh Pirates
Recent Activity
The O-Line sucks! Fire everyone!
calm down everyone.
I've been getting my pizza delivered by Michigan grads for years.
I keep reading that KennyG is a different player this year. Maybe he was just horrible in the film room last year. Also, why does Bollman keep getting blamed for Bauserman? It seems as though Coach Fickell gets a free ride and none of the heat for that debacle last year.
As a former Zoomie, I am excited about the Air Force vs. Navy game. I know....I know...its not as exciting as the big time games, but bragging rights on deployments is important.
Just think how dangerous Miller will be when he learns to pitch the ball on the option.
Wow, that weird. I was just discussing Maurice Hall with a co-worker today. He is a Kansas State grad and we were comparing Craig Krenzel to Collin Klein. He pointed out similarities to the 2002 Buckeye team to this year's K-State team.
Anyway, I mentioned that K-State's biggest weakness is depth. Few people outside of Ohio remember that Ohio State had depth at the RB position in the form of Maurice Hall. I then told him about Hall's clutch performance in the Illinois game as well as the Michigan game.
I am a KU grad and season ticket holder (I would have been a Buckeye grad had the Air Force sent me to Wright Patterson AFB). However, I am and will always be a Buckeye fan first. I will probably shock those who sit near me at Allen Fieldhouse when I show up in my Buckeye gear on Saturday.
Scott Van Pelt just gave 11Warriors props on the radio.
26-20 THE Ohio State University!
Mike and Mike on ESPN radio are citing sources in Orlando confirming that Urban Meyer is coming to Ohio State. They state their sources are also saying Fickell will remain on the staff.
I loved the victory and think that is a great picture. However, I never thought I'd see the day when Buckeye fans stormed the field after beating a #15 ranked team. Has it gotten that bad?
It was a disappointing game. But until we go 6-6, its no worse than the 1999 season. I survived that season.
I will be there. I will be the guy in the Buckeye shirt. Don't hesitate to say hi if you see me.
@Maestro. I am in Johnson County.
Make sure you check out the club on Saturdays.
www.kcbucks.org
It is an alumni club, but everybody is welcome to join. I am from Youngstown and graduated from Kansas (The military brought me west). But they love me just the same.
There are former band members that bring their instruments and play during the game. It is an awesome experience on Saturdays. Being a KU alumni is going to help me get tickets for the KU/Ohio State Bball game this year.
Why do people automatically assume that vrable would be a good coach? He has zero experience. Sure he is a good player, but coaching is much different. I would like to see someone who is a proven commidity, who is looking to take the next step.
I love Mike Vrable, but does he have the qualifications for this job?
Notice the terminology. They are using "allegation." Back in December, it was noted in the comments section here that the term allegation was not being used, only violation.
Maybe it is something, maybe it is nothing.
The entire state of Iowa is located west of the Mississippi.
I would argue that during the Hayes era, the Big 10 was much weaker than it has been during the Tressel era. Back then it was common knowledge that Woody did not even practice to play Northwestern.
During the week of the Northwestern game they would practice to play Michigan.
Wisconsin was a nobody until barry Alvarez arrived. There was no Penn State either. Woody also had a losing bowl record.
I love Woody and believe he put Ohio State on the map. But to think the B-10 was so much better during his era I think is wrong.
I never thought of it like that, and I agree with you 100%. If that was Tebow, every network and fan would praising his "fiery leadership." Instead the emo fanbase we have wants a reason to complain.
Lets focus on hate week.
Its F*cking michigan week!
Sadly, I have no faith in our D.