Jugdish
---
Member since 25 July 2011 | Blog
Helmet Stickers: 3,086 | Leaderboard
Voting Record: 457 / 33
Favorites
SPORTS MOMENT: The 2012 Buckeyes going undefeated in Urban's first year. And the seniors who stayed to finish their careers at the OSU. The COTY goes to Urb... what the hell did you say?
COLLEGE FOOTBALL PLAYER: Archie
COLLEGE BASKETBALL PLAYER: Hopson, Jackson, and Craft
NFL TEAM: None
NHL TEAM: None
NBA TEAM: None
MLB TEAM: None
SOCCER TEAM: None
Recent Activity
QB - You don't lose your position because of injury.
I have been a real critic of Gene for his handling of past events with Tress. After reading this article, I am starting to forgive him. My respect for what Gene has done since the Tress debacle has grown and Gene is a key component in the building of OSU athletics. Ohio State University is the epitome of what other colleges and universities are trying to achieve. It feels really good that we are in such good hands. The vision and goals of our leaders truly sets this university apart from the others.
That video of Daniel Giddens gave me chills. He seems to be a cross between Slam and Jae'Sean Tate. What a force for this Buckeye team.
Ask me in ten years. This scenario scares the crap out of me. This question seems inappropriate to me!!
Lost was mentioned on here before and we got hooked initially. As the show went on, it became unbearable. We had to finish though because so many recommended it and we had to see how it ended. I wish I had that time back. You can't go wrong with Breaking Bad, Peaky Blinders, Orange is the New Black, and House of Cards.
It seems that they do not appreciate football in Oregon. Florida had more attendance in 12 games than Oregon did in 15 games.
I felt so sorry about the woman who called the man creepy and posted his picture. It seems that term is used without any forethought or discretion. The term is used on this site to describe people that are presumed to be undesirables. If I thought any child was being abused in any way, I would have intervened immediately to get the story. There is no person who is more vigilant about this kinds of acts than a grandfather.
Yes all three will be on the roster and Yes Braxton will be starting if he is healthy. The only thing that took him out was his injury and a player does not lose his position because of that injury as stated somewhere on 11W before.
"The Greatest Rivalry In All of Sports" by far. We have MSU at home which will be a great battle. If we can get out of that game w/o injuries, we should be able to beat TTUN. At their place, with a new coach, and fans that will be in a frenzy, it will be a dog fight. I hear they are going to have a "Khaki Out."

We have been using that term on 11W for years. I was just as surprised as everyone else when Mason had never heard it. Oh, you say he coached at Minnesota. OK, I get it.
I believe his offer list will blow up during his senior year. This young man is relentless. He reminds me of Meechy the way he punishes his man. I really like this offer. Welcome to Jack for becoming a Buckeye.
It will even be more fun with Curtis playing H back. Marshall and Curtis may get the bulk of the carries this year.
I said yes. He is the next man up with his play from last year. It takes at least one big RB on the field at any one time and Dunn fills that need. Curtis will get more carries, just not from the TB spot.
I too am old but for you young whipper snappers you can use "impact" in the place of both and be correct. Also, Get Off My Grass!!!
I am glad Jarrett is taking quiet time to seriously think about his future. This looks good for the Buckeyes in my opinion.
I was expecting great things from Jeff Greene. At 6'5", I thought he would be one of the go to guys. Anyone know the story on Jeff?
The most fun that I had was when I rode Enduros on a 1974 Penton. It was a great sport. Most of the time was spent riding in the woods. I was always afraid when we had to ride on the roads. Most motorists at that time had little respect for bikers.
As far as the waving goes, other people do the same if they feel that they are part of a group. I had a 1996 Miata with the flip up headlights and the car had a switch to flip the lights up momentarily without the lights coming on. This was called the Miata Salute. It also seemed to me that it was in the owners manual to do this to other Miata drivers.
I can't imagine too many going to see the Rolling Stones as you must present your Golden Buckeye Card. Plus, the ones who buy tickets will forget what day the concert is going to be held.
I have MSU playing KY in the championship game.
Saban is not wanting for talent at Alabama. I believe that he was really giving Taylor another opportunity. Taylor is apparently a thug and will be spending time in prison. I believe Saban will think long and hard before lending a hand to other athletes who are kicked out of other colleges.
Wilson, Marshall, Samuel = WMS (Weapons of Mass Speed)
When I first starting going to see concerts, many years ago, I went to Dick Clark's Caravan of Stars. There would be many performers who would do a few top songs. The Supremes, and Tom Jones were just two that performed and I can't recall the others except one group called The Jive Five. Their hit song was "I'm a Happy Man" - Doo Wop at its finest.
I didn't go to any other concerts until I was married and took my daughter and her friend to a concert when they were about 14. I didn't really want to take them but it turned out great. Journey was the main group that we went to see with Bryan Adams opening. I have been a fan of Bryan Adams and Steve Perry ever since.
I had a 1960 Rambler. The front seats folded back to make a bed. It was a fun car but it fell apart. Here is a picture of something similar. Now, don't get jealous of this beauty. Some of you are probably thinking, "Take that car out of the picture and this would be great scenery".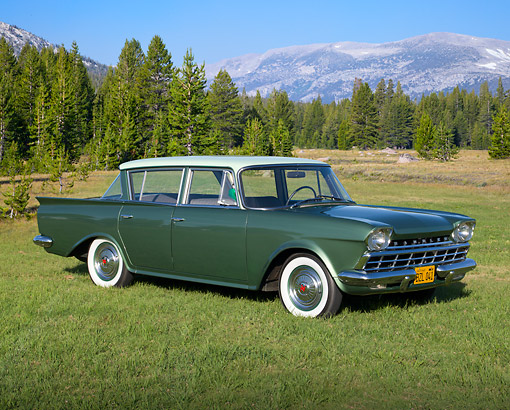 I was one of the "get off my grass" people who wanted to stick with tradition. But these BLACK uniforms are insane. I absolutely love them. BACK IN BLACK BABY!!!!!!
I always heard that it took more of a man to have a daughter because he had to shoot the balls off.