JTACbuckeye
---
Ft Bragg, NC - Hurlburt Field, FL (via everywhere and nowhere. I claim Dayton, OH.)
Member since 14 August 2013 | Blog
Helmet Stickers: 143 | Leaderboard
Favorites
COLLEGE FOOTBALL PLAYER: Malcolm Jenkins
COLLEGE BASKETBALL PLAYER: Mike Conley
NFL TEAM: Pittsburgh Steelers
NBA TEAM: San Antonio Spurs
SOCCER TEAM: Barca
Recent Activity
the balls hasn't been snapped, so all the aforementioned pre-snap movements are legal.
I'm a late Buckeye adopter (as in around 2000-2001)... I was raised a Cornhusker, because my father is a former player, but when he got stationed at Wright-Patt I began to subscribe to the religion known as Ohio Stationism.
i want jt barrett to get all of the accolades he deserves and to bring the heisman memorial trophy back to columbus eventually, BUT i hate how disruptive it is in terms of being right before the post season begins. all i can think about is how out of sync the buckeyes played when smith and ginn and everyone else were on the national awards circuit.
let me preface this by saying this is just my opinion....
i would personally have him slotted at the four spot.
1)Melvin Gordon (his performace speaks for itself)
2)Jeremy Langford (tough, tough runner... love his tenacity and leg drive)
3)Ameer Abdullah (finds great cutback lanes... can be a bit of a boom or bust back)
4)EZE Elliott (tough blocker, solid hands, young and getting better)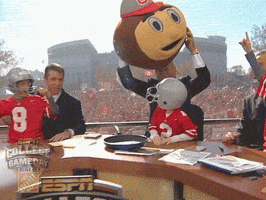 a lot of good ones in here and mine have pretty much all been mentioned but here goes:
1)super mario bros. 3
2)super smash brothers
3)ncaa footbal 12
4)socom: us navy seals
5)007: goldeneye
honorable mention: cobra triangle, excitebike, konami's track and field
i think we need a true DT more than anything... so I'm going to go with Gallimore, Beckner, or Wilkins as my number one hopes. then i think we need a true LT... Richmond? then a big outside receiver... Cager or Jefferson.
thanks Birm! awesome info as always.
i m loving the development of our offensive line, BUT i have one small problem with it. in building one of the best o-lines in recent memory we continue to poach our big bodies from the d-line. i want some of these younger offensive linemen to step up, so that Billy Price can return to the defensive side of the ball and spell some of our starters. keep up the great work coach warriner!
that's great news.... come on down: bowen and richmond! spots are filling up fast!
with this win we can crown THE Ohio State Buckeyes the 2014 SEC East Champion!
quack..quack....quack...quack...QUACK... QUACK... QUACK!
do the people in 11W jail retain the rights to conjugal visits?
reading through the 2 pages on the topic on MGOBLOG was eye-opening.... 95% of the posts were positive and many of their predictions were spot on. they seemed to have much more faith in Urban developing JTB into a solid qb, than we did early on.
recruits want to play with other good recruits... I think this strategy would backfire, because if you were some "all-world recruit" then you would be helping get publicity for _ichigan's class and thereby recruiting other kids to join you.
just wanted to say Happy Veteran's Day to my brothers (and sisters) in the uniformed services.
i have also nursed from my wife's bosoms to alleviate her suffering... mmmmm, God, I miss her being pregnant!
...and not one jumpshot or hook in the highlight vid! excited by this kid's prospects, but hopefully he can develop some more moves in the low post to combat the physicality of the big ten basketball schedule.
1. arizona state
2. washington
3. oregon
4. texas
5. florida atlantic university or florida international
...then commit to ohio state
boo! he got it out of the rack for her and only let go once her momentum was going. so she could straighten her arms. nevertheless.... very impressive for a young lady.