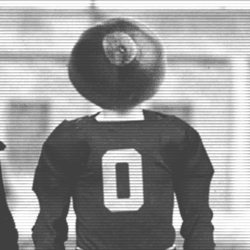 js2378
---
Member since 14 February 2013 | Blog
Helmet Stickers: 77 | Leaderboard
Recent Activity
Wow. So that basically means Golden State values Klay Thompson more than Cleveland values Wiggins.
There's no reason to trade Wiggins for Love now. At the very least, you give the current team a few months before you trade Wiggins. Golden State will not give up Klay Thompson for Love; why would the Cavs give up Wiggins???
Japanese Giant Hornet. Grows up to 2 inches long, is attracted to human sweat and alcohol, and has venom that destroys red blood cells. You can't even run from them as they are known to chase people.
It's sometimes ok to scream like a little girl. Some bugs are terrifying.
Right, but Boston won't offer that unless Love commits to a long-term deal and he probably won't since Boston isn't a contender.
Why isn't anyone else concerned that outside of his rookie year, when he played 81 games, Love has averaged 57 games a year (including the shortened lockout season). I don't think you can trade away a prospect like Wiggins for Love.
Doesn't matter; "then" and "than" has the same number of characters. =P
1. Hawaii
2. UCLA
3. Arizona State
4. FSU
5. Auburn (some cash is always nice)
Commit to OSU.
I also guarantee that someone will be celebrating that another team lost when the college football playoffs come rolling around. We've already been doing that with the BCS.
Is he an possible OT convert?
What are your feelings towards your nickname "Wolverine"?
For reference: http://sportsillustrated.cnn.com/college-football/news/20140609/rivals-five-star-challenge-recruiting-camp-top-performers/
Not Birm, but I read on here that he camped a few time as a DE and wants to play on the d-line in college.
Nice. Please note that his vertical is the same as Tyler Green's. Urban wants athletes everywhere.
Nice! Are the coaches planning on using him in the SAM LB role or as a traditional safety? I bet we'll see this sort of oversized DB/Safety who is a crazy athlete in every class to sort of fill out the class.
I feel the same way. Can you imagine how effective diebler could be in San Antonio with pop's offensive sets? Open corner looks all game. And I'm sure they could hide his defense.
Doesn't it say something good about Urban that opposing fan bases are guessing that he must be sick if his class "sucks" this much? Expectations (and fear) for Urban are so high that there must be something wrong with him if he's not kicking their ass right now. Color me amused.
That inside QB option may have worked with Pryor and might with Jones, but with Braxton in there, I can't imagine Urban running it often. Wouldn't the D coordinator make Braxton keep the ball so you can keep hitting him?
Three words: Leaving your feet.
You can even see it on Shazier's sack/stripe. He gets around the LT and lunges at Goff. It's hard to practice good tackling technique against someone who is trying to make you miss, but on that play, he had no reason to not wrap up and drive his feet through Goff to bring him down.
I have a suggestion for one of these posts. Urban has been quoted as saying that San Fran is doing things he's never seen before and that he'll implement those wrinkles into his offense. I think it'd be a great read if you could analyze some San Fran tape, figure out what they do that's got Urban excited, and let us know which elements may be incorporated into our system. Watching San Fran in the playoffs, I couldn't help but think that I was watching a preview of our offense next year.
Just a suggestion. I've been a long-time reader of this blog mostly for your posts, so thanks for all the work!