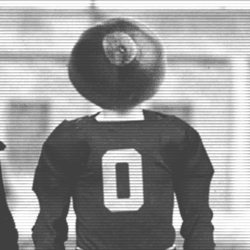 jrich612
Member since 20 April 2012 | Blog
Helmet Stickers: 469 | Leaderboard
Favorites
SPORTS MOMENT: Ken Dorsey's last pass in the 2003 Fiesta Bowl.
COLLEGE FOOTBALL PLAYER: Kurt Coleman
COLLEGE BASKETBALL PLAYER: Aaron Craft
NFL TEAM: Browns
NHL TEAM: none
NBA TEAM: Cavs
MLB TEAM: Indians
SOCCER TEAM: lol
Recent Activity
I think Jordan Spieth might be able to take that mantle eventually. Kid is really talented.
Walder Frey? The north will never forget.
I don't see Phil Ivey losing that lawsuit.
Is "slidden" a word? Also, what coaches are ahead of Urban to put him outside of the top 5 right now?
Thumbs so far up. I'm glad someone pointed me towards this show while I was wallowing in my post Breaking Bad self-pity.
In fairness, there are some great comedy shows on tv that aren't hard to find. Modern family is great if you haven't checked it out.
reddit.com/r/reactiongifs or reddit.com/r/editingandlayout
BMI really isn't designed to be used on individuals, but it is very effective for measurements of overall populations. I agree that it should always be taken with a grain of salt, though. I think we should use body fat % as a better barometer of healthy weight, but it's very hard to measure accurately.
Do you want to go across the middle on this guy?
This is what The Situational/my senior year has done to me at family gatherings.
I am going to find your reddit account, DJ. I know that's where you got this from.
There was a time back when I was a child and he was writing for Sports Illustrated that I absolutely loved his columns. Reading his work today makes me unsure if it's because I was a kid, or because he used to be one hell of a writer. I think Ramzy wrote an article last summer to this tune.
He definitely said more than "piece of crap". You can tell by the inflection of his voice that the word "you" was not the start of his sentence. We probably won't know what happened or what was said at any point, but if someone puts a gun to my head and asks who I believe, I'm inclined to side with the player over the fan with a history of rude, obscene, and verbally abusive behavior.
No excuse for the MSU game, but if you field a punt I guarantee Hyde gets every touch he can handle in the fourth quarter of the Orange Bowl.
Those are also the words of a 20 year old kid on national television who just achieved the greatest moment of his life. Adrenaline plays a factor, and you might be wise to not be such a dick about it. I can't see Braxton or Carlos speaking too much more eloquently in that same situation.
Andy Dalton is not the answer that Cincy thought he was. I said it from day 1 when they drafted him. As a Cleveland fan, I know bad quarterbacks and he is one. The amount of offensive firepower he has around him leaves no excuse for choking that hard in every big game. The question is whether the front office is ready to find a new quarterback, or if they want to go down with the red ship.
Whether that is sarcasm font or not...
Let's keep in mind while we lament over the possibility of Watkins torching our secondary, that Clemson has had a problem with turning the ball over quite a bit. If we can get pressure, Boyd is prone to some hasty decisions that we can take advantage of. This Clemson offense is not without weakness.
What do Coombs and Withers have to say for themselves?
Can we get the logo for the 1,000,000 dollar presidential power parlay for a sign? I can see it now. Warren G. Harding "This one is for the streets"
Ramzy, as a young man less than a year removed from achieving legal drinking age and soon to be transitioning out of the natty and franzia lifestyle of Columbus and into the world of real alcohol, what would you reccommend as a good starter bourbon? I'm trying to get on the train here.
This will not end well for the president. 0-3 this week.
I need to learn more about bourbon :(