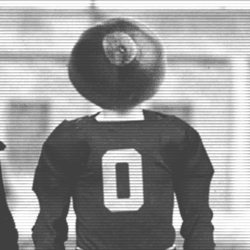 jpbuckeye
---
Member since 22 March 2012 | Blog
Helmet Stickers: 197 | Leaderboard
Recent Activity
Its got symmetry...I like symmetry...I'll take it.
GO BUCKS!
Thanks to Vonn Bell. What a moment that was. :-)
Is that trophy for real?
If so what do they have to win to get it, a SF bath house gymnastics competition? (Not that there is anything wrong with that.)
You did leave out my old OSU edumacation in Pharmacy/Pharmacology.....LOL
More importantly: what the heck is "Chemology"?
Thanks to those posting here; it is always good for a laugh.
Exact;y; been there heard that. It is business not personal. Deal with it.
The gravity of their level of "badness" pulled them to depths that defy mathematics. Consider them the black hole of the B1G.
Here ends the physics lesson of the day. With all the engineers at Purdue I would think they could predict this based on some model.
...or one that lactates bourbon and defecates gold coins.
That is one of several hilarious parts in an article that is 100% funny. Thanks Ramzy!
It would be interesting if a survey could be done on recruits just after signing day: what made you choose your school. Provide a list of general and agreed upon criteria: distance, friends/family, coaching staff, tradition, comfort/relationships, national titles, bowl wins, early playing time, production of NFL players, facilities, etc. It may be best to have them submitted anonymously but perhaps they could separate the conferences for trending.
It would have to include a large number of subjects to power the survey to be statistically significant. That may provide some base line to debate from.
,,,and I live in St. Thomas USVI. There is beauty nearly every where you go; if you can see it.
Been to both and all I can say is : BEAUTIFUL.
IF THEY INSIST ON GIVE A WAYS, THIS IS THEIR ONLY HOPE:
I think it is still open. I just voted and it is 59.9K tOSU and 58.8k for cheesetards plus scum (douche) bags. It is currently 0945 on the 12th (Saturday).
Great question Nutty; always good to have a bench mark. Hopefully with all the databases out there this type of information will get easier to derive.
GO BUCKS!
If he watched Ren and Stimpy as well as MST3K his is all right in my book. :-)
Overall his work with ESPN seems fair and balanced. His work at OSU was outstanding: on and off the field. On the latter I remember cramming for O-Chem; fun in retrospect but not at the time.
Nice read. Thanks!
Agree. We did some climbing, skiing, and hiking while out there with the US Army. Smith Rock rocks as do many places in the beautiful pacific NW.
You are one self controlled dude! To remain calm during that game I would have needed more Propofol than Michael Jackson, thus limiting my viewing of the game. What a lose lose situation.
I am sincerely glad you are still alive. If I had been you I would be watching with Woody, Bo (for the game), and Nixon (lol).
Thanks for sharing your experience.
I sincerely appreciate every time D.J. makes a HST reference and I click on each and every one. I read Fear and Loathing in Las Vegas in 1975 and was sold on him on the first paragraph containing:
'We are somewhere around Barstow on the edge of the desert when the drugs begin to take hold...'

From this point on, the reader can be absolutely sure, there will be no turning back.

'And suddenly there was a terrible roar all around us and the sky was full of what looked like huge bats, all swooping and screeching and diving around the car, which was going about a hundred miles an hour with the top down to Las Vegas.'
I know this dates me but HST is timeless!
I was almost too embarrassed to ask: what did you see that I missed?
UV for 3-toed sloth reference. Made me laugh when I needed it. Thanks!
...oh, and WELCOME ABOARD Mr. Connor!
Awesome post/gif JB.
1) Awesome show
2) Brilliantly drives home your point.
3) Does so without being adversarial in nature.
Thanks a gazzillion.
I would read HST regardless of what publication it came from, even Al jazeera Illustrated. He is one of my favorite writers of all time.
Thanks DJ.
That was awesome OSUASU. Thanks for posting!
I am surprised that this aspect was not considered. The quality of the product has a direct relationship to the demand.
Have to agree. Not a major complaint but I really need to slow it down to take in what is being so well described by Ross.
Thanks a lot for this series!
Are you giving Gardner credit for the yards gained when he threw it to the wrong team? :-)