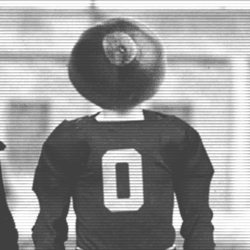 jpbuckeye
---
Member since 22 March 2012 | Blog
Helmet Stickers: 275 | Leaderboard
Recent Activity
I get a "Page Unavailable" note. Is it me or has the page been (re)moved?
Yes but I read some opinions about him as an over weight underachiever that would never amount to anything significant.
Some saw him as a last minute throw in, which may have been the case. Some of us took a wait and see approach.
I truly happy to see him and his body of work as of today. I think we will see good things this year from him from play making and leadership; on the field and off.
GO BUCKS!
I was wondering the same thing.
Also as questioned above, I was wondering about Bell in one of his photos. He looked very sad or was laughing.
Really rooting for him. He was not really appreciated by some when he got here.
I read that as his speaking from experience...
Not that there is anything wrong with that. Just not my cup of tea.
Great idea. Do it and do it often. One of my greatest moments was being able to tell my Dad that I was proud to be his son; while he was a patient at the James. I sure miss that man.
GO BUCKS!
Totally agree. Awesome read.
The family photo of the Elliotts at signing day is priceless. The look on his Dad's face brought a lump to my throat. The emotion is palpable.
We have lived in the US Virgin islands for 5 years. The diving and snorkeling are awesome fun. While I am not a fan of hurricanes the winters up north make it all the more worth while.
So glad these guys could stop and smell the roses. Blessed.
I enjoy that aspect as well. I do however reserve the right to call bullshit when it smells.
I cheer for our school, not our conference.
As Heisenberg would summarize: My pole does not take abuse, my pole gives the abuse!
Agree it is a brilliant piece. The chart summarizes information I will save for future discussions with SEC fans; I do promise to give credit to the chart's creator).
Comments from an SEC-centric fan, which is a fan of ANY SEC team, would never recognize the fact that the argument works against SEC cellar dwellers as well as all other big conferences. From their perspective: their feces are not malodorous.
With all due respect, I disagree.
That does lead to a question though: in SEC land which conference do you think is most strongly disliked?
I would guess that the B1G would come out on top. What do you think?
[MOD edit - stay classy, Columbus.]
I sure hope she did.Her entertainment value is similar to the shows I have heard about in Juarez (spelling?). Her value as a "journalist" is in the same neighborhood.
Hee Haw.
Sprinkle was playing the knockout game?
Sprinkle charges reduced to insignificance?
There is fairly raising to cover increased expense; but it gets to a point and it is gouging and unethical in my view.
Above I posted a medical example of the national drug shortage that has plagued us for a few years now. Is it just an economic necessity to charge us $600 for Pediatric items that were $30? In this case the secondary vendors inflate the problem by purchasing huge amounts before a shortage fully manifests. This is part of the problem not part of the solution.
I thought gouging was prohibited by law. When we had a big ice storm in far upstate NY, companies charging more for generators were penalized by law.
This is wrong and really pisses me off.
It compares to our national drug shortage. I am a Pharmacy Director in a medium sized hospital and we are charged 5-10 times by the Gray Market. I mean $600 for pediatric injectable vitamin/electrolyte preparation that was $30? Heartless.
Mondays can go by slowly but waiting for comments on first practice make the clock seem to slide backwards.
The day that will never end.
It is great to be this close though after a seemingly LOOOOOOOOOOOOOOOOOONNNNNNNNNNNGGGGGGGGGGGGG off eason.
I bet another that is proud of Corey: Jim Tressel.
Awesome story. Thanks for sharing. It made my morning.
GO BUCKS!
I personally do not agree with those views.
I wish him the best.
Thanks Kyle. After thinking a bit more this makes sense. Predictability is the result of not being flexible when facing a variety of defensive fronts.
Based on interviews of opposing players, predictability takes away one of the few benefits an offense by nature has.
Thanks for your help! That was really bugging me for some reason.
This is quite the contradiction to the axiom normally heard: "there is no such thing as a stupid question".
These meetings are chock full of them.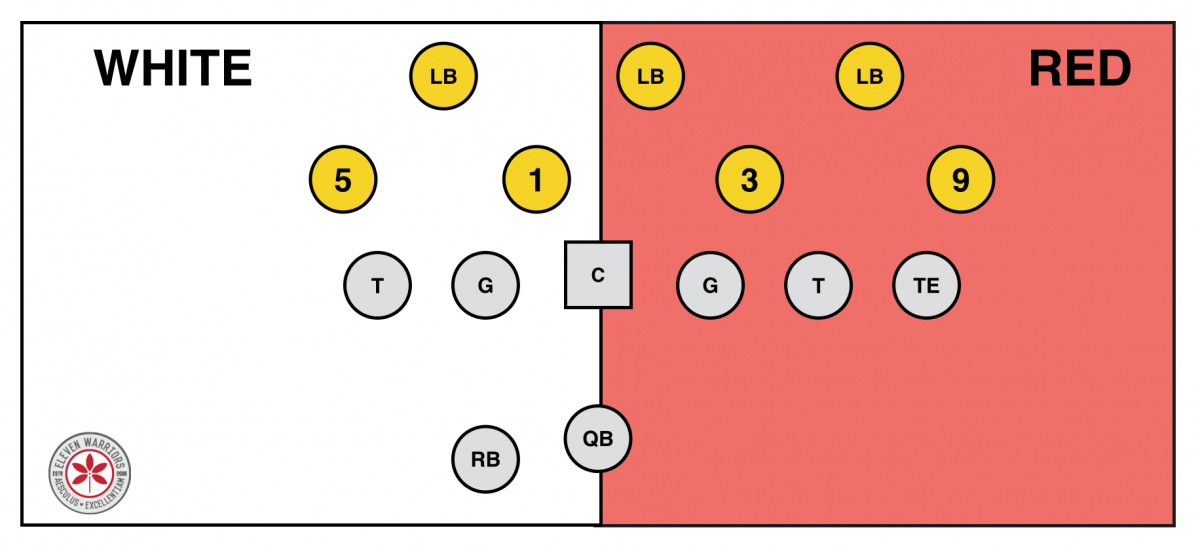 This is the image from part one. Compare to the first image above in part two. In the image above (part two) the play goes to the "white" side rather than the "red" side.