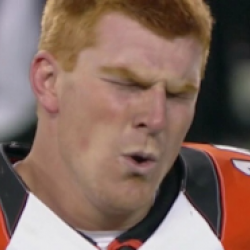 JozyMozy
---
Member since 22 March 2011 | Blog
Helmet Stickers: 960 | Leaderboard
Favorites
SPORTS MOMENT: 2002 National Championship win. So much heart.

on a lame note, a close second is the Bengals' come-from-behind regular season win at home vs. the Steelers in 2009.
COLLEGE FOOTBALL PLAYER: Joey Bosa
COLLEGE BASKETBALL PLAYER: Aaron Craft
NFL TEAM: Cincinnati Bengals
NHL TEAM: Chicago Blackhawks/Phoenix Coyotes
NBA TEAM: Chicago Bulls/Memphis Grizzlies
MLB TEAM: Chicago Cubs
SOCCER TEAM: >Schalke
Recent Activity
Ouch. Get well soon, bud.
No, like, soon. REALLY SOON.
yeah man, Marty and Rust for only one more episode. Then it's on to an entirely different world.
As far as the spoilers go, I clicked and glimpsed at the first two lines, got as far as the guy getting pissed and calling TD the new "Lost", and was like NOPE. Did a 360 and walked away.
>complaining about the True Detective finale a week before it airs
Good lord, people. This show has been nothing short of literary. To me, even from the first episode, it hasn't been about a whodunit(although that is, you know, the major plot point)- it's been about getting to know the setting, the events, the people- namely Marty and Rust- inside and out, seeing how they interact and fit together. The format of the show- 3+ different timelines being shown at once, tying things together- has told more of a story in seven episodes than most shows do in an entire run.
Now don't get me wrong, I care how it ends- but I don't see any way, any action or turn events can take, that can ruin the experience watching the show week in and week out has given me. Unanswered questions aren't the worst thing in the world. Sometimes it's about the journey, not the destination.
Great article, wasn't expecting a history lesson this early on a Saturday morning. Neat.
Oh, my. *flexes bicep, revealing tattoo of Tom Herman flexing HIS bicep, which features a Block O*
But seriously- Good luck, Coach Johnson. Way to get right after it.
I hope Maryland and Rutgers perform like Missouri and Texas A&M and shut me up but they probably won't.
Oh God, I hope not. If that happens, and, say, Maryland can win the conference championship their second year in the conference, then the B1G is in way worse shape than we thought.
Not like the media would give us a pass the way the SEC did, either. Two middling Big XII teams come to GOD'S CONFERENCE and are instantly competitive, and somehow the perception is that the competition elevated them...?
??????????
Agreed. yeah, DJ has to be trolling. Whoever threw these together was like "oh yeah, needs a number," saw the Cincinnati Bearcats unis, and was like "sure, that's a good font." Probably got bored and forgot to do the helmet, too.
I mean, these things are like a Brundlefly amalgamation of a hockey jersey, a football uniform design template, around 6 Arena Football League 2 VHS tapes from 2001, and the gaudiest Block O they could find. IT HURTS TO LIVE
I had a feeling something like this might happen. Hell, when I ordered it, a part of me wondered if I'd ever actually see mine at all. Thankfully, it came in the mail today.
I can safely commence the treasuring, doofy spelling and all.
Brax must be WAY more humble than any of us give him credit for.
-DRAFT EVALUATION-

MILLER, BRAXTON

Will player be drafted?- Yes
1. go to imgur.com
2. upload
3. click on the 'image' box
4. copy+paste direct link
5. shared El Guapo, War Daddy and destroyer of all things
...which is pretty much why I did this. I tried to talk myself out of it, but at that price!? Nah. Yoink'd so hard.
That Daily Show clip's 'big finale' pretty much nailed how I've felt about someone like Michael Sam being an issue with the current state of locker-room politics in the NFL. Sad but true.
...and I know they're really good at taking clips out of context and running quotes that make someone look like a total moron. That's their modus operandi.
That said...lol Vilma.
Awesome, awesome, awesome. It takes a brave, obviously strong young man willing to (try to) be the first openly gay NFL player. The timing- before the draft, out where everyone can see him- is just the best. Congrats, Mike.
He's making the right decision for him, and that's 100% what matters. Best of luck, Mike, and I'll be sending well wishes and good vibes and every other kind of feeble little gesture I can think of. Get well soon, Pop Mitchell.
Scrumptious. Way to set the tone in East Lansing for 2014.
Love ya, big guy. Really excited to see where life takes you next.
Like Kirk Barton is so fond of saying- Rule #1: never believe your own hype coming out of high school.
To ~reminisce~. Don't kill his vibe, brah.
>"Best Ohio State football tweeter in recent memory"
>Not Mike Bennett
>Not James Louis
c'mon, son.
Congrats, Seahawks fans. (or 12's or whatever the hell you call yourselves)
Same here, without question. I was a full-blown Titans bandwaggoner for ~7 years solely because of how much I loved watching him run and how badly I wanted to see him win it all.
ONE
DAMN
YARD
SHORT
Nice.
and hey, TURNING POINT WIN WOOOOOOOOOO
or maybe not, but who cares? GREAT day. Go Bucks.
I hope the friendships he's made in the incoming class are strong ones. Every little bit helps, especially this late in the game, and ESPECIALLY visiting a program with the on-field momentum of Michigan State. Fingers crossed that he sticks around.
Yeah, I'd known Robinson had been a fullback for the 49ers for years now. It's a little weird, because I don't remember him being as burly as, say, a Tim Tebow, but he's made a hell of a physical transformation. Way to be team-first, big B1G guy.
and Mike Thomas can talk all he wants, it's exciting. But I hope Mr. Whitfield and Brax are somewhere fine-tuning his end of this whole "forward pass" operation.
I spy about 3 people so far that didn't get Rosycheeks' joke.