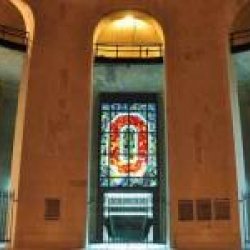 joshhersh
---
Member since 30 August 2010 | Blog
Helmet Stickers: 161 | Leaderboard
Favorites
COLLEGE FOOTBALL PLAYER: Eddie 27
COLLEGE BASKETBALL PLAYER: Jim Jackson
NFL TEAM: Green Bay
MLB TEAM: Cleveland
Recent Activity
My god she's hot, anyone know who she roots for on Fall Saturdays? Probably USC
I can vouch for OSUFan, I grew up in HoCo and my god the tourists are awful. We use to literally drive through Berlin after school yelling at them telling them to go home and spraying them with water guns. I can believe that Holmes is the fattest county too, I would be willing to bet that 75% of Amish are obese and it is the largest Amish settlement on the US of A.
So he signed thousands of items for "free"? Come on really? For Christ sake what an epic joke the NCAA is. They make us all look so stupid cause all we can do is sit back and take it.
Can we please get some publicly spoken "I was wrongs". From a few media members who claim to be writers? Clay Travis....you wrote an entire piece on Urban Meyer based on Carlos Hyde being a woman beating thug...except it doesn't appear he is! Dick
Clearly we are in the thoughts of a few SEC Coach's, pretty sure that's a good thing. First Saban, now this wad of a coach. Sounds to me like they may be a little worried down there as well they should be.
Good skully DJ. When I get NCAA 2014, Ohio State D Lineman #8 is gonna set some NCAA single season sack records. If Big Meech is hangin around 11W then the grown ass man already has Buckeyes in his blood. He's all Buckeye!
The politically correct nimrods and media strike again and continue the pussification of this country. Disgusting. Learn how to laugh at yourselves people, lighten up and learn how to take a simple, harmless statement and not be offended.
Gee simply is a little off on his comedic timing, He means no harm.
Kid has become a Legend. By the way, I will be in Nashville Thursday for the game, does anyone know if there's any Buckeye Bars down there?
Dude does not look too be mentally stable. Honestly. He's just strange. Is it possible he's putting on a show for IU fans or is he just this off the handle?
Why does SCum even have their names on their jerseys? Can't see them anyway
There is absolutely, positively, NO Frickin way that this BUM Manti didn't know exactly what he was doing! This is 2013 Manti, there is FaceTime, Skype, all kinds of different ways to communicate with a person "your in love with". This is hilarious that he, his father, and ND are all nut deep in a shatstorm. Also, how did the worldwide leader in sports not uncover this? Had they spent %5 of the resources they did trying to bury tOSU with tatgate! I'm sure they would have found this. Sad and funny story, and just crazy.
Nuthouse looks and sounds like it is Rockin! Hope the students continue To Up their game the rest of the year.
I like Lovie or Whisenhunt, but why is Bruce Arians not even at the very least being interviewed? Guy got it done in Indy this year, granted he's in the hospital at the moment, but he should at least be interviewed. He was O.C. In Pittsburgh and he knows the AFC North. But then again, he hasn't been interviewed by any teams to this point..
Hoping for a gray box tonight and a couple tomorrow!! Come on Trey, start us out strong tonight.
Just picked up a pair at B&N, they are the ones with OSU on tongue, very sharp. Problem is they were out of 10.5 so I had to settle for a 11. I suggest going down tonight if you can to pick them up cause I saw a few 10&11 and a lot of 8&9. Good luck gentlemen.
Would love to see some pics before I order a pair. I'm thinking these are not the same shoes that were available at Nikestore.
Looking at the pics of the shoes on the bookstore website, they don't appear to be same shoes. Looks like the tongue says OSU on the Nike pic and tongue says Nike on the bookstore pic. Damn you Nike!
Seeing the Teenage Mutant Ninja Turtle lunchbox has forced me to go on EBay and bid on one.
Any chance we've been keeping our "A" game offense under wraps for the conference sched? I'm sure D will spend most of Sat. Afternoon with 8 or even 9 in the box to stop Sevan.
Finally....I've been checking the site all weekend for some good commitment news. Not to be greedy, but any news on Diggs?
Very Impressive Urbz, lets just keep the corks in the champagne until the gray box appears regarding our NCAA sanctions....Gotta think the NCAA is not happy with us doing this well under the shadow of allegations.