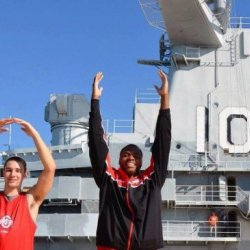 Josh P
---
Member since 05 November 2013 | Blog
Helmet Stickers: 116 | Leaderboard
Favorites
SPORTS MOMENT: Aaron Craft's three pointer to beat ISU.
COLLEGE FOOTBALL PLAYER: Johnny "F*****" Football
COLLEGE BASKETBALL PLAYER: Aaron Craft
NFL TEAM: NY Giants
NBA TEAM: Charlotte Bobcats
MLB TEAM: NYY
Recent Activity
We're gonna win the big ten tournament
I said this on a forum post the other day, but it's going to be hard to watch these two walk off the floor as losers for the last time because for the past four years they have been anything but.
Michael Scott
Will Smith
Barney Stinson
Michael Bluth
John Locke
I legitimately won't be surprised if we're playing a game on Sunday. I also won't be surprised if we lose our first game.
It's really, really, really hard to watch Craft's career end like this. As my favorite OSU basketball player of my short 21 years of life, I kind of felt going into the season he wasn't going out on top as a national champion. But a forgettable 2nd round tournament exit as a 6-8 seed? I know he's got some percentage of the blame for the lack of success this season, but it's still gonna be extremely difficult to watch him walk off that court for the last time as a loser because he is anything but.
Considering he's a student, I'm strangely ok with him not devoting 100% of his time to basketball.
Just not playing Stanford football as of late
You are a true outlier among SEC fans when it comes to knowledge of the sport
I'm sure I, and you, and the person above, would contribute the same solid input (that of which I never discredited), I just wouldn't be able to put up with the constant bashing of my school/team. I should have made it more clear that that's what I was questioning. I have respect for that ability though, and also much respect for you guys to be able to put aside the hate and accept MMan.
I can't figure out why you have an account here. Not saying you're not welcome (although I'm sure Marcus Hall would debate that), but I don't even know what the corresponding UM website is, let alone visit it. You're everyones least favorite neighbor, aren't you?
Looks like it's a good thing he took the Orange Bowl off
Also, if we keep rolling like this, we're setting up for a showdown with MSU on March 9th. And if we can pull that one out.. we're going into the postseason HOT.
Classic 6, 6, 5, and 4 stat line from Craft. I really wish he would impose his will on the game more often because when he puts his mind to it he is absolutely the best player on the floor. Other times, he's just a pretty good player on the floor.
I believed the "marijuana is bad because it leads to harder drugs and drug addiction" argument was stupid in middle school, hearing adults throw it around at other adults is just baffling. Many people can smoke and be successful and NOT get into more dangerous extracurriculars, and some cant. There's a different common denominator, and it comes from the mind.
I'm waiting to see if new site=national championship and then I'll judge.
It's so hard to be mad at you for your opinion when you present it so damn respectfully.
The simplicity of this made me chuckle
I still watch him wave off DT and end ISU's season on youtube when I'm feeling down. Or when I'm feeling happy. Or anytime I get on the internet.
Good catch, when Sam went up for that I was .4 seconds away from shooting my brains out of my eye sockets
This is the USA. We don't feel bad when we win.
Who's excited to be the victim of the 12-5 upset this year?
I don't understand why Matta doesn't embrace lock down defense as the teams identity. Forget set offenses and a half court game, considering we have the two best defensive guards in the B10 and maybe the country, why isn't the defensive pressure constantly turned up? A lot of teams couldn't handle 3/4 court pressure from Scott and Craft for the majority of a game, and it would help highlight our one offensive strength which is scoring in transition.
Gonna sit down and watch this game with one of my best friends, a UM fan, and I'm totally confident I won't be the one leaving upset. Maybe that's a bad thing, but lets take care of business tonight.
Holy shit, where/when can I get access to Nick Saban's snapchat username?
I don't comment much because I'm really just here for the writing/analysis, but I figured I'd throw out a quick thought or two:
The new site is great, different, but anyone who has gotten a new computer or phone and had to adjust to a new OS (which I'm assuming is pretty damn close to 100% of the people here) can get used to a new website layout. People on here complaining just because its different.. give it some time, and you'll find that in a week or two you'll have it figured out.
Also, reading the staff responses to the actual critiques and requests made my day. It's really awesome to see the time taken out to respond to things like that, especially when it would be much easier to just ignore it and let people figure this out on their own.
Lastly, you can never ever go wrong with more Jennifer Lawrence. Never.