JohnnyKozmo
---
from Eastern Shore, MD
Member since 11 January 2014 | Blog
Helmet Stickers: 13,741 | Leaderboard
Voting Record: 4089 / 120
Favorites
SPORTS MOMENT: Watching Mike Doss, come up and lay the lumber on McGahee early in the 2002 NCG, looking to my Dad and saying, "Bucks came to play. Miami hasn't been hit in the mouth like that in 2 years!!!"
COLLEGE FOOTBALL PLAYER: Spielman, Hawk, Laurinitis
COLLEGE BASKETBALL PLAYER: Kenyon Martin
NFL TEAM: Detroit
NHL TEAM: Red Wings
NBA TEAM: Sonics (Kemp, Payton, Detlef Shrempf)
MLB TEAM: Tigers
SOCCER TEAM: huh???
Recent Activity
Could we call them flap jacks then?
I guess since beating the Buckeyes on the field is out of the question, they've lowered their standards.
That sounds like a sweet 70s cop show.
I noticed that too. I thought Munger was a DT, not a DE anyways.
Very excited to see Hubbard. He's being made out to be a mythical creature already, and he hasn't even played a down. Should be fun.
I love the "click to listen to Urbans silence" tab. That's just too funny. Smell this scentless candle, or look at this invisible dog.
Atleast they are realistic. A lot more than you can say for TTUN
type in "tackling machine gif" into google images, and this is in the top line of images. Coincidence?
The MJ/Blanket episode was pretty funny.
"Chopping wood is ignorant, it's poopy work."
I figure he might end up playing about 7 different positions, so why not? I'm actually just really excited to see him play after all of the build up.
there was an article on ESPN that was linked on this website by myself and others I believe, but the total cost of all 3 rings is somewhere in the $800-$900 range if IIRC. The stones are CZ, not diamonds. Now, what could they sell for? That's a different story. They are worth what somebody would pay, but let's hope we never see an article about that anytime soon.
If I had time, I'd pay it much more attention. The more important question is, who was it in the history of man kind, that decided the plants the grow easily, and require little maintenance (weeds) were not desirable, while the plants that require more attention and care than a 6 month old child (grass), were desirable?
Mr. May?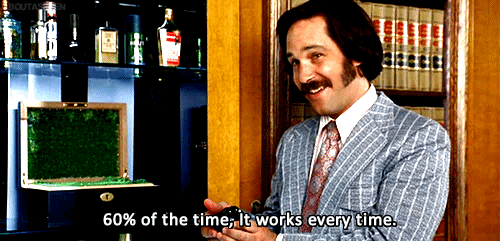 And just think, the NFL charges full boat to see backups in the preseason...
Yea-and for me, I'd rather see more of the backups anyways, especially the RS Freshmen and the early enrollees, who we've haven't seen much or any of to this point.
Starts A Game
Collier-he's starting for one of the teams this weekend in the Spring Game.
Me too. The Cup win against Philly was supposed to be Vladdy against Lindros, but it ended up being Lidstrom instead. Can't imagine the blue line with both Vladdy and Lidstrom for 20yrs.
Is this related to JGs decision at all, or completely independent?
One of my favorite Red Wings of all time. Such a shame to have his career cut short the way it was.