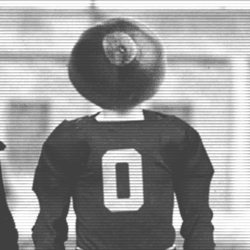 Johnnycake
---
Member since 19 January 2011 | Blog
Helmet Stickers: 62 | Leaderboard
Recent Activity
Why would they play such a wussy sport?
He released an apology video for the things he said and then was arrested later. The guy is full of it.
The results won't hurt him that much. He will run again at Pro day and they already know that he is capable of getting 20 carries without putting the ball on the ground and staying relatively injury free.

They have two years of game film on him and he is relatively injury free; almost never fumbles. The NFL knows what they are getting in this kid. 3rd round at the worst.
It's hard to take what you say seriously when you have a picture of a guy with a penis for a head as your avatar.
This is the perfect example of a guy that had an issue with the Vrabel hire. Admit that you look foolish now...just admit it.
Agreed and I hope that clown is trolled hard core.
https://www.youtube.com/watch?v=Sb-QBR2IzlQ
His jersey and # reminds me of this guy. Would take A LOT to live up to.
Great story Birm...glad you got to break it and had his permission. Couldn't of happened to a better guy! Also glad that you kept the riff raff posts out of this thread. Looking forward to his intelligence and coachability.
Is there a list from last February that attributes which coach got which player? Thanks in advance.
Are you under the impression that position coaches only recruit their position and not a region of the Country?
These were filled out early on. I see you're as idiotic here as you are on the other site.
Cut his ass loose....done.
Great job linking his article to give him hits.
If he is as bad as you say then why would Boston College hire him? They have produced a number of NFL OL and love to run the football. BTW I am speaking about him as an OL coach and not Offensive Coordinator. Believing that he doesn't know how to instruct or coach the OL is far fetched in my mind.
If you hated on Bauserman, then you have to feel like a complete douchebag.
Moderation is key. Getting a ton of "realists" that want to dump on players and coaches gets old really quickly. Be quick to ban or suspend people that claim to be Ohio State fans, but with every post show that they have nothing decent to say about Ohio State.
What a gratifying fart......oh...the relief.
Dude your site is killing it. Love it. Need more.
Meh...it is shirts and shorts. Lets see the pads.
Graham will learn more pocket presence but it won't matter.Braxton is the man. You could see it in film when he was 15. Best arm to come out of Ohio since Roethlisberger and Schlicter
We only have to put up with his "mystique" for half the season this year. But he isn't going anywhere before the Bowl game.