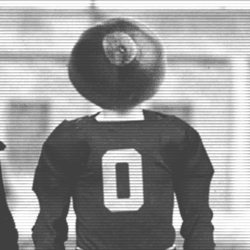 Johnny_Buck71
---
Member since 30 September 2012 | Blog
Helmet Stickers: 101 | Leaderboard
Favorites
COLLEGE FOOTBALL PLAYER: Troy Smith
NFL TEAM: I pretty much dont follow NFL anymore, I love the
MLB TEAM: St. Louis Cardinals, family moved to STL a while a
Recent Activity
This was worth the read just to see the not-so-subtle likeness to our buddy Bert.
Right on. I was thinking the same thing whilst watching the game. A small part of me tried to convince myself that rooting for Michigan was better for conference and by extension, good for us. But I just couldn't do it. And for that, I am grateful. I'll root for the rest of the B1G though.
I wish Coach Withers well, he's a Buckeye! I feel like I never got to see him much though and get to know him.
From the above discussion, I somehow got the impression that he was responsible for play calling on D. Is that true?
Why did Marcus Hall decide to flip two birds in that situation? Because he couldn't go for three!
My non-emotional, rational, adult side would rather that scene had never happened. But right now, I cant think of any better way to express my thoughts towards most of the non-Buckeye sports world than those two glorious fingers.
I live in St. Louis. The amount of crap I suddenly take just minding my own business is ridiculous each time I don OSU gear. Two years ago, they couldn't care less about OSU. The conversations were cordial and more often then not someone would mention us destroying them in the 90's. Now it's as though they all received some sort of gene replacement and feel SEC entitled. Whereas this town, and by extension Columbia, are very smart baseball fans, they are idiot football fans. I would love to remind them of their place in football. I like to point out to Mizzou fans that their success only makes my argument, the SEC isn't that good this year. They just give the confused puppy dog look.
Borland's a great player. I guess Im just biased: Shazier is better and had a far better season statistically.
This is such a cool story. Excellent insider perspective. I just sent this to no fewer than a dozen fellow Buckeyes. By the way, the band has been doing pretty excellent work too. I make a journey to check out the half time performance after every home game as part of my Sunday ritual.
Any 1-loss SEC champion scenario is a viable threat to jump us. All of the remaining options (SC, Bama, Auburn, Missouri) will be top 8 or higher after this weekend. And the University of SEC has won the last whatever NCs. It may be unlikely, but it is definitely possible.
I like that this is based on average rating rather than aggregate. Would be nice to see an average national rank column as well. The recruiting services use an aggregate which clearly can be influenced by number of scholarships available. How many scholarships are still available and how many are anticipated to be available for OSU with players leaving (early NFL, transfer, etc.)? Would love to have that info handy via 11W. Good job Jordan.
Just saw the national rank in (). scotch does that sometimes.
I enjoyed the read. Well done indeed!
I never watch the pre-game, halftime and post-game analysis on the "ESPN family of networks." I definitely do not have audio on for the in-game, particularly the non-primetime games. I no longer go the ESPN B1G blog. In any event, Im watching the game no matter where its televised. They have me by the testicles there. I'll abide by the rest of the suggestions.
Regarding probabilities...
Isn't it [P(A) losing OR P(F) losing] AND P(O) winning out?
where P(A), P(F) and P(O) = ALA, FSU, and OSU winning out, respectively.
therefore, probability either FSU or ALA lose and OSU wins = [(1-A) + (1-F)] x P(O)
This is why I love 11W and this kind of post in particular. There is logic imposed from the start. The critique is sound and impersonal. The original poster is responsive to suggestions and puts forth the effort to further research various aspects not originally considered. In other words, an intelligent post that attracts an intelligent fan. Good job!
Agreed and nice explanation. But it's hard to convince anyone to accept the alternative lacking any data. What's the signature out-of-conference win for the B1G? Notre Dame over Michigan? Ohio State's signature win is over WI. WI certainly isn't getting any love. I think it's likely we slip again this week if Missouri wins. We and the rest of the B1G need to win out-of-conference. It's that simple.
I think going into this game if someone told me our D would take away their run and Braxton Miller would throw 4 TD passes, I would have called that a success. I dont think anyone envisioned Roby getting torched. Some of that was just excellent play on the part of Stave/Abracadabra. A lot of it was on Roby. Suddenly the area of strength for the D coming into the season looks like a weakness, especially with the injury to Bryant.
Articles featuring shirtless Bert should probably be banned on general principle or at least come with a warning. Fortunately, there were no woman or children around when reading this article.
Poll needs to be reworded, split into two polls, or provide expanded choices. There are two questions. Is it cool? Does it matter? The choices dont allow someone to answer both.
That is all.
Some of this is readily quantifiable: cost of tuition, average salary from a college degree over a lifetime, student loan interest, etc.
Not so easy to quantify: Running onto field in front of 100k fans, beating Michigan, Carmen Ohio at end of the game, and so many other experiences of a lifetime. In my opinion, thats priceless.
So add it all up, I think it's a pretty good deal.
Well, if Meyer is now stepping in to figure it out (supposing he truely doesn't know what the issue is) I doubt us well meaning fans have much of a meaningful clue. Nonetheless, here are my 2 cents. I seem to recall a conversation about differing defensive philosophies between Fickel and Withers (Meyer favoring Withers approach). Is there just a lack of defensive identity, leading to confusion and overthinking on the part of the players? You really want defenders reacting and not thinking. Otherwise, you get players out of position. Said out of position player may try to overcompensate and suddenly become poor tackler.
A related note: the defensive line really missed Williams yesterday. They just can't seem to get consistent pressure without him from the front four. I know it's football cliche about winning the battle up front but I barely heard the names of our D-line all game. So where the back 7 are getting a lot of criticism it seems to me it starts up front. I know they are just freshman but Im even more concerned about our future (Goebel, Simon, Williams, probably Hankins are gone next year).
It's clearly between Simon and Hankins to me. Roby and Shazier are dynamic and loaded with potential but also young and inconsistent. On the field, I think you go with Hankins and most seem to be going that way. I voted for Simon though for his off the field leadership and the fact that he is a senior. But really, you could go either way between those two.