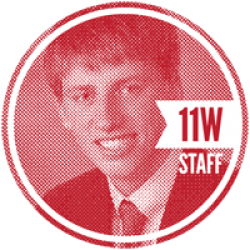 John Brandon
11W Staff
Columbus, Ohio (via Midland, Michigan)
Member since 09 September 2013 | Blog
Born in Columbus area, transplanted to the state up north, back home for school. Chemical engineering major at The Ohio State University and proud Buckeye fan.
Favorites
SPORTS MOMENT: Toss up between the 2002 National Championship and playing 1-on-1 basketball against Evan Turner at 2010 Final Four
COLLEGE FOOTBALL PLAYER: Troy Smith
COLLEGE BASKETBALL PLAYER: Evan Turner
NFL TEAM: Cincinnati Bengals
NBA TEAM: Boston Celtics
MLB TEAM: Cincinnati Reds
Recent Activity
Probably a little bit of both. The secondary is legit, they fly to the ball and react quickly - what Meyer calls a "fast trigger." The linebackers still need to improve but Meyer singled out McMillan and Darron Lee as guys that were playing well.
They ran a lot of 4-2-5 defense where Darron Lee played almost like a 5th DB so I'd imagine you see a lot of that this year. The secondary is good though - Bell, Burrows and Powell are all playing well and they return two fairly experienced corners. The defense will be much improved, I'm pretty confident in that, very young though.
They had a few short scrimmages that the refs officiated. As far as I could tell that was really the only thing they were there for
that is correct, those 5 looked like the first team
I was really impressed by both their enthusiasm and emphasis on technique
unfortunately the offense was on the opposite side of the facility from us. The WR/DB one-on-ones were great but they didn't let us film those
Moves well for a big fella and is impressive taking on double and triple teams at times:
Very good point, certainly won't hurt and the idea of Ohio State making regular trips to Maryland is absolutely a recruiting point with the Terps joining the B1G
Yes he is, my bad. It's a tough habit to break
All three are really big, really fast and really aggressive. It's funny you mention Richard Sherman, because when I first talked with Marcus (back in November) that's who he said he wanted to be like - before Sherman really burst onto the national spotlight.
that's a great point, I think there are just so many factors in the Buckeyes favor moving forward in Maryland, and them joining the B1G will help even more
http://www.ohiostatebuckeyes.com/sports/m-tennis/sched/osu-m-tennis-sched.html
Absolutely, I'll be making an effort to get to more games, starting with tomorrow's match against UNC. I believe they play at 6 at the indoor courts.
I know how you feel man! I have followed the program for a little while so I was aware of their recent success, but even still I was blown away by some of these streaks. I knew about the home winning streak but going undefeated in the Big Ten for 8 years is absolutely ridiculous.
I agree 100%. I think he'll be at Ohio State for a long, long time because: 1.) he's a former Buckeye and he's from Zanesville, and 2.) he just oozes passion for Ohio State and bringing the program to an elite level. He's built the program to an elite level where it would pretty much be a lateral move if he went anywhere else and he wouldn't do that in my opinion.
He also led all linebackers with a 130.0 inch broad jump, and was near the top with 25 reps on the bench.
He's the total package and if he runs in the 4.4-4.5 range he'll be a top 15 pick no doubt - maybe top 10.
could be wrong, but I believe he may be waiting to run at OSU's pro day
Kid plays so fast and aggressive, things are just getting going for him in terms of recruiting - I think he's Cincinnati bound right now but he could get a few bigger offers this summer