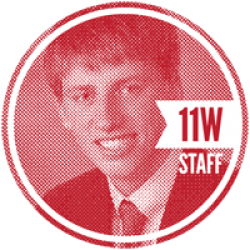 John Brandon
11W Staff
Columbus, Ohio (via Midland, Michigan)
Member since 09 September 2013 | Blog
Born in Columbus area, transplanted to the state up north, back home for school. Chemical engineering major at The Ohio State University and proud Buckeye fan.
Favorites
SPORTS MOMENT: Toss up between the 2002 National Championship and playing 1-on-1 basketball against Evan Turner at 2010 Final Four
COLLEGE FOOTBALL PLAYER: Troy Smith
COLLEGE BASKETBALL PLAYER: Evan Turner
NFL TEAM: Cincinnati Bengals
NBA TEAM: Boston Celtics
MLB TEAM: Cincinnati Reds
Recent Activity
Yeah, no rules against that
That's a good point, I bet the staff tries to make it happen
It'll be good to have Wimbush visiting with a pair of big time receiving targets. Ohio State want to make it clear that he's not a backup plan to Gibson, they'd love to have him and this is a chance to reclaim the lead over PSU.
He's considering them, but Ohio State and Notre Dame figure to be the likelier destinations. It will be telling to see whether or not he makes a return trip to Chapel Hill.
DeBerry is still very early in the process. As for the crystal ball, he is just trying to get ahead of the curve - what I mean is that the crystal ball is a nice feature but a lot of guys make predictions right before a kid visits because they're trying to be "first" in anticipation that the visit could be a home run. I could be wrong but that would be my best guess. That's not to say Ohio State doesn't have a good chance because they do, there just isn't anything to indicate the Buckeyes are his favorite. Just a different philosophy with the crystal balls, I don't pick anyone unless I actually think they're going there or the kid names them his leader.
As for Sweat, everything I've seen/heard is that V.Tech is leading
someone asked me on Twitter a few weeks ago if Eli was a bust, since he didn't have his stripe removed etc. Too much pressure on kids to be stars right away - his time will come (maybe even this year). He's going to be a stud (him and Conley both).
I imagine Zeke will be the No. 1 back, but you won't see anything like last year's rotation (or lack thereof) in my opinion. I think you'll see a lot more spreading it around - much more emphasis on the perimeter and more rotation of backs unless EZ comes really seizes it. I could be very wrong, but I can't see Zeke getting 20+ carries a game.
I think the offense will be overall a bit different though - more pass attempts overall (mostly due to quick perimeter throws), more lateral runs to Dontre, potentially Samuel etc. I also expect a bit less running from BM due to a) an unproven backup (though this could change) b) he'll be a more developed passer with another year under his belt, c) Meyer helping BM get to the NFL (we've seen this with Tebow at Florida) and d) not being able to lean on the OL quite as much.
What you saw in the first few games last year (before Hyde returned) is what I think we'll see more throughout the season, but with more developed perimeter players.
think this is what the Buckeyes are hoping for
Wimbush would be their next target, and despite the momentum at Penn State, I think the Buckeyes could land him if they missed on Gibson, unless the timing didn't work out (Wimbush commits early and Gibson waits). Nunez would also be there, although I've heard he hasn't been in much contact with OSU recently. They should get one of those two if they don't get Gibson, plus maybe more urgency to get a second QB since they aren't getting their #1 guy
In all seriousness, I would attribute a reasonable amount of his interest (real or perceived) in Tennessee as being due to all of the attention they give him on social media.
Not too familiar with him, but I've seen that he visited Georgetown multiple times and Syracuse is the perceived favorite per the Crystal Ball. I'd imagine it's one of those two schools
Imagine teams having to prepare for Harris, Scott, Curtis Samuel and the other slot guys a couple years down the road. It's an incredible stable of backs with a variety of strengths
Think it would be close, Baker is technically ranked higher overall, but there is some added value due to his versatility.