JoeAndSo
Fairlawn, OH
Member since 05 September 2012 | Blog
Big OSU fan (obviously). Some people have said to a fault.
Favorites
SPORTS MOMENT: Winning the '14 CFB Playoffs
COLLEGE FOOTBALL PLAYER: Joey Bosa
COLLEGE BASKETBALL PLAYER: Greg Oden
NFL TEAM: Browns
NHL TEAM: None
NBA TEAM: Cavs
MLB TEAM: Indians
SOCCER TEAM: None
Recent Activity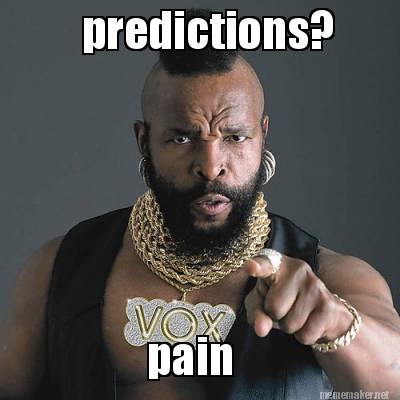 Ohio Tate Buckeyes. I said it first and demand a percentage of all future royalties.
I wonder if there is a stat for drawn double teams. I can imagine Big Brother would have had pretty high numbers in that category.
I think he already said he will probably not do "the shrug" and come up with something of his own.
"We ain't come to be broke"
Agreed. Now the question is how can i get my hands on one.
I can imagine they'd save it for a prime time game. My money would be on Nebraska.
Since they're red I'd assume it wouldn't be a road game.
Nope. And my life has been incomplete since.
I was nervous about this game until i saw the point spread. Urban is going to have fun with this one.
"Who is this kid, Charles Davis?" haha
Harley veered back to his right, then crossed the goal line directly the the goal post. Harley kicked the extra point to make it 7-7 at the half.
how times have changed.

Was that sound bit at the end from Super Mario 64?
his tweets are as coherent as lou holtz talking.
I'm not sure what I'll do the first time he throws up "the shrug" but I'll probably end up needing to make a claim to my home insurance.
yea, and there's a lot to be said about how much it will help the young WR's that there is only one QB this summer/fall. I don't know a lot about football but I have to imagine it's hard to get meaningful reps in the mess they had to last summer/fall.
Whatever. the BTN's commentating teams have always annoyed me anyways.
I was at the game against Nebraska a couple years ago and their kicker came out during halftime and started warming up while the band was doing Script Ohio. It almost got ugly for a moment.
you joke (possibly) but I've heard him say "fanny" in an interview before.
Just goes to prove all of Ramzy's posts about not tweeting at recruits.
Does anyone know what's going on with Hilliard? Him and Raekwon were two LB's I were looking forward to seeing play.