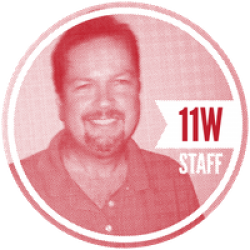 Joe Beale
11W Staff
Gahanna OH (via Columbus OH)
Member since 23 August 2010 | Blog
Joe has lived most of his life in Central Ohio, and at an early age he watched Archie Griffin run 30 yards for a touchdown to beat That School Up North. At that moment, a love for Ohio State football was born and was nurtured with many trips to the 'Shoe to watch the Buckeyes play. He is a 1989 graduate of OSU and still lives in the area with his wife and seven children.
Favorites
SPORTS MOMENT: 2002 Season
COLLEGE FOOTBALL PLAYER: Archie Griffin
COLLEGE BASKETBALL PLAYER: Herb Williams
NFL TEAM: Cincinnati Bengals
NHL TEAM: CBJ
NBA TEAM: Boston Celtics
MLB TEAM: Cincinnati Reds
Recent Activity
The guy in the picture at the top must have escaped from "The Village".
Hmmm....I could stand to lose 12 pounds...
Welcome to the team.
-- from the ivy-covered halls of The 11W Alumni Association
You can order an authentic Buffalo weck sandwich pack and have it shipped right to old Columbus town!
https://www.foodydirect.com/restaurants/anderson-s-frozen-custard/dishes/just-beef-on-weck-2-pounds
As a Bengals fan, one of my biggest draft-day headaches came when Mike Brown and company did NOT pick a Buckeye -- in this case Chris Gamble. They desperately needed a good cover corner, but inexplicably they chose RB Chris Perry from TSUN. We all know how that worked out. The Panthers then took Gamble only two picks later. SMH
13 photos of BB King performing at Hard Rock Live...
I saw BB King and Bo Diddley live at the Newport back in 1985. It was a pretty good show. ;)
I'll be lurking around here and there and I might even drop the occasional comment.
Very true, but where was Tress with the challenge? He needed the Mike Martz red flag for that one.
We try to interact whenever possible. Welcome to the site!
Well, I still did predict they would be the strongest conference. Not trying to say they'll be bankrupt, just not as wealthy as last season.
Iowa just won't be there yet in my opinion
Iowa won 8 games last year, played LSU very competitively (not to mention a strong performance in the Shoe), and they get all of their best players back. Add to that a schedule that's so light a strong breeze would blow it away. They could easily be 10-0 when Wisconsin rolls into Iowa City.
Also while Penn State is on the upswing and I believe they end up as the number 2 behind us in the B1G pecking order I think its going to take longer than one off season for Franklin to get fully seated in his Nittany Lion throne.
You may be right, and admittedly PSU was young and inconsistent last season. But they closed the season by beating a really good Wisconsin team on the road, and they'll have that "us against the world" attitude for one more season due to probation. New coaches can work motivational miracles with that sort of situation.
Plus, you know, seven win Sark.
Haha...yes that was exactly my point. If USC repeats or betters last year, I think you're right that the Pac-12 is #2 again. But if Seven Win Sark does his usual thing, then they'll fall out of the top 25 and end up similar to what Michigan was last year. I personally think Arizona and ASU hit their peak last year and are both due for a down year, and Stanford surely will struggle against that schedule. But yeah, Washington and UCLA are programs on the rise. Look out for them.
That 1970 title is disputed because OSU lost to Stanford in the Rose Bowl and AP named Nebraska #1. Had they held on to defeat Stanford the Bucks would certainly have won it all, but they choked it away in the 4th quarter.
Archie vs. Paul Brown....how can you do this to me?
What you should be reading into my tone is frustration over Matta's substitution policy, which I have expressed in the past and no doubt will do so again. Thad is a great winner and so we should all be thankful that he has elevated the program and kept it scandal-free, but that doesn't mean he gets a free pass from any and all criticism. His tendency to not play the bench after December (regardless of the quality of the players there) is a sore spot for me.
I guess he got tired of sitting the bench in favor of guys who can't shoot. Sort of like Jordan Sibert.
Your last two sentences were brilliant, sir.
The best lawyers aren't cheap, doesn't mean money was the only reason he did it. And you can't charge that much unless you deserve it or else people would stop hiring you. So obviously he did enough throughout his career to earn that kinda fee.
Right...sorry I didn't mean to imply that he didn't earn his money. Apologize if I gave that impression. He was undoubtedly good at criminal defense.
But either way, it can't be denied that he did serve justice and equality.
Which would be true of any criminal defense lawyer, at any point in our history. My comment about the wealth of his clients was directed toward the idea that he defended those clients that others would not take. It would be more accurate to say that his reputation meant he would get the clients that could not be defended by anyone else because no one else could make a case of it and no one else would be worth the kind of money that such a defense would demand.
But Darrow, who I feel could have been a great politician if wanted to be,
Darrow ran for congress in 1896 and lost, so maybe he could have been a great politician but this one attempt was apparently enough to convince him otherwise.
used his intellegence, wit and charm to defend the kind of defendants that no one wanted to defend, all in the name of justice and equality.
Leopold and Loeb were the sons of wealthy families. Likewise the McNamara brothers were very wealthy, as were many of the mob bosses that Darrow defended and Eugene Debs was no pauper but a very famous labor leader. I admire Darrow's defense of Ossian Sweet but most of the rest of the Darrow reputation is based on myths, especially his supposed demolition of William Jennings Bryan. Based on the fiction of Inherit the Wind, most people believe the myth but scholars have analyzed the transcript and come up with a different outcome. As an example, Alan Dershowitz in his book America on Trial wrote:
"All in all, a reading of the transcript shows Bryan doing quite well defending himself, while it is Darrow who comes off quite poorly - in fact as something of an antireligious cynic." (p. 266)
In truth, Darrow was an ignorant bigot when it comes to the subject of religion, and his support for eugenics (based on his faith that scientists knew which children were more fit to live) is deplorable. Give him credit for being a canny lawyer, but he made a lot of money in the process so I question whether his motivation was "justice and equality" but more like good old-fashioned profit.
Warren G. Harding not only restored prosperity and kept us out of war, but he was a civil rights pioneer. He went into the deep south and made speeches advocating anti-lynching laws, speeches that were politically very costly. In this area, Harding was a breath of fresh air after segregationist Woodrow Wilson left office. This match should go to Harding in a landslide.
Same here; I googled it just now and listened and I can confirm that until five minutes ago I had never heard that song before. This is despite the fact that I've watched most of the NCAA tournaments since the early 70s. I guess I don't watch to the end of coverage either.
Hard to beat "Fury of the Storm" as a suggested theme song, but for Ohio State fans lately the most appropriate song might be "Heartbreak Hotel".