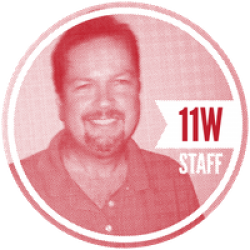 Joe Beale
11W Staff
Gahanna OH (via Columbus OH)
Member since 23 August 2010 | Blog
Joe has lived most of his life in Central Ohio, and at an early age he watched Archie Griffin run 30 yards for a touchdown to beat That School Up North. At that moment, a love for Ohio State football was born and was nurtured with many trips to the 'Shoe to watch the Buckeyes play. He is a 1989 graduate of OSU and still lives in the area with his wife and seven children.
Favorites
SPORTS MOMENT: 2002 Season
COLLEGE FOOTBALL PLAYER: Archie Griffin
COLLEGE BASKETBALL PLAYER: Herb Williams
NFL TEAM: Cincinnati Bengals
NHL TEAM: CBJ
NBA TEAM: Boston Celtics
MLB TEAM: Cincinnati Reds
Recent Activity
CJ Stalker is a great name for a linebacker.
This guy listed two possibilities, and the reasons for each.
At the time it seemed like he was taunting Beilein, but we may never know for sure.
"Athleticism" should be #1, as in the one that really needs to go. It's the ultimate lazy commentator's go-to phrase.
How do you control the ball with only your defense? Sounds to me like you're going to need a little offense too. Hey, a well-rounded football team, what a concept!
It's always easy to say "the author has an agenda..." blah blah blah. Go ahead and point out the flaw in the analysis. I can tell you this: I had an agenda when I was writing it, and so do all of the people who are criticizing me. We can't both be wrong. If my point is wrong, tell me why. The real point of this article is to get people to think their way through issues rather than just mindlessly repeating clichés. If your answer to my analysis is to repeat another cliché, then obviously I'm failing in my quest.
It shows in what way? Statistically, the ratio is about even between offense and defense. If you're not using statistics, then it's just an opinion. Duly noted.
Unless you're the 1998 Broncos or the 1989 49ers (or dozens of others who have done it).
How did the Ducks (I assume you mean Oregon) become "mine"? I never mentioned them in the article. The example I've been using in the comments is Florida State, and I'll take them against any defense-dominated team you want to throw at them. The myth says nothing about offense, implying ambivalence about how good they need to be. Not only that, the '99 Ravens are frequently mentioned. No, the myth says "Defense Wins Championshps", with no qualifications. And what I'm saying is sometimes it doesn't. In fact, according to statistics, offense wins just as often.
No, it does not. The numbers are about even.
There was nothing freakish about them racking up 449 yards and 31 points on Florida State.
Without the season stats, how do you know which team has the "decided advantage defensively"? I guess we just wait to see who wins and then just call them the better defensive team? That's what you call circular reasoning.
Because their defense couldn't hang with FSU's elite offense. The point is that the commentor said you "can't" win with a mediocre defense, and Auburn most definitely could.
Statistically speaking, the difference between FSU's defense and Alabama's was trivial. Auburn gashed both of them, so I don't know what difference it makes. FSU won with their offense by moving down the field for a touchdown with only 1:16 to work with.
See the Freakonomics article linked above for some links to a more thorough analysis, but this quote should suffice to satisfy you:
Twenty-seven Super Bowls have pitted a top 5 offense against a top 5 defense. The best offensive team won 13, and the best defensive team won 14.
...you can't win with a mediocre defense and a strong offense.
Auburn won a lot of games this season, and they were 13 seconds away from winning it all!
No need to do the research, because Freakonomics has already done it for you (at least in terms of the NFL). I linked to this above but here it is again just in case you missed it.
http://freakonomics.com/2012/02/03/football-freakonomics-tackling-the-old-defense-wins-championship-cliche/
And against the 5 best teams they faced, Auburn gave up 34 (FSU), 42 (Missouri), 28 (Alabama), 41 (A&M), and 35 (LSU). The "specific-type" offenses of A&M and Missouri pretty much riddled everyone, but Bama, FSU, and LSU are fairly straightforward attacks.
Haha...sort of like "That Brady Hoke sure is a moron, bless his heart!"
In scoring D, Alabama was 4th in the nation; Auburn 48th. They gave up an average of 11 points per game more than the Tide did.
Not to mention fumbling a punt to set up a TD. Special teams play matters too!
In that case, Alabama beats Auburn every time. But not this year. Defense wins championships, except when it doesn't. Or maybe I should say "except when that championship is the SEC championship", amirite?