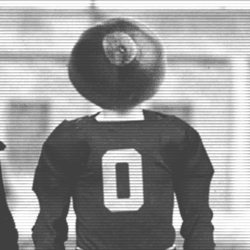 JLP36
---
Member since 21 September 2011 | Blog
Helmet Stickers: 341 | Leaderboard
Favorites
SPORTS MOMENT: attendance wise: 2002 vs. Michigan & 2006 vs. Michigan & taking my sons to their first Buckeye games. Any day in the Shoe with my sons, my Pop or my friends is as good a day as you can have.
COLLEGE FOOTBALL PLAYER: current = Simon & #5, Spielman, Doss, Katzenmoyer, Hawk, Winfield
COLLEGE BASKETBALL PLAYER: Craft
NFL TEAM: usually cheering for Buckeyes to do well or enduri
NHL TEAM: don't care
NBA TEAM: care even less
MLB TEAM: no interest
SOCCER TEAM: ?
Recent Activity
I guess this pic confirms that he did throw on a belly to get to 237
I have no doubt that physically he can recover from this, but bowl practice seemed to springboard his development, probably from an understanding perspective, and he was likely poised to double down on that progress with spring ball. He will come back strong from this but it is definitely a setback for him and the secondary and new secondary coach.
Change is neither good nor bad, specific changes are good or bad. Friday college football is a bad idea. It is for schools like UConn that cannot get anyone to pay attention to them otherwise. It is not going to help draw in a sizable number of additional fans, but it is going to suck them out of high school football stadiums like a vacuum. Those $6 HS tickets pay for programs. Plus WTF is better than a football Saturday in the fall. No. Sucks.
HS football is very easy physically for 5 star athletes. When they hit campus, they have to compete physically against grown men AND do it with a head full of scheme. It is a hell of an accomplishment to do that successfully as a frosh. Not everyone is Joey Bosa.
Lost in the recruiting talk is that there are a lot of 3 star 18 year old boys that mature into 5 star 20 year old men. Many of them had superior FB instincts and intellect to the 5 star kid in HS, but lacked the NFL ready body at that point. Some may be a little tougher mentally because they have had to work a little harder for it.
2nd down and 13 is great unless you give up an easy 18 yard pass or 2 consecutive 9 yard completions to the TE.
His signature moment came on the peel back block against Penn State.
They are determined to find out at what point they have gone too far with ticket prices.
I fear that schedule will not prepare us for premiere post season, play off competition.
I hope I am wrong, but still feel some meat on the front end of the schedule will benefit the squad immensely.
The Big Ten schedule does not do so, as we have seen for about 10 or 12 years now.
and beat by a Hail Mary by MSU the week prior. That has to be a lesson learned after that!
The success in the secondary came with two- and three-star recruits, not the high-end players Ash will have at his disposal at Ohio State.
I think that we can all agree that recruiting service rankings are less than scientific. I think that it is crazy to think that Wisconsin doesn't have high end players in their secondary. I think that the Buckeyes that have lined up against them would agree that they are plenty good. I hope our new coach was a big reason, but I have a feeling that those guys could ball pretty well even if they only had two or three stars.
I hope the scheme is more aggressive.
I hope the scheme is simpler. If the guy is covered, it doesn't matter if the QB is confused or not. I am sure many opposing QBs were confused by our secondary this year - I was! - but it did not stop them from finding the open man.
Only if Franklin declares between now and NSD that his intention is to move away from pro style passing offense. With Hackenburg that is an attractive offense for a TE. Ohio State does not have a history of featuring the TE. I would not rule UFM out on a recruiting battle and it would be nice to see him as a Buckeye, but that looks like a good fit for the kid at PSU as long as he doesn't hate their new hire. He will have to live with deep regret at least one day a year for the next 4.
There are a lot of good players that most any team would love to have. Maybe the D coaches need to think about getting a set of players on the field that can wreak havoc, then matching a scheme to what they have instead of fitting guys into their scheme. That seems to lead to a lot of good players standing on the sideline all of the time.
Just as important: Fundamentals and Technique. Get off blocks. Make tackles. Find the ball. Break to the ball. For years our LBs were rock solid at worst and our DBs tackled like lightening strikes. Got to get back to that or no scheme will work, especially the dumb ass passive ones employed of late.
Not if ESPN has anything to say about it. They seem to have something to say about it.
Somehow 3 of the 4 playoff teams will likely be from the SEC next year. ESPN is not exactly subtle about how they value their ESPN SEC Network deal, running long ads repeatedly through the game along with their ESPN College FB Playoff ads.
I think Shazier's NFL success will depend entirely on which team he ends up. If a team moves him around to take advantage of his speed and athleticism he could wreak havoc. If a team is looking to bulk him up and make him into a prototypical LB he could be so so. It doesn't seem like he is framed to bulk up huge. Great college player. Wish him all the best.
I think Hoke is doing a great job. I would like to see M do the right thing and give him another 12 or 15 years to finish what he has started...
I think the D line was solid and would have looked better with stronger SAM and MIKE play.
The linebackers were disappointing with the exception of RDS. That is a big exception.
A Sr S and long time starter went down with a busted ankle and the impact was big.
The attrition rate at LB and S has long been horrific and it has shown. That said, it is not too much to expect the guys that are playing to be able to tackle or find a TE in coverage.
Corner play was disappointing.
LB and S have been weak for the past few years and you cannot be a great D that way. It is especially hard to watch given the absolute hardass LBs and Ss that the Buckeyes have fielded since time began. We grow them here the way Iowa and Nebraska grow corn. Several great Ohio boys are playing LB at other programs right now.
Lots of room for improvement, but nuking the whole D staff might not be the answer.
It would be fascinating to see how quickly Saban could build the Longhorns up.
It would be interesting to watch the reaction in the south land should the SEC would lose their 2 best coaches to other conferences in a short period of time.
Still, I would like to see UFM lead the Buckeyes to the top by taking Saban's Alabama down. That is the top of the mountain and that peak is likely the only thing that will shut the critics up.
I would love to see him get 85 carries in the orange bowl...but it still would not be enough
F*** the empty set!!! Why would you not have Carlos Hyde and Braxton Miller in you backfield together??? If I am on defense I love Carlos Hyde lining up outside the numbers! Gives me a lot less to worry about.
I thought we were too clever for our own good on offense. I don't care who are are playing, I want Carlos Friggin Hyde lined up in the backfield not out wide. Feed the beast and make them stop it. If they do, then try other things.
None of the above matters because championships are won with defense and we don't have a championship caliber defense. Our defense is mediocre. The Michigan game was a vomit flavored victory disguised with a shot of Auburn beating Bama.
whose coaching staff is worse, UF or Michigan? Trick question! both are great but handicapped by the failings of the prior staff.
There are two problems with the schedule:
1. going undefeated through it may not get you a chance to play for a championship; and
2. even if you are fortunate enough to get the chance your team is not battle hardened.
Playing good teams makes your team better.
I do not want to be a RB on personal protector duty when Jamaal Marcus comes off the edge! Good Lord, Dude Brings It!
the defense is no longer intimidating either. probably a direct proportion between volume and ass kicking. hard to get excited when watching mediocre teams march up and down the field. ticket policy also favors old folks.
Does your third biggest rival qualify as a big rival. It is much bigger from the other side. Its a big game because it is one of the better teams faced each year, but the history is short. You can't expect it to rival Ohio State Michigan (sorry Delaney) and the intensity doesn't match Wiscy. Wiscy is a rival naturally, which is how it has to happen. It will get there and Wiscy will fade a little unless we seem them in the title game every year (likely).