JLBNYC
---
NYC
Member since 31 January 2012 | Blog
Favorites
SPORTS MOMENT: Attending the 2015 National Championship Game

Attending multiple Yankees World Series games from 1996 on.
NFL TEAM: NY Giants
NHL TEAM: NY Rangers
NBA TEAM: NY Knicks
MLB TEAM: NY Yankees
Recent Activity
Meant to post this one too. I'm a big fan of Rory.
Whoa Nellie on fire this week! Only thing i knew about him, before today, was that he wrote Eyesight to the Blind! Well done
Awesome rendition of My Back Pages, JLB. Thanks!
So many good things on that album. So many great musicians on the stage - house band was Booker T and the MGs (Booker T, Donald Duck Dunn, Steve Cropper, plus Anton Fig from David Letterman, Jim Keltner and GE Smith). Then you had George Harrison< Roger McGuinn, Petty, Neil Young, Clapton all on stage at once for that song!
The Dylan 30th anniversary celebration at MSG in the early 90s is fantastic. I still play it - so many great performances:
Very well done Whoa. Sometimes i think it may be more challenging to summarize a well-known artist, but you really did a fine job.
Blonde on Blonde and Blood on the Tracks are two of my all-time favorite albums by anyone. I saw Dylan a couple of times, including 1980 at Vets, which was at the tail end of his religious period (so very heavy on Slow Train Coming and Saved), but still pretty cool to see him at vets. In '86, i saw him at the Rubber Bowl, backed by Tom Petty and the Heartbreakers. They alternated the whole show (Dylan electric backed by Petty/Heartbreakers, Dylan acoustic, then Dylan would leave and Tom Petty would play 5 songs or so, then repeat!). It was a great show and one of four dates where the Grateful Dead played as well (Dylan joined the Dead for a few songs - Little Red Rooster, Its all over Baby Blue and Dont think twice its alright). Can never understand much of what Dylan says live, but always cool to see him!
I always thought Infidels was a great album -- featured Mick Taylor and Mark Knopfler, Robbie Shakespeare and Sly Dunbar as part of his back up band). Here are a couple of songs from that album:
Here is some nice mellotron work by John Paul Jones
yep - Walter Carlos.
Also worked on the Shining and Tron
Apparently, playing a theremin causes weird facial expressions, as well as sounds.
Cant talk about the theremin without showing some Jimmy Page! (about 4 min in the bottom video)
Definitely played in integral part in the history of rock
Just getting ready to post this one when i saw the ode to joy post!
Eddie and the rest of Pearl Jam are huge Who fans. Baba is played often, and they do a killer version of Love Reign o'er me. I've also seen them do the Real Me and they have done the Kids are alright . My Morning Jacket opened up much of the 2006 tour and Eddie often (always) came out and jammed with them (They did "it wouldnt have made any difference" by the Band at the show i saw). Then there is this piece of awesomeness (apologies if i already posted this in another thread):
Any questions as to whether Pete was a bad ass? Listen to the famous Abbie Hoffman incident, where Abbie Hoffman interrupted the Who's set at Woodstock to make a political statement and Townshend told him to "Get the F**k off the f**king stage" and hit him with his guitar.. Townshend then said: "The next f**kin' person that walks across this stage is gonna get f**kin' killed! [crowd cheers] You can laugh, I mean it"
There was also this incident a few months earlier
http://ultimateclassicrock.com/pete-townshend-arrested-fillmore-east/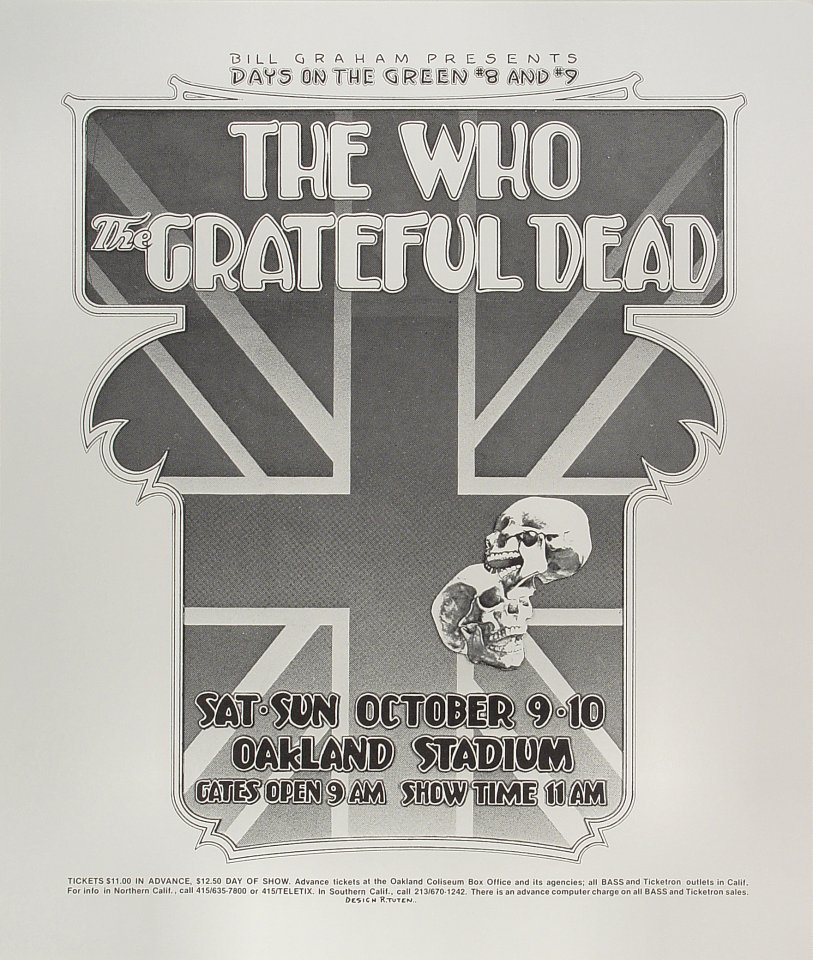 http://www.rollingstone.com/music/videos/flashback-pete-townshend-jams-with-the-grateful-dead-20130423
Great pick today Whoa! I have been a huge Who/Pete fan for as long as I've been listening to music. I have seen them a bunch in concert, starting with '79 at Richfield (i had tickets to Riverfront but couldnt go), a couple of times in'82, including a great show at the Pontiac Silverdome with the Clash, then a bunch of shows at MSG from 1996 through a couple of months ago. They are a shell of their former selves now (lots of back-up on stage and, of course, they lost a big part of the band with Entwistle's death). Still, the recent tour was enjoyable and the large back up band gave some of the songs a fuller sound. For me, the last great Who tour was 2000. i saw them twice at the Garden and they are absolutely two of the best shows i have ever seen by anyone. Great setlists and the band was really energized (last tour with Entwistle). And, of course, Pete is one of the all-time greatest songwriters.
I know Wont Get Fooled Again has already been posted, but I think this version from the Kids Are Alright is so good, thought i'd post it (the knee slide by Pete during Roger's scream!)
Yep - weird euro festival stage. I couldnt find footage from the dvd from that tour for that song (for the US tour, they had Roger Dean design the stage). It was a treat to hear that one live (also played Wondrous stories)
Here is some more:
I guess its because he is just part of the background and they wanted a clean stage. They make a joke out of it when they introduce him. Cant remember if we talked about this tour before, but Geezer and Tony were in top form--- it was one of the better shows Ive seen in recent years.
Whoa -- is that the show where you got tear gassed?!
I guess Genesis gets in for all of the lame 80s music
I remember seeing a black sabbath documentary (or it could have been a component of a metal doc) and the band talked about how Ozzy purchased a Moog, and they played around with it but couldnt get the sound they wanted. Yes was recording at the same facility and they asked Rick for his opinion. Instead, Wakeman jumped on the keyboard and pounded it out.
Another cool link--- Rick Wakeman's son has been the touring keyboardist for Sabbath on the last two tours (he is kept under the stage and pops out for an introduction!)
Another good one Whoa. We were due for some prog rock! I saw Yes a few times back in the day, including a couple of times with Wakeman. Last Yes show I saw was at the Garden on their 35 anniversary tour. I believe that was the last tour to feature the classic lineup of Anderson, Howe, Squire, Wakeman and White. Of course, the Rock n Roll hall of fame hates prog rock so no Yes, ELP or King Crimson in there.
What an interesting person and a fantastic write-up; well done Whoa! I am familiar with most of these bands and like them, but i knew none of this backstory on Josh. Really good stuff. This is what makes TIMH great (Dire Straits to Dio to Josh Homme - great diverse selections; interesting regardless of whether you are a fan).
Another good one Whoa! I knew about Elf and was a fan of Rainbow while Dio was the singer, but didnt know all of the details. I was fortunate to have seen Dio with both Rainbow ('78 Long Live Rock n Roll) and Sabbath (''80 Heaven and Hell). One of the all-time greats for sure. I wore out Rainbow on Stage and the Heaven and Hell album as a kid.
Late to the party (I blew off work and got up early to play golf today).
Great write up on a great album. This is really one of your best Whoa -- i loved the background on the studio and story regarding the attempt to get the Billy gibbons sound!
Classic album, but not my favorite Dire Straits -- that would be Making Movies, which is pretty close to a perfect album in my opinion.
havent done that in a while!
Nice one JCL -- never heard it before!