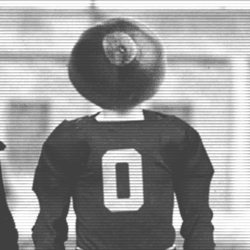 jhipbuck
---
Member since 07 March 2014 | Blog
Helmet Stickers: 22 | Leaderboard
Recent Activity
Ash + Johnson + Ash calling plays = Silver Bullets
Born, raised and still in New York/New Jersey I have local sports favorites. I attended and graduated Ohio State and have been hooked on Ohio State sports ever since (25 years).
1. OSU Football
2. New York Giants
2b. Ohio State Basketball and other OSU sports
3. New York Yankees
Ash will call all plays from the booth. Luke will give input from the sidelines. It will be an all new defense run by Ash - 2014 will be the return of the Silver Bulllets.
Terrelle was and is a great Buckeye — it is time.
If the D suddenly gets a lot better it's because of Ash — and it will get a lot better.
Calling the defensive plays is a huge deal — it matters who calls the plays. Ash will call the plays from the booth.
Yes, next season any lack of progress will and should be put on Ash's shoulder — regardless of any injuries. The last two seasons it was Luke's show, next season its Ash. I'm not sure about your "in sync" theory — the last two years it was Luke's defense and he was calling the plays.
I know that Ash has come and quickly changed the defense around, things are simpler with an emphasis on reacting quickly (not thinking so much). Additionally, Ash will call all defensive plays, he's one of the best in the country. Luke is a great Buckeye, a good position coach, and an excellent recruiter and for that you will not hear anything negative about him from the coaching staff — but don't let that fool you, Ash is running the show.
Ash was hired to run the defense, he will call all plays from the booth. Even though Co-Defensive Coordinator is the title Ash is the defensive coordinator. It was the same thing when Heacock was here — Heacock ran the show even though Co-Defensive Coordinator was the title.

To sum it up:
Heacock/Fickell — Heacock ran the show
Fickell/Withers — Fickell ran the show
Ash/Fickell — Ash will run the show