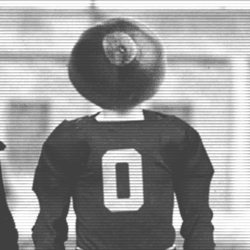 Jhesse17
---
Member since 27 November 2012 | Blog
Helmet Stickers: 1,801 | Leaderboard
Favorites
SPORTS MOMENT: Braxton's crazy toss against wisconsin
COLLEGE FOOTBALL PLAYER: Braxton Miller
COLLEGE BASKETBALL PLAYER: Lenzelle Smith
NFL TEAM: Pats all day
NHL TEAM: Bruins
NBA TEAM: Celtics
MLB TEAM: Red Sox
SOCCER TEAM: Soccer blows
Recent Activity
Relinquishing fandom is a bit much. However, despite his athletic abilities Manziel is a little bit of a chucker and has gotten away with it because he has had guys that make plays on his chucks.
And so are the players Franklin is recruiting.
Wow. We got the W but that was painful to watch. I was really impressed with Heflin once he started attacking though. I'm fine with him wrestling super defensive in matches against tough kids like the one he had today, because that's obviously the style he feels most comfortable wrestling. But when he has a chance to get bonus points I would like to see more of what we saw in the second period.
How low do we fall? 10ish?
Can't let teams hang around. We got what we deserved.
We're going to lose at home to Iowa. Let that one sink in for a minute.
Dude..... would you rather rush into a hire and get what you get or take it slow and make sure you make the right hire?
It is very, very rare to see man coverage across the board in this day and age unless it is accompanied by a heavy blitz. Cover 2 would be a good scheme for us if our safeties improve a lot.
Ok, I'm sorry. You want to play press man with our current personnel? You realize that that involves putting Pitt Brown on a island with a slot guy? And if you want to bring RDS you will need to leave Grant on a back?
Edit: you will also rarely see press man without safety help anymore unless accompanied by a 6-7 man blitz.
Simple solution: Down with the cover 3!!!! You rarely see it in college for a reason. I'd like to see a LOT more cover 2.
I wish we lost.... then we wouldn't have to deal with the south.
Anybody have a link to tears?
Nice to see JDJ up to #6 on intermat!
Dude..... for large portions of that game he WAS our offense. He was effective on the ground and dropped some throws in buckets when our OL was getting eaten up in pass pro. His receivers really failed him today.
You don't think our Dline is good? If you truly believe that then you must have a very primitive understanding of football.
He played well today but the MSU secondary is unbelievable and he was facing pressure all night.
Is it a bummer we lost? Yes. But the sun will rise tomorrow, OSU mens BB looks great, wrestling had a huge day, and at the end of the day it's still great to be a buckeye.
That was a damn fine play by Dennard