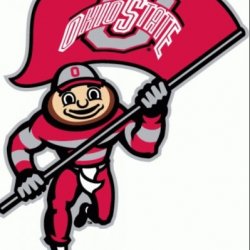 Jeremypreemo81
---
Columbus (via Warren )
Member since 12 February 2014 | Blog
Helmet Stickers: 372 | Leaderboard
Favorites
SPORTS MOMENT: 2002 Natl Championship Game
NFL TEAM: 49ers
NHL TEAM: CBJ
NBA TEAM: Cavs
MLB TEAM: Tribe
SOCCER TEAM: Man U
Recent Activity
ODEEZ it was cool. Great battle for sure
Yea I walked by sec 4/5AA and saw you could go down so I did it w my 4yo. He loved it
I do. I'll try to post them from my iPhone
Would love to see him in our offense. I specifically watched him last night. Kid has a hand cannon for an arm. He was in the group w Clark and what I assumed Joe the committed qb. Was a fun group to watch when the WR's went against the DB's
This kid is a mammoth DT. I was standing next to him at FNL. Sure glad he's a Buckeye. Welcome Mr Alabi
I will be hitting the road to Columbus Ohio tomorrow at noon! #Buckeyes
— Torrance Gibson (@quick_tg6) July 24, 2014
this above----------true story------I'll wait on Birm
In my lifetime other than Pace it'd have to be Korey Stringer (not just because I'm from Warren)
That Pump Up video..................fantastic
scary scary thought. without Kenny G as a backup it would be awful hard for us to win multiple games without Brax. Hopefully he passes more and runs less. our O line needs to step it up this year in order to keep Brax healthy.
DJ your infatuation with Les Miles is classic. He definitely is a character
thats unfortunate for J T but hopefully he finishes that free education and becomes successful at whatever he does after school
I am very excited to Rae take the field this year. The rejuvination at LB for OSU begins with him and the Dream 14 LB class.
NE Ohio will not be the only ppl who benefit from the return of King James-I think he will mean even more for to tOSU than he has in the past. The entire state won when he decided to come home
Are you looking forward to matching up against your brother at Iowa and has the trash talking started yet between you two?
haha I know thats right. I dont mean to be rude but who cares. I think he played around long enough with us. He can commit else where. I am happy with Joe B
It does suck we cant have them all but this kid is already winning. Come out of the inner city with scholarship offers like that....as long as he keeps his grades up and stays out of trouble....he's won! Good luck to him where ever he lands
while there is great football in the state of Ohio the best ball is played in the Northeast and in the GCL. I think UFM is building a strong fence around the state of Ohio but he must have a retaining wall followed by barbed wire fencing and a moat around those two hot beds.
Ha you did...I stand corrected
I dont care where he lines up. He is a football player and will make plays no matter where he is at. Glad he picked the good guys
Yep I cosign with that-worth every minute of down time.
a Double mofo BOOMMMMMMMMMMMMMMMMMMMMMMMM!!!!!